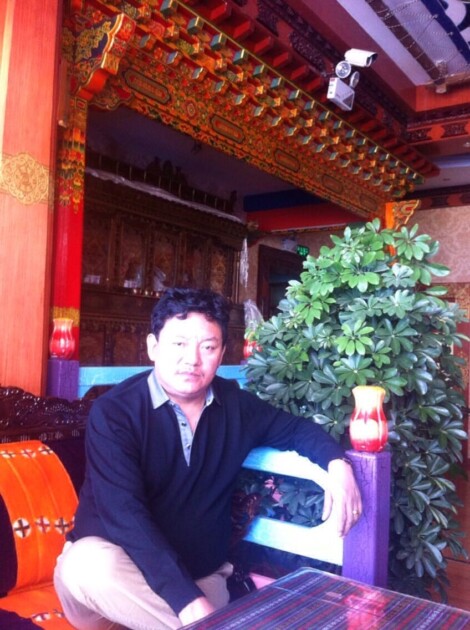 The Tibetan Centre for Human Rights and Democracy (TCHRD) strongly condemns the unjust sentencing of the Tibetan entrepreneur and philanthropist Mr Tenzin Choephel to 18 years in prison on the trumped-up charge of "inciting separatism" in Tarchen (Ch: Daqen) Township in Sernye (Ch: Sèní) District, Nagchu (Ch: Nagchu) City, Tibet Autonomous Region (TAR), in the traditional Shak Rongpo area of Kham province.
A reliable source informed TCHRD that Mr Choephel, about 45 years of age, was sentenced on 24 May 2019 to 18 years' fixed-term imprisonment and five years' deprivation of political rights for allegedly committing various crimes including "inciting separatism", "illegally sending intelligence overseas", and "financing activities that endangered state security". Chinese authorities also confiscated all of his personal property.
Following the sentencing, Mr Choephel's family filed an appeal that was rejected by the TAR Higher People's Court in October 2019. The rejection of his appeal was a foregone conclusion due to the discriminatory criminal justice system, which is subservient to political and ideological considerations of the Chinese party-state. In practice, the right to appeal is just a paper exercise.
Mr Choephel is being imprisoned in Chushur (Ch: Qushui) Prison in Lhasa city.
Mr Choephel was detained on 30 March 2018 and had been held incommunicado for more than a year before his sentencing.
In a May 2020 update, TCHRD reported on the enforced disappearance of Mr Choephel after his arbitrary detention from Gongkar airport in Lhasa. At the time of his detention, the successful entrepreneur had just landed from a business trip to Chengdu city. He is known for his notable work on protecting Tibetan culture and environment, promoting unity among Tibetans, and other philanthropic activities such as helping the poor and needy in the community.
In recent years, Chinese authorities have unleashed a persecution campaign against prominent and influential Tibetans such as human rights defenders, intellectuals, writers and community leaders as part of a widespread and systematic policy to crush dissent against the Chinese party-state in Tibet.
Particularly since the ascension of Xi Jinping as the party-state's president, local Tibetans in the counties of Diru (Ch: Biru) and Sog (Ch: Suo) as well as the traditional Shak Rongpo region in Nagchu City have suffered harsh repression at the hands of Chinese police and state security agents. The extrajudicial killings, torture, and arbitrary detention reported from Nagchu City have been unprecedented in scope and intensity in recent times. Sources informed TCHRD in 2020 that in Diru alone, more than 600 known Tibetans had been imprisoned in Chushur Prison since crackdown began in 2013.
"Chinese authorities must put an immediate halt to its long-running campaign of political persecution under which prominent and influential Tibetans are targeted for merely promoting and protecting the best interests of their people and community. The unjust imprisonment of Tibetans like Mr Tenzin Choephel is not just a travesty of justice but also part of a well-orchestrated plan to annihilate all forms of peaceful dissent against human rights abuses, political repression and crimes against humanity perpetrated by the Chinese party-state," said Tsering Tsomo, executive director of TCHRD.
"We reiterate our call to the international community including democratic governments, the United Nations, human rights organisations, and civil society actors to pressure the Chinese government to immediately and unconditionally release Mr Tenzin Choephel and all other Tibetans unjustly subjected to arbitrary detention; provide full and unfettered access to international observers to conduct a thorough and independent investigation into the human rights situation in Tibet; repeal all legislations, policies and practices that enable extrajudicial killings, arbitrary detention, and torture; and comply with obligations to protect, promote and fulfill human rights pursuant to its ratification of major human rights treaties."