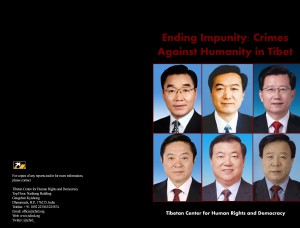 The Tibetan Centre for Human Rights and Democracy commemorates the 53rd anniversary of Tibetan Democracy Day, by releasing a report titled Ending Impunity: Crimes Against Humanity in Tibet. On 2 September, Tibetans all over the world celebrate the Tibetan Democracy Day. This latest report from TCHRD focuses on international criminal justice and argues that the conduct of high-level Chinese government officials in Tibet constitutes 'crimes against humanity'.
This report demonstrates that even though the International Criminal Court (ICC) lacks jurisdiction to investigate the situation in Tibet, the Party officials of the People's Republic of China (PRC) have committed crimes against humanity in Tibet. The ICC's lack of jurisdiction does not change the nature of crimes committed in Tibet.  The inability of the ICC to investigate the situation in Tibet does not mean there is no role for international criminal justice in Tibet. Recognising that international crimes defined by the Rome Statute have been committed in Tibet gives international actors powerful legal and rhetorical tools outside of the ICC.
TCHRD believes that the goal of international criminal justice in ending impunity is not dependent solely on action from the ICC. When the ICC cannot act, the international community can rise to the occasion.  The international community can work to end impunity in Tibet by initiating criminal prosecutions and imposing targeted sanctions.
This report begins by discussing the jurisdictional hurdles faced by Tibetans at the ICC and then the substantive law of crimes against humanity and attribution for those crimes in Tibet. It then examines the commission of crimes against humanity through the development of plan to commit torture, arbitrary detention, and murder in Tibet.  The report focuses on the criminal responsibility of six current and former Party Secretaries for Tibet Autonomous Region, Qinghai Province, Gansu Province, and Sichuan Province. It examines methods of ending the impunity these officials currently enjoy other than prosecution at an international court. The report concludes by discussing different means of accountability for the crimes committed in Tibet and issues policy recommendations to the PRC and the international community aimed at improving conditions in Tibet and ending impunity for those responsible for the commission of crimes against humanity.
The full report can be read and downloaded here.