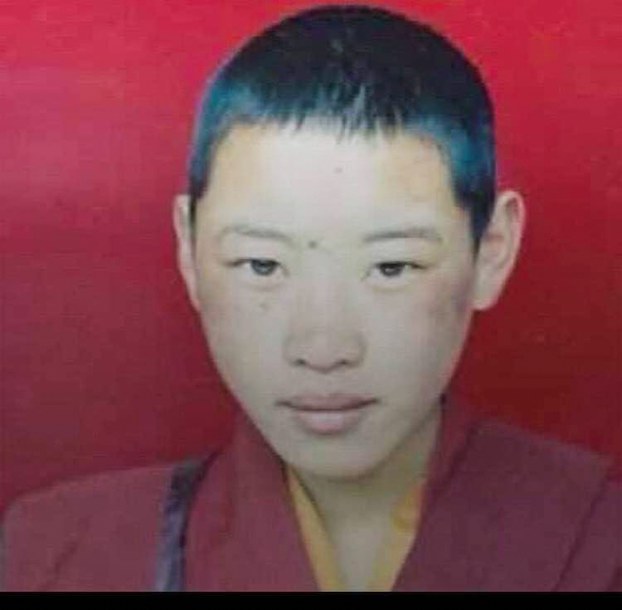 A 25 yr-old Tibetan nun disappeared after her arbitrary detention by Chinese security forces during the 2008 uprising in Tibet.
Yeshi Lhakdron, a nun from Dragkar Nunnery went missing after her detention along with two other nuns eight years ago in Kardze (Ch: Ganzi) County in Kardze Tibetan Autonomous Prefecture, Sichuan Province, in Tibetan province of Kham. The two other nuns are identified as Sangay Lhamo and Tsewang Khando from the same nunnery. Both nuns were sentenced to two years each and were released after completing their prison terms.
Nothing had been heard about the fate of Yeshi Lhakdron despite her family's persistent efforts. After enquiring about her for a long time, her family members were forced to conclude that she had succumbed to torture in police custody.
According to information provided to TCHRD by Pema Wangyal, a monk from Drepung Monastery in south India who is a relative of the nun, the three nuns protested peacefully in Kardze County in 2008 shouting slogans such as "Tibet belongs to Tibetans!" "Tibetans want Human Rights!" They also threw leaflets that bore slogans calling for the long life of the Tibetan spiritual leader His Holiness the Dalai Lama and for freedom in Tibet. Chinese police detained them immediately. Following their interrogation in police custody during which they were subjected to beatings and torture, the nuns were sent to a government hospital in Kardze County. Family members were not allowed to visit them during their treatment in hospital. Word leaked through nurses in the hospital that one of the three nuns had died in the hospital. The other two nuns Sangay Lhamo and Tsewang Khando were released after two years. But Yeshi Lhakdron never returned home.  When asked about Yeshi, the two nuns told Yeshi's family members that they were detained separately and not able to see each other because their heads were covered with black hoods during interrogations. Later, the two nuns were each sentenced to two years without any information on each other's wellbeing.
In the absence of any evidence such as Yeshi's body, family members are still struggling to make a definite conclusion on Yeshi's fate. Yeshi's family members spent about 40,000 yuan to contact authorities in various counties including Kardze, Drango (Ch: Luhuo), Serthar (Ch: Seda), Lithang (Ch: Litang), Nyagrong (Ch: Xinlong) and Tawu (Ch: Daofu) in Sichuan Province. They also asked other political prisoners who had been released. Nothing came of their efforts and family members were forced to believe that Yeshi was no more. In keeping with Tibetan religious practice, family members conducted funeral rituals for Yeshi various monasteries.
Yeshi Lhakdron was born and raised in Tsochu Village in Sershiuting (Ch: Sexidi) Township in Kardze County. She was 25 at the time of her detention. He father Ngodup Sonam and her uncle Ngodup Phuntsok AKA Ngoega are former political prisoners. Ngodup Sonam is a former political prisoner who had been imprisoned twice for holding peaceful protest against Chinese rule. In 2000, Ngodup was sentenced to three years for 'political crimes' in Drapchi Prison in Lhasa. Her uncle Ngodup Phuntsok or Ngoega was detained on 18 March 2008, for leading a public protest in Kardze County during which he sustained severe gunshot injuries. He was later sentenced to eight years in Tekyang prison in Sichuan and released on 20 March 2016.
In 2009 and 2010, TCHRD reported 16 and 29 known cases of enforced disappearance in Tibet respectively. In September 2008, TCHRD reported a surge in cases of enforced and involuntary disappearances following the outbreak of major protests across the Tibetan plateau beginning March 2008. In 2008, following widespread arrests in Tibet, TCHRD reported that the enforced disappearance of at least one thousand known Tibetans.
On 9 December 2015, in its Concluding Observations on the fifth periodic review of the People's Republic of China (PRC), the UN Committee Against Torture reiterated its call for accountability for the events during the 2008 protests in Tibet and criticised the PRC for failing to provide information about 24 of 26 Tibetan cases that the Committee had specifically asked about during the previous review in 2008. In 2008, during the widespread protests throughout Tibet the PRC had its fourth periodic review before the Committee Against Torture. Similar to its fifth periodic review in 2015, the PRC dismissed claims of torture in Tibet as "groundless" and failed to provide practical or statistical information about the implementation of the Convention Against Torture.
Arbitrary detention, torture, and enforced disappearances are some of the tools used by the Chinese authorities to silence peaceful expressions of political opposition and other grievances in Tibet. Chinese security officers in Tibet, particularly the Public Security Bureau, the People's Armed Police and the state security agents, use enforced disappearance to terrorise and intimidate the disappeared person, his or her family members, as well as the entire community. In 2013, the PRC introduced amendments to its Criminal Procedure Law that legalised enforced disappearances. Since then, a series of new laws such as National Security Law has been introduced to give a semblance of legality to states-sponsored human rights abuses such as enforced disappearance, torture and extrajudicial killings.
The Tibetan Centre for Human Rights and Democracy (TCHRD) calls on the Chinese authorities to make public the information on Yeshi Lhakdron and many others Tibetans who have been disappeared for merely exercising their human rights. The Chinese authorities must allow unrestricted access to independent media, international observers and human rights organisations to assess the real situation in Tibet.