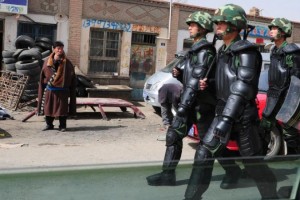 The Tibetan Centre for Human Rights and Democracy (TCHRD) is deeply concerned about the new National Security Law that was released in the People's Republic of China (PRC) on 1 July 2015. As a human rights organization, TCHRD believes that this new law will enable Chinese authorities to further justify the human rights abuses that continue to take place for Tibetans today.
The new National Security Law does not make any concessions to human rights, rule of law, or the interests of other States or peoples. Instead, the National Security Law relies on broad and vague language to announce that the PRC will confront and fight-back against any perceived threat. This is a continuation of failed policies that do not seek to peacefully settle disputes, and simply exacerbate problems in the PRC instead.
Despite paying lip service to human rights in four articles (Articles 7, 16, 27 and 83), the National Security Law takes the position that is hostile to basic human rights protections. For example, Article 27 says that the PRC protects freedom of religion but then lists duties and responsibilities for religious management, including opposing foreign influence and interference. The PRC views any acknowledgment of the Dalai Lama, including possession of his teachings, praying for his long life or celebrating his birthday, as counter to the Party. For monks, such as Tsangyang Gyatso, the charge of "contacting outsiders" can result in long prison sentences.
The National Security Law fails to give people an idea of what they can and cannot do, as required by human rights standards. For a restriction on a human right to be permissible, it must be specific enough that one could determine what is prohibited. The National Security Law does not do this. Instead, the National Security Law relies on broad definitions and vague language that could criminalize any action or statement. Article 77 is the most specific about the expectations for citizens. It lists seven things citizens must do to preserve national security, which include: "providing conditions to facilitate national security efforts"; and, "keeping state secrets they learn confidential." Failing to provide conditions could be used to justify collective punishment of family members.
The PRC's reaction to Sangyal Tso's self-immolation illustrates how these broad requirements could be used to violate human rights. Sangyal Tso's husband and a monk were both arrested without justification after her self-immolation. The suspicion is that the police believe that they were connected to her self-immolation. However, under the National Security Law, they could be detained for failing to prevent self-immolations, which would be considered a threat to national security. Additionally, two monks were arrested for possibly sharing information on WeChat about the self-immolation. In the PRC, where public events and news reports can be retroactively declared state secrets, sharing information about a self-immolation protest could violate the new National Security Law.
The problems with the National Security Law all stem from its exceptionally broad definition of national security. The second section of the National Security Law contains a list of 18 items that are considered part of the PRC's national security. Incredibly, the list includes: religious beliefs (Article 27); resisting "negative cultural influences" (Article 23); ethnic minorities (Article 26); and, outer space, international seabeds and the polar regions (Article 32).
In an attempt to respond to criticism that the National Security Law is too broad, Zheng Shu'na, a member of the Legislative Affairs Commission of the National People's Congress Standing Committee told a press conference that the overarching legislation was necessary for the PRC to be able to defend its interests. However, by conflating what it wants to happen with its vital national interests, the PRC violates human rights and risks creating problems rather than solving them.
As Zheng said, when an issue is labeled as a national security issue, the PRC will not allow any disputes, compromises or interferences. The National Security Law labels everything as a national security issue and treats basic human rights as a threat to its national security. When the basic human activity necessary for people to live with dignity is viewed as a threat then everyone is a threat. The National Security Law addresses this problem by requiring intelligence agencies to use the most advanced technology to spy on its own people (Article 53) and review all commercial investment and technology (Article 54).
The recently-passed National Security Law mentions that the Chinese authorities will enforce this new legislation in a lawful way, however it is debatable whether this will actually be the case given the continued high levels of corruption in the legal system in the PRC. Defendants and their counsel, when they are able to acquire it, are regularly unable to properly present their case; local officials and cadres using their power to sway the verdicts; and, higher-ranking judges simply passing the judgment without having seen any of the evidence presented at trial. TCHRD believes that the National Security Law will not improve the situation on the ground: rather, it has the potential to make things worse for Tibetan detainees who have been arbitrarily arrested.
The new National Security Law also states that this law will be in line with the Constitution, but there is little evidence that the Chinese Constitution actually holds any sway in the PRC. Therefore, it is likely that the ruling Party will simply use this law as another tool to legitimize the pattern of using the criminal law system as a method for punishing dissenters of the Chinese government. Be they peaceful protests, the Chinese authorities will be able to use this vaguely-worded law to quash any act or speech that questions the human rights abuses that continue to take place in Tibet and elsewhere in the PRC.