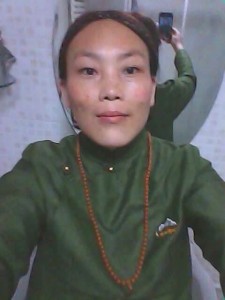 Chinese authorities have arbitrarily detained husband of Sangyal Tso, the mother of two who died of self-immolation late last month in Dokhog (Ch: Daogao) Township in Chone (Ch: Zhuoni) County, Kanlho (Ch: Gannan) Tibetan Autonomous Prefecture, Gansu Province, in the Tibetan province of Amdo.
According to information received by TCHRD, on 10 June 2015 police detained Tadrin Wangyal, husband of Sangay Tso, along with a monk named Trinley Gyatso, a resident of Gyache village in Nyinpa Township, Chone County. The security officers who carried out the detentions gave no reasons but local Tibetan residents speculate that they have been arrested on account of the police's suspicion that they were connected to Sangay Tso's self-immolation.
With the detention of Tadrin Wangyal and Trinley Gyatso, the number of known Tibetans detained following Sangyal Tso' self-immolation has grown to five including three other monks who, as TCHRD reported earlier, were detained following the self-immolation. The three monks are Tenzin Soepa, a nephew of Sangyal Tso, and two other monks, Samten Gyatso and Lobsang Tenzin. All five of them are being held at a detention center in Chone County.
All four detained monks belonged to Choephel Shing Tashi Choekorling Monastery in Dokhog Township. Local authorities detained Tenzin Soepa, a monk from the traditional Tibetan medical section of Choephel Shing Tashi Choekorling Monastery, on 28 May, a day after his aunt Sangyal Tso died of self-immolation protest. Samten Gyatso, a student at the monastery's traditional medical college was detained on 4 June and taken to an undisclosed location. Lobsang Tenzin was a student of Buddhist dialectics college at the monastery until his sudden and arbitrary detention on 5 June.
With the death of Sangay Tso, and the subsequent detention of her husband Tadrin Wangyal, their two children, son Tsering Dondrup and daughter Khandro, are now being taken care of by their paternal grandfather.
In the early morning of 27 May 2015, Sangay Tso self-immolated and died in protest against the Chinese government policies in front of a Chinese office, near Tashi Chokhorling monastery in Dokhag Township.
Sources said that the area in which the monastery of Tashi Chokhorling is located has been subjected to severe police and military raids. All communication lines, including phone and Internet services, in the area have been shut down.
Tashi Chokhorling Monastery was founded by the first Lama Karpo, named Jetsun Jampa Thutop Kunga Gyalsten Pal Zangpo, in 1886. The monastery has a population of 500 monks, and offers courses on Buddhist dialectics, Kalachakra rituals, Tibetan medicine and so on.
Twenty-two Tibetan villages in Chone are closely associated with the monastery. They include villages such as Gyache, Sipa, Gatsal, Kerek, Yul Zetsel, Gunpa, Gotsang, Shingkham, Gonjo Thangka, Gonjo Gongma, Draktsa, Lungdo, Lungbu Nang, Gyalu Thang, Martsang, Petsi Thang, Dokhog, Jaog, Phenkyim, Agyu Nang, and Tagag.