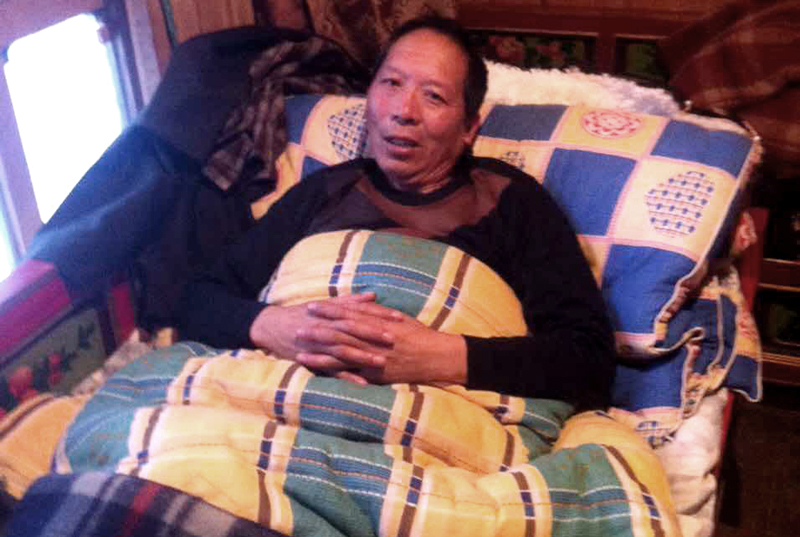 A Tibetan man was released last Sunday in critical condition after he spent eight years in prison for participating in a peaceful protest in 2008 in Kardze County in Kardze (Ch: Ganzi) Tibetan Autonomous Prefecture, Sichuan Province.
Ngodup Phuntsok aka Ngoe-ga, 61, was released and reached his home on the night of 20 March 2016 with crippled back and legs. Unable to walk, he was brought home two days after his actual release date of 18 March. Chinese authorities gave no explanation for extending Ngodup's release date.
At home, Ngodup needs constant attention and support from his family members to get up from bed or move around. His body has been badly crippled and he needs a walking stick to support himself. Although he needs immediate treatment, he has not been admitted to a hospital.
Ngodup was detained on 18 March 2008 during a peaceful protest outside the Public Security Bureau office in Kardze County. Thousands of local Tibetans participated in the protest, which was later suppressed by security personnel who beat up and shot at the protesters. Many protesters like Ngodup were beaten up, secretly detained, tortured and imprisoned. For months since the suppression of the protest, Ngodup's whereabouts remained unknown leading his family members to conclude that he might have been killed in the police firing. For over half a year, Ngodup was held at the Kardze County Detention Centre and then moved to a detention centre at Dartsedo (Ch: Kangding), the prefectural capital. During his detention, he was subjected rigorous interrogation, beatings, torture and maltreatment.
On 30 October 2008, the Kardze Intermediate People's Court sentenced him to eight years and deprivation of political rights for four years for "inciting separatism". He completed his term at Deyang Prison, located in Deyang City in Sichuan Province.
Following his detention, security personnel raided Ngodup's home and seized two audio cassettes of the Dalai Lama's 2006 teachings at the Kalachakra ceremony in Amravati in south India in which the Tibetan spiritual leader had called for an end to using animal fur and skin. More than 70 portraits of the Dalai Lama were also seized in the raid.
Ngodup had visited India in 1997 on a pilgrimage and returned the same year to Tibet. In 2001, he was one of the organisers of a long-life prayer ceremony for Dalai Lama in Kardze area. In 1990, he distributed Dalai Lama's portraits and the "Prayer of Truth" (Tib: dentsig monlam) booklets among Buddhist devotees in his hometown.
Ngodup Phuntsok belongs to the Chukha Tsang family in Serchu Village in Serchu Township of Kardze County. He is unmarried and used to run his own business in Kardze County supporting his entire family before his imprisonment.
It has become a routine for Chinese law enforcement agencies particularly the police and the armed police to subject Tibetans to unlawful arrest, torture, incommunicado detention and imprisonment on trumped-up charges such as separatism. After suffering unimaginable horrors in detention, political prisoners are subjected to more hardships in prison, including denial of medical treatment and deplorable conditions in prison cells. Political prisoners on the verge of release have often found themselves in prison hospital vulnerable to medical torture and unnatural death as in the case of Goshul Lobsang, Tulku Tenzin Delek and Jigme Gyatso.
TCHRD calls on the Chinese authorities to put an immediate end to the persistent practice of torture and other inhumane, cruel and degrading treatment on Tibetan political prisoners. Chinese authorities particularly the detention officers and prison officials must ensure the physical and mental health and well-being of all political prisoners including Ngodup Phuntsok. Chinese authorities must ensure the basic rights and fundamental freedoms of all politicalprisoners at all times to preserve their inherent dignity and value as human beings.