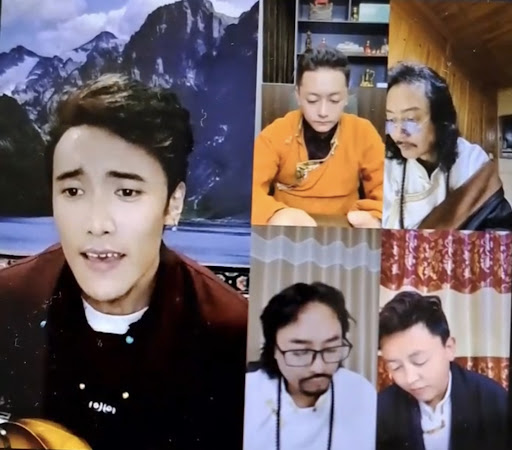 Chinese authorities detained five Tibetan men on the evening of 13 October in Golog (Ch: Guoluo) Tibetan Autonomous Prefecture, Qinghai Province, in the Tibetan province of Amdo.
They were detained by local Chinese police in connection with a song about the Tibetan spiritual leader His Holiness the Dalai Lama, which was performed during a musical contest on the popular Chinese short-video sharing platform Kuaishou.
Among the detained are singer Derab, who performed the song, and the composer and musician of the song, who remains unidentified at the moment. Three other men who were with the unidentified composer and musician at Derab's home were also detained.
An excerpt from the censored song reads: "Noble Lama was born in Tibet / Performed virtuous deeds in foreign lands / Loving and compassionate Lama / Pray for his swift return."
Except for the unidentified composer and musician, all others were released after a day of rigorous interrogation. However, Derab has been banned indefinitely from participating in any musical contests and was forced to sign a pledge that he would never perform at any festivals or gatherings. He would have to take prior permission whenever going live on any online platforms.
The live music contest that Derab and others took part in was shut down mid-way by the Kuaishou censors citing that the streaming was too long. "Usually one could do live streaming for 24 hours without any time limits. Because Derab sang this song about lagya [Tibetan national pride], the live streaming was cut off after about an hour and a half," a source told TCHRD.
Immediately after the online contest was shut down, a voice from the live streaming service asked, "Who are you guys?" It is suspected that the voice belonged to one of the many human censors hired by the company. In 2019, Kuaishou reportedly had a self-censorship team of 2000 employees, and was planning to hire another 3000 censors to ensure its users did not violate Chinese government regulations.
TCHRD calls for the immediate and unconditional release of the unidentified composer and musician and strongly condemns the detention of the five individuals. The restrictions imposed on singer Derab have no basis in Chinese law and must be withdrawn immediately.
Kuaishou must refrain from violating the right to freedom of expression of its users and censoring user contents on its platform. Both companies and government regulators have the obligation not to jeopardize the human rights of online users. In particular, all companies have a responsibility to respect human rights, as provided for in the UN Guiding Principles on Business and Human Rights.