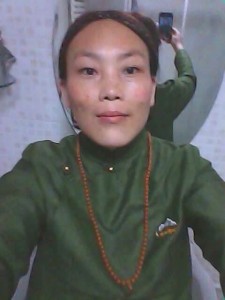 A nephew of a Tibetan mother who died of self-immolation protest last week was suddenly detained without any explanation by the local police in Dokhog (Ch: Daogao) Township in Chone (Ch: Zhuoni) County, Kanlho (Ch: Gannan) Tibetan Autonomous Prefecture, Gansu Province, in the Tibetan province of Amdo.
Tenzin Soepa, a monk from the traditional Tibetan medical section of Choephel Shing Tashi Choekorling Monastery, was detained by local authorities on 28 May, a day after his aunt Sangyal Tso died of self-immolation protest in front of a Chinese government office near the monastery, according to information received by Tibetan Centre for Human Rights and Democracy (TCHRD).
Local Tibetans are clueless as to the sudden arbitrary detention of Tenzin Soepa although a source told TCHRD that the monk was made a scapegoat as part of a crackdown on self-immolation protest staged by his aunt Sangyal Tso.
TCHRD earlier reported that Sangyal Tso, 36, a mother of two, staged the self-immolation protest at around 4 am (local time) on 27 May, in front of a Chinese government office, which is located near Tashi Choekorling Monastery.
According to new information received by TCHRD, before setting herself on fire Sangyal Tso placed a portrait of the Dalai Lama and a bunch of incense sticks in front of the government office gate. On the bottom end of the Dalai Lama's portrait, she had written slogans such as "Long Live His Holiness the Dalai Lama", "Freedom for Tibet", and "Human Rights for Tibet". There were other slogans that were illegible.
Sources told TCHRD that it was the early morning visitors to the monastery that first witnessed Sangyal Tso's self-immolation. When these visitors were doing the first round of circumambulation, they saw flames rising from the direction of the government office. At first, they did not pay attention thinking that the fire was caused by burning garbage piles; moreover it was still early dawn with poor visibility. By the time they began the second round of the monastery, the sky had cleared and a man learned that the cause of the fire was self-immolation. The unidentified man also saw the Dalai Lama's portrait with slogans written over it. However, the man was unable to immediately identify the self-immolator as the body had burnt beyond recognition.
On 27 May, as soon as Sangyal Tso's self-immolation was discovered, local police immediately took her body to Tsoe (Ch: Hezuo) city, capital of Kanlho Tibetan Autonomous Prefecture. A group of police officers then visited Sangyal Tso' home and ordered her family members to keep the incident secret and to tell others who inquire about her that she died a natural death. At around 11 am on 28 May, the authorities called two family members to collect the ashes of Sangyal Tso; the officials had already cremated her body. After the authorities handed over the ashes, family members were finally allowed to perform prayers and rituals.
Sangyal Tso was born and raised in Meru Sipa Village in Nyinpa (Ch: Niba) Township, Chone County. In 2003, she went to Lhasa, and the following year she married Tadrin Wangyal. After her marriage, she stayed at Lhasa doing small businesses to earn her livelihood. In 2007, she returned home and set up a shop running a restaurant, a guesthouse and a convenience store in Dingxi city. Around 2010, she visited Nagchu (Ch: Naqu) where she worked for some time. She had returned to Chone a few days before her immolation.
Sangyal Tso had two children, son Tsering Dhondup and daughter Khando, from her marriage with Tadrin. The couple led a self-sufficient life owning two houses in Chone and Labrang (Ch: Xiahe) County. After deciding not to send their two children to a Chinese school where Tibetan is not taught, they admitted their children in a Tibetan school located in Malho (Ch: Huangnan) Tibetan Autonomous Prefecture (Qinghai Province). Sangyal Tso had called in her father-in-law to take care of the children while they attended the school in Malho.