A Tibetan teacher detained on 10 April for expressing joy at seeing the recent video of His Holiness the Dalai Lama interacting with a young Indian boy on social media has been released from detention but placed under house arrest and his employment has been terminated. He was held incommunicado for two weeks.
The secondary school teacher was detained the same afternoon and held incommunicado at an unknown location in Ngaba (Ch: Aba) Tibetan and Qiang Autonomous Prefecture. Due to security concerns, the identity of the teacher cannot be disclosed.
During the school's morning assembly, the teacher had addressed the students and teachers alike about how fortunate Tibetans inside Tibet are to be able to see His Holiness on the tightly-controlled Chinese social media. 
"A video of the interaction between His Holiness the Dalai Lama and an Indian boy is available on Chinese social media sites. Even though we lack the good fortune to meet His Holiness, it is a blessing to be able to watch him online, albeit in a distorted way. This is an auspicious sign that His Holiness will return to Tibet soon. Teachers and students alike must wholeheartedly pray as this opportunity to watch him online is as auspicious as meeting him personally. It is worth nothing that the individuals who disseminated the video are not fond of him. However, it is important to acknowledge that the Buddha is perfect and without flaws."
The freely shared video of His Holiness on Chinese cyberspace was a rare discovery for any online user living behind the Great Firewall. For decades, Chinese authorities have heavily censored any content related to His Holiness, to the extent that households and mobile phones are often inspected for hidden images or portraits of the Tibetan spiritual leader. Even those sending prayer requests to the Dalai Lama's private office are being subjected to heavy interrogation and punishment including detention.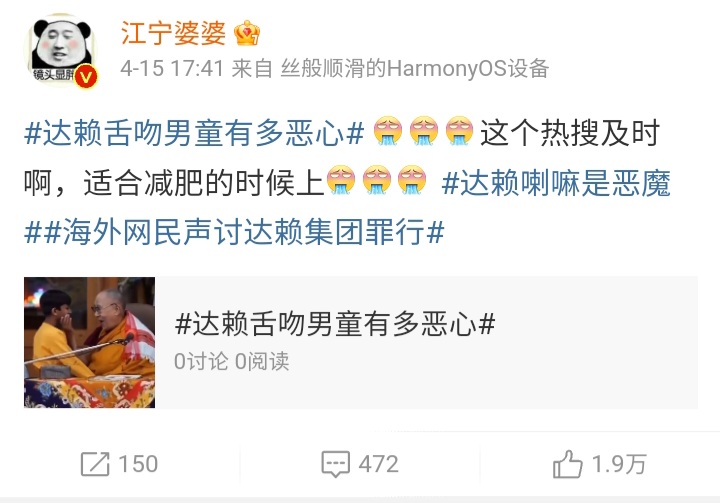 However, the edited video clip containing baseless accusations against the Nobel Peace Laureate has been allowed to circulate widely without any censorship. Additionally, attempts made by certain online users to acquire or locate the unedited video clip were met with more than immediate censorship. On 17 April, a netizen (the identity of the account will be kept confidential for safety reasons) posted the full unedited video on Duoyin and wrote, "Watch the full video of the Dalai Lama and the child." The user is currently unable to post anything on his account which is still accessible for viewing other people's posts. 
The video in question had already been circulating on various Chinese online platforms since 9 April, long before it garnered international attention. Furthermore, state-affiliated media outlets, such as 京报网 (The Beijing News) and 今日头条 (Toutiao), a branch of ByteDance, actively promoted and facilitated the sharing of the tailored video. Starting on 14 April, the edited video was widely distributed using various hashtags on platforms like Weibo. Hashtags such as "Dalai Lama is a demon" and the banned search term "Dalai Lama" have been permitted to spread widely without any consequences.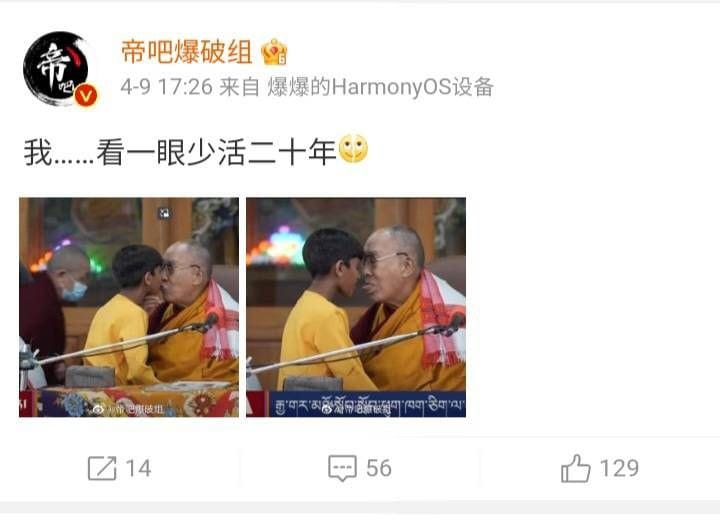 On 16 April,  the edited clip was viewed by over 200 million people becoming the most viral video in China between 14-17 April, during which time hashtags such as #达赖舌吻男童有多恶心 ('How Dalai Lama's kiss is nauseating') and #达赖舌吻男童有多恶心 ('Dalai Lama is a demon') spread quickly. The hashtag #海外网民声讨达赖集团罪行 ('Western media exposing the crimes of the Dalai clique') was also used to disseminate false information, resulting in over 500 million views and millions of comments.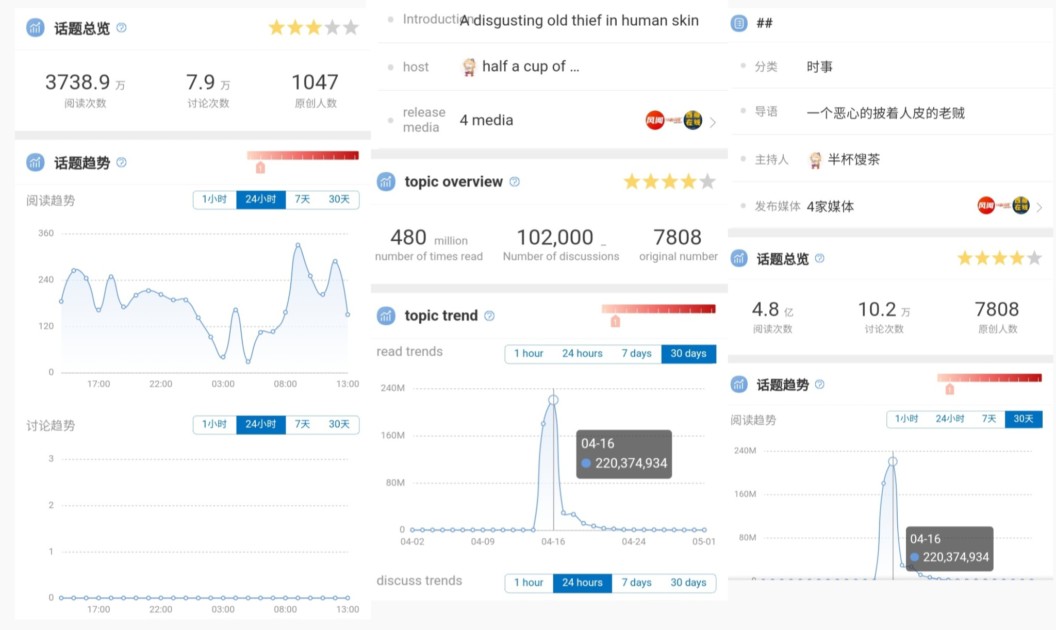 This action indicates that China is unwilling to address the event in its chronology, along with any relevant clarifications, aside from creating and disseminating misleading videos aimed at attacking the Dalai Lama.
The platform primarily used to spread the misleading video was Weibo, although they were widely circulated on other platforms, such as Douyin and WeChat, with some videos receiving thousands of views and comments. On some Chinese social media platforms there were posts defaming the Dalai Lama in Tibetan, but they neither received attention nor any engagement.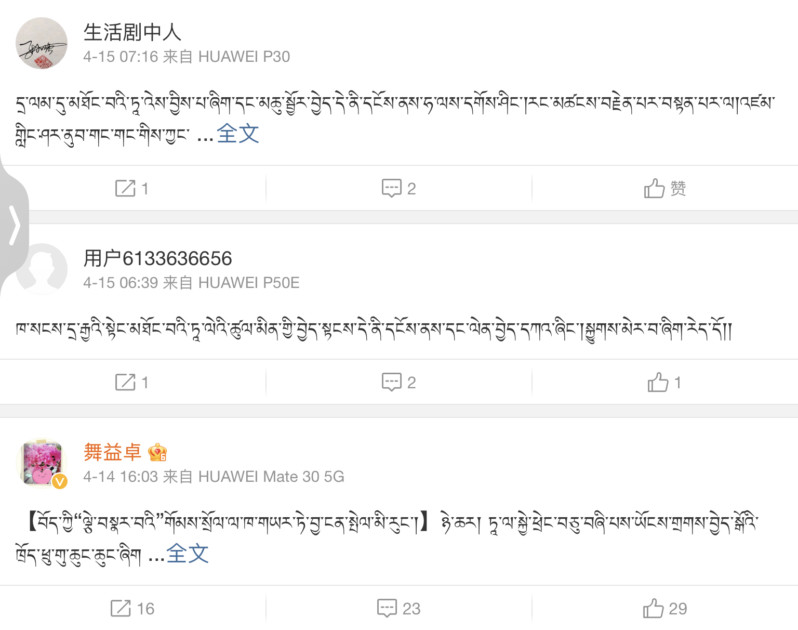 Although there is no direct evidence implicating the Chinese government involvement in the propagation of the falsely contextualised video, the fact is state- affiliated media outlets have played a significant role in promoting the content. Although many in Tibet were overjoyed on seeing images of  His Holiness online, many refrained from directly commenting on the video due to stringent censorship and surveillance. It was obvious that the targeted online campaign to slander His Holiness caused great emotional distress to Tibetans in Tibet.
Nevertheless, Tibetan netizens resorted to other ways of expression by posting pictures of Avalokiteshvara, the Buddha of compassion of which the Dalai Lama is considered a human emanation. Prayers and poems were shared to honour the Dalai Lama as the Chenrezig, the Tibetan term for Avalokiteshvara. Others wrote homage and dedicated prayers to His Holiness such as "Homage to omniscient Tenzin Gyatso" [religious name of 14th Dalai Lama]". The identities of these individuals are kept confidential due to security reasons.