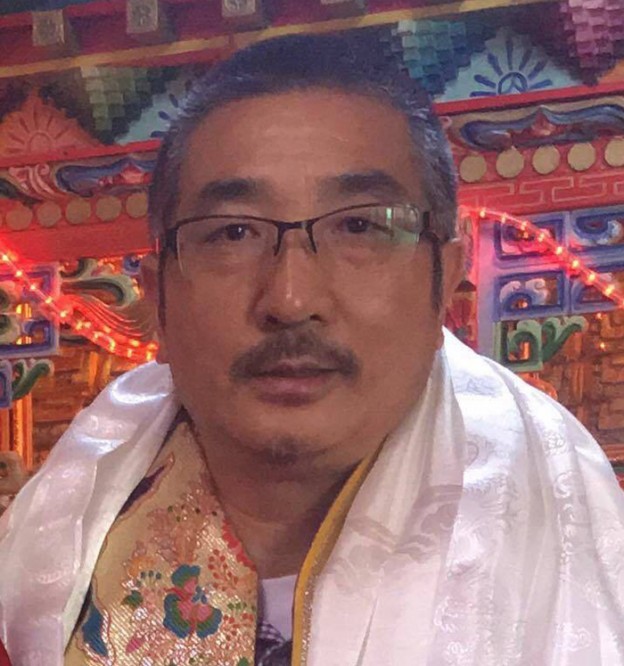 A senior Tibetan monk who spoke on camera about how he was tortured in detention by Chinese police was released this week after serving five years' imprisonment.
Jigme Gyatso, a former monastic official at Labrang Tashikyil Monastery, was released in the evening after dusk on 26 October from the maximum security Lanzhou Prison located in Chengguan District of Lanzhou City, capital of Gansu Province.
Jigme Gyatso was initially planned to be released on the morning of the same day but the plan was abruptly changed and he was released after dusk. Prison staff had earlier notified the monk's family members via a phone call that he would be released around 8:30 am and asked them to receive him outside the prison. Later, family members were told not to come and receive him at the prison. They were further barred from welcoming him with traditional Tibetan scarfs (khata) or recording videos. On the evening of the same day, Chinese police officers escorted him home from the prison. Regardless of the restrictions imposed by the prison authorities, the monk's family members and close relatives led by his mother greeted with him with khatas in the privacy of their home. Outsiders were not allowed to greet him.
Jigme Gyatso had been barred from wearing his monastic robes or joining his monastery. Sources said this explicit order came from the prison authorities at Lanzhou Prison. However this illegal practice of imposing restrictions on the religious beliefs and practices of Tibetan political prisoners is not new. For instance, in May 2014 Lodoe Rabsel, the former abbot of Karma Monastery, was banned from wearing his robes or joining his monastery after he was released from Powo Tramo Prison (also known as Bomi Prison) in Pome (Ch: Bomi) County in Nyingtri (Ch: Nyingchi/Linzhi) Prefecture, Tibet Autonomous Region (TAR).
Jigme Gyatso's five-year prison term expired on 19 August 2016. He was also supposed to be released before the expiration of his term in February 2015 after he became eligible for sentence reduction based the "merit points" he had earned for exhibiting good behaviour and/or performing meritorious service. However he was not released that month because he refused to sign a document that contained a list of nine offences that the monk had supposedly committed. Instead, he replied, " I have not committed any of the crimes stated in this document, hence I cannot sign it. Even the five-year sentence handed to me is unjust."
Jigme Gyatso was sentenced to five years after he was detained for the fourth time on 20 August 2011. TCHRD obtained a copy of his arrest warrant in February 2012. He was charged on 1 January 2012 of engaging in 'splittist activities'.
He was held illegally in police custody for three years without any trial and sentenced in 2014. In March this year, family members were informed that the monk had been hospitalised for some unknown illnesses.
The Tibetan Centre for Human Rights and Democracy (TCHRD) is concerned about Jigme Gyatso's current health condition and calls on the Chinese authorities not to impose undue restrictions on him or his family members in getting the best treatment available. Chinese authorities must provide adequate compensation if the injuries and illnesses sustained by Jigme Gyatso are caused by torture and ill treatment in detention. TCHRD condemns the restrictions imposed on Jigme Gyatso's right to freedom of religion and belief and urges the Chinese authorities to allow him to resume his religious practices including wearing his monastic robes and rejoining his monastery so he could continue his religious studies.
In an interview aired on the Voice of America's Tibetan News service in 2008, Jigme Gyatso described his treatment and torture in police custody after he was detained during the 2008 Uprising. During his detention, he was kept continuously handcuffed in one position for many days and nights. He was suspended from the ceiling while his interrogators beat him and told him he must confess. One interrogation session lasted two days and Jigme Gyatso was not allowed to eat or drink. Twice during the interrogation sessions, Jigme Gyatso lost consciousness. The second time he was unconscious for six days and returned to his family once he regained consciousness because he was on the verge of dying.
In the VOA interview, Jigme Gyatso described how he learned that 180 monks, including the most senior monk and the monastery's lama had been detained and forced to stand on the tips of their toes all night while guards beat them with the butts of their rifles. Recognizing the risk he was taking by giving the interview, he also mentioned that other monks who spoke to reporters had their legs broken by batons, or were driven insane by the use of electric batons on their heads and in their mouths.
A month after the interview was aired, around 70 Chinese armed police surrounded Labrang Monastery and detained Jigme Gyatso. With the help of Chinese human rights lawyers, Li Fangping and Jiang Tianyong, Jigme Gyatso was released after six months.
But in August 2011, he was detained for the fourth time He was arbitrarily detained by around 40 police officers from a hotel room in Tsoe (Ch: Hezuo) city, Kanlho (Ch: Gannan) Tibetan Autonomous Prefecture, Gansu Province. Monks and students who were at the hotel asked why Jigme Gyatso was being arrested but the police refused to answer and denied that Jigme Gyatso was in the room, even though he could be heard speaking and seen through the windows. The next day, 50 police officers searched his room in Labrang Monastery and took his computer, CDs, and photos of the Dalai Lama.
In his VOA interview, Jigme Gyatso said his main hope was that the international media and the United Nations come to Tibet and report on what was happening. By November 2012, UN Special Rapporteurs had 12 unanswered requests to visit and assess the situation in Tibet. Despite the People's Republic of China's (PRC) acceptance of the recommendations during October 2013 Universal Periodic Review to facilitate a visit by the High Commissioner for Human Rights, this has not happened.