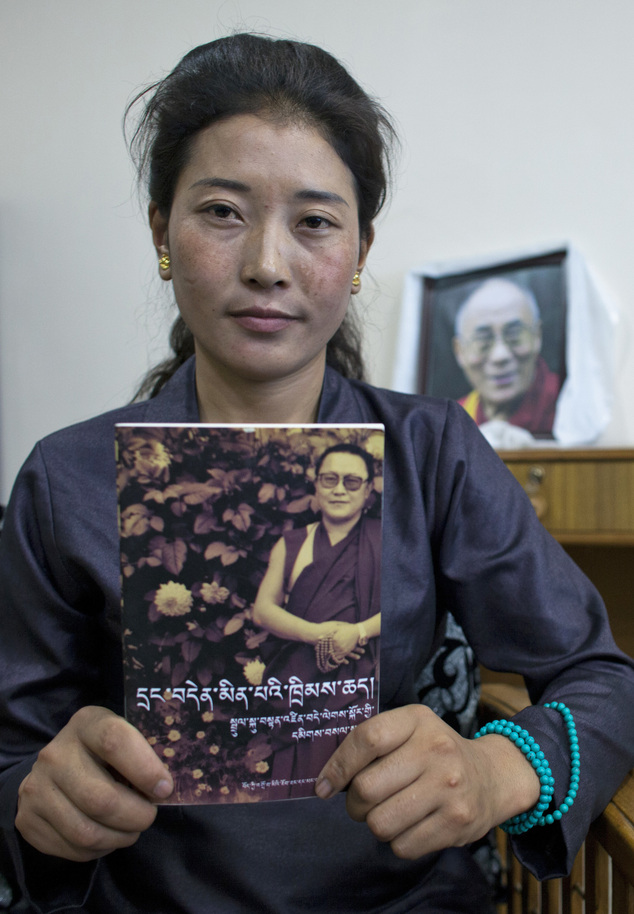 Nyima Lhamo, the 26-year old niece of Trulku Tenzin Delek Rinpoche fled Tibet and arrived in India on 24 July, more than a year after her uncle's death in a Chinese prison. Nyima fled Tibet leaving behind her family including her six-year old daughter Dawa Dolma and 53-year old ailing mother Dolkar Lhamo in Dekyi Village in Lithang (Ch: Litang) County, Kardze (Ch: Ganzi) Tibetan Autonomous Prefecture, Sichuan Province, in the Tibetan province of Kham.
Trulku Tenzin Delek Rinpoche was a popular and revered reincarnate lama who died in prison serving life imprisonment. He was in his 13th year of imprisonment when he died on 12 July 2015 at Chuandong Prison in Dazhu County in Chengdu, capital of Sichuan Province. Despite sustained and widespread appeal from the international community, Chinese authorities have failed to launch an investigation into Rinpoche's death. No death certificate has been issued yet. Chinese state media claimed that he died of heart attack in the Dazhu County People's Hospital near the prison.
In an interview with TCHRD, Nyima Lhamo said she fled Tibet to tell the story of her uncle's death and to appeal to the international community to pressure the government of People's Republic of China (PRC) to carry out a thorough investigation into the circumstances that led to Rinpoche's conviction and eventually his death, in accordance with Chinese Law and International Law. She also called for a detailed reexamination and review of the charges used to sentence Rinpoche to life imprisonment. She believes her uncle was imprisoned and then murdered for a crime he did not commit.
Poisoned in Prison
On the morning of 16 July, Rinpoche was cremated at the prison. Before the cremation, around 16 monks and nuns representing seven monasteries and a nunnery, established by Rinpoche, including the abbot of Othok Monastery (Rinpoche's home monastery) were allowed inside the prison to clean and dress Rinpoche's body. Traditional rituals including prayers were also performed. Then at around 8 am, soon before the cremation, Nyima Lhamo and her mother were allowed in to briefly see the body. Surrounded by a number of policemen,Rinpoche's body was kept on a raised concrete platform in a hall in the prison.
Recalling the moment she saw her uncle's body, Nyima said, "My mother and I could only see his face as other parts of his body were covered. His lips were black. Even the monks who had cleaned and dressed Rinpoche's body said his finger and toenails had turned black; when they lifted the body, the back of his head felt hollow and unusually light." She said family members and disciples of Rinpoche suspect that her uncle was poisoned to death under the watch of prison authorities.
Nyima said she has reasons to believe that her uncle was poisoned to death in prison. "First, the prison authorities kept postponing for 10 days my mother's visit to prison to meet with Rinpoche. Why? He had not died then. Second, they have not provided any medical document or death certificate to corroborate the claim that Rinpoche died a natural death. Third, there are witnesses who saw suspicious marks on Rinpoche's body such as black nails and black lips. Fourth, the time of death cited by the authorities kept changing with one version stating that it occurred at 2 pm and another at 4 pm. Finally, Rinpoche's body was not given to his family in violation of Chinese law.
On 2 July 2015, Rinpoche's sister Dolkar Lhamo (Nyima's mother) and one of Nyima's aunts immediately left for Chengdu after being informed that they could visit Rinpoche. But the prison authorities kept postponing the visit for 10 days. At around 10 pm on 12 July, they were informed of Rinpoche's death. Relatives of Rinpoche met him last in November 2013. Prison authorities had rejected requests for another visit throughout 2014 without explanation. Since his imprisonment in 2002, Rinpoche's relatives were only allowed seven prison visits, each lasting approximately 30 minutes under the close supervision of prison guards.
Detained in 'Black Jail'
On 17 July, a day after Rinpoche's cremation, more than 300 local Tibetans who had come from different counties to protest the death of Rinpoche were ordered to return home; respective County police officers had been summoned to take them home. Those from Lithang County were also told go home along with Lithang County police officers. But Nyima and her mother were taken away from a restaurant in Chengdu and kept in secret detention for 18 days at two different locations. Nyima's mother Dolkar Lhamo was seriously sick at the time, vomiting blood. The police took her briefly to a hospital and then both women were taken to a restaurant for a quick meal. No reason was given for their detention despite protestations from Nyima and her mother. Soon after, they were taken to a hotel room in Yak-nga (Ch: Ya'an) city, about three to four hours from Chengdu. They were detained at this hotel room, an extralegal detention place or "black jail" for more than a week. All through their detention there, Nyima and her mother were taken out only once by their captors to buy medicine for Nyima's mother.
From Ya'an, they were then taken to a detention centre in Lithang County where they were held for about nine days. They later learned from local Tibetans that this detention centre was used to hold persons suspected of official corruption. Local police officers refused to give any reason for their detention forcing Nyima and her mother to sit on periodic hunger strikes. Both mother and daughter were interrogated three times and told that they had committed a serious crime by sharing photos and information about Rinpoche with outsiders. Nyima and her mother were repeatedly asked to divulge the details on how exactly they shared the information, through whom and with whom. Nyima remembers responding that as many people knew Rinpoche, she received numerous calls from unknown persons asking about Rinpoche, and she told them he was murdered. During their detention in Lithang, Dolkar Lhamo's blood pressure shot up and her breathing problems worsened. When Nyima asked help for her mother, the detention officers provided painkillers. Only once they were taken to a traditional Tibetan doctor on request.
Three-point Gag Order
On 30 July 2015, Nyima and her mother were released. Before their release, the detention officers asked them to sign a three-point document that forbid them from sharing any information about Rinpoche with anyone or making allegations that the Chinese government poisoned Rinpoche. The final point barred them from joining any gatherings or meetings to speak or discuss about Rinpoche's death. Nyima's mother, suspicious of police intention since she was not shown the contents of the document, refused to sign the letter. "Mother told them she wouldn't sign it even at gunpoint." Later on their release, both women were told that their village leader had signed the document on their behalf and that they now had to listen to the instructions given by the village leader.
On return home from 18 days' detention, Nyima found that the local authorities had implemented the gag order long before her release. Local Tibetans were not allowed to offer butter lamps or organize public prayer in memory of Rinpoche. Pictures of Rinpoche were banned. Rinpoche's belongings found in various monasteries that he had established had been confiscated and burned. Even his ashes were confiscated. Attempts by Rinpoche's followers to build a memorial stupa were suppressed by the local authorities. Rinpoche's followers in Lithang, Nyagchukha (Ch: Yajiang), Thangkarma and Othok monastery were later detained for about two months subjected to interrogations, beatings and coercion.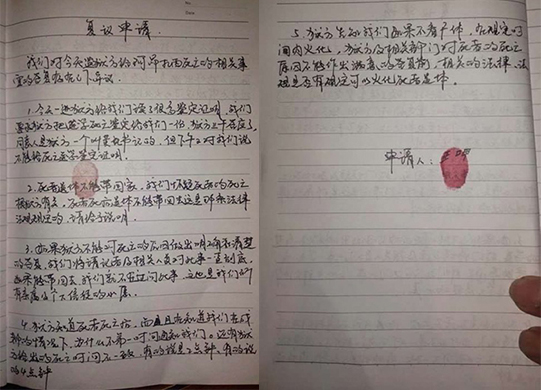 Nyima Lhamo and her family were kept under close surveillance and required to report to and take permission from the village leader whenever they had to travel outside their village. Once when Nyima visited her friend's home in Chengdu without informing the village leader, the police called her friend's house enquiring about her.
Smear Campaign
While Nyima and her mother were in detention, the Lithang County authorities had issued public notice that claimed that Rinpoche was a "fake lama and a "criminal, and barred anyone from discussing the death of Rinpoche. Local state television also broadcast propaganda announcements aimed at discrediting the person of Rinpoche and soiling his legacy among his followers. Nyima said local Tibetans in Lithang are concerned that Chinese authorities will control and manipulate Rinpoche's reincarnation, as they did with the XIth Panchen Lama.
Protest Outside the Prison
At about 7 am on 15 July, six people including Nyima Lhamo, her mother and other relatives of Rinpoche reached the prison gate to enquire about Rinpoche's death and to claim his body. The prison guards did not allow them inside or responded to their questions. Frustrated, Nyima and her mother shouted in Chinese, "You killed Rinpoche! If you didn't kill Rinpoche, show us the death certificate! We are citizens of PRC! There is no one-nation two systems policy in PRC [meaning they were being discriminated]!" When the prison guards still did not respond, Nyima's mother hit her head against the wall and shouted for evidence to prove Rinpoche's death. Nyima attempted suicide by tying her scarf around her neck. At the same time, she shouted at people passing by the prison compound that her uncle was killed. Alarmed that the situation was attracting attention from passers-by, the prison guards let Rinpoche's relatives including Nyima and her mother into the prison. Inside the prison, prison officials feigned ignorance about the matter and wondered why Nyima and her mother were shouting outside about Rinpoche being killed. The prison officials then told them to wait until 2 pm so they could provide a response on the matter. Nyima, her mother and the four other relatives vowed not to leave until the prison authorities provide medical documents and return Rinpoche's body.
When Nyima and her relatives came out of the prison, they saw about 300 Tibetans gathered outside the prison on hunger strike. Nyima and her mother joined the protest and asked for media persons to be called to report on the unjust behaviour of the prison authorities. When the protest gathered force, police drove the pedestrians away from the protest site telling them that the "terrorists have come to destroy the prison." And the police encircled the protesters.
At 2 pm, only Nyima's mother Dolkar Lhamo and one of her paternal aunts were called inside the prison. An official read a document purported to be Rinpoche's death certificate that said he died in a hospital. When told to sign the letter, Dolkar Lhamo asked the official to give the letter to her. The official refused to do so. As a result, Dolkar Lhamo refused to sign saying she wasn't educated enough to know what exactly the document contained. She said she needed a copy of the letter and time to ascertain its contents and think over it. The official still refused to give her the document. Amid the tension and frustration, Dolkar Lhamo's condition worsened and she fainted. The prison officials immediately took her back to her hotel. Nyima who was waiting outside the prison with other protesters was unaware of the incident. She later received a call from the hotel saying her mother was injured. Nyima suspected the worst thinking that the prison officials might have beaten up her mother. At the hotel, she found her mother sick with high blood pressure. She also noticed about 40 uniformed police deployed at the hotel to monitor them. The police followed their every move, even when Nyima went inside the washroom.
Pretense of Petition
Around 7 pm, three police officers visited Nyima and her mother at their hotel room pretending that they had come there to know more about the appeals that Rinpoche's family wanted to submit to the authorities. Nyima's mother explained three points: 1) Provide medical documents on Rinpoche's death; 2) As provided for in Chinese law, Rinpoche's relatives have the right to take care of the deceased's body; and 3) Rinpoche's body be handed over to his family members. One of the police officers wrote down these appeals in Chinese on a piece of paper and Nyima's mother signed it with her thumb print. A copy was given to Nyima's mother and the police officers left with the appeal letter. A couple of hours later at around 10 pm, another policeman came to inform that Rinpoche's cremation would take place at 7 the next morning. The news came as a shock and Nyima and her mother never heard about the appeal letter.
Crossing Checkpoints to Chengdu
On 14 July Nyima received a call from her mother that Rinpoche had died. Nyima's mother and her paternal aunt had been in Chengdu since 2 July waiting to meet Rinpoche in prison. It had been less than two days since Nyima's mother was informed by the polica about Rinpoche's death. As soon as she received the call, Nyima called on fellow villagers to join her to question the authorities in Chengdu. There were about 300 local Tibetans who gathered to go to Chengdu but the village leader stopped them asked them to get permission from the County government to travel to Chengdu. The County authorities in turn told them to get permission from prefectural and provincial-level authorities. After repeated appeals, the Lithang County authorities gave permission to seven people to visit Chengdu. They included Tenzin Shenphen (Nyima's younger brother), Choephel (son of Nyima's elder aunt), Dakpa (son of Rinpoche's paternal aunt), Taphel (son-in-law of Rinpoche's maternal uncle), Akel (son of Rinpoche's paternal aunt), Yeshi Gyatso (grandson of Rinpoche's paternal aunt). They were taken to Chengdu by Lithang County police officers.
The same evening, Nyima decided to leave for Chengdu without permission to join her mother and aunt. The authorities had put up police check posts on all transportation routes from Lithang to Chengdu. With help from some relatives, she left in a car for Chengdu. They were stopped on the way several times but finally managed to reach Chengdu after about 15 hours. On the way they also gave ride to three nuns who were also going to Chengdu after hearing the news about Rinpoche. When she reached the hotel where her mother and aunt were staying, she saw police officers standing guard at various locations at the hotel.
Nyima Lhamo was born in Dekyi village in Lithang County. She is the second oldest among five siblings. She got married at 20 and gave birth to a daughter Dawa Dolma who is now six years old. Nyima's father Thupten Kalsang passed away a year after her marriage. Nyima's family consisted of her mother Dolkar Lhamo; elder sister Tenzin Palmo who has a nine-year old son; and two younger brothers. One of her younger sisters died of illness at the age of 24. Nyima had left the home of her in-laws to help her ailing sister. Nyima and her family faced enormous hardships after the death of their father and sister. She believes it is important to let the world know about the injustices suffered by her uncle, but she also fears for the safety of her family in Tibet.
For more information on Trulku Tenzin Rinpoche, visit the following links: