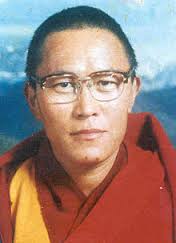 Today marks the 13th anniversary of Tulku Tenzin Delek's arbitrary and unjust arrest on 7 April 2002. His arrest eventually led to life imprisonment. Tenzin Delek Rinpoche is a revered Tibetan Buddhist lama from Lithang, Kardze, Kham, in present-day Sichuan Province. He is known for his campaigns to restore Tibetan culture and religion, social welfare activities and his criticism of repressive Chinese policies in Tibet. On 5 December 2002, Tenzin Delek Rinpoche and his nephew were respectively sentenced to death with two years' reprieve and death sentence. They were accused of being involved in a series of bomb attacks in Chengdu on 3 April 2003. Lobsang Dhondup was executed but Rinpoche's death sentence was commuted to life imprisonment due to pressure from the world community.
Rinpoche was wrongly imprisoned and his basic rights were denied and violated during the entire process from detention to sentencing. He was secretly detained for seven months prior to his appearance at a court trial. He was denied access to attorneys or to private visitors during the entire duration of his detention, thereby confirming allegations of torture.
Tibetans believe that Rinpoche was targeted for his personal charisma and moral standing among local Tibetans; his ability to influence the local people posed a threat to the Chinese Communist Party rule in Tibet. According to information received by TCHRD from sources inside Tibet, Tenzin Delek Rinpoche is suffering from severe health crisis. Not only his heart condition has worsened, he has suffered nervous breakdowns in the past. His disciples are greatly concerned that he is not provided proper medical care in prison. He now carries a walking stick as a result of having sustained a leg injury in prison. He is 65 years old and his condition remains critical.
TCHRD is concerned that family members and relatives of Rinpoche have not been allowed to visit him in prison since November 2013. Prison authorities have provided no reason for rejecting visitation requests from Rinpoche's family and relatives. Chinese law provides that prisoners have the right not only to "regularly meet with family members" but also "to exchange letters with their relatives and friends." In the past 14 years of imprisonment, Rinpoche has met only seven times with his relatives.
TCHRD is deeply concerned about the health and wellbeing of Tenzin Delek Rinpoche, who has spent most of his life working for the betterment of the Tibetan community including Tibetan-Chinese reconciliation. TCHRD urges the Chinese leadership in Beijing to release Rinpoche on humanitarian ground so that he could receive immediate medical care. TCHRD appeals the UN High Commissioner on Human Rights, governments and the international community to press on China to release Rinpoche before his health deteriorates beyond cure. TCHRD urges the local Chinese authorities particularly the prison authorities to allow family members and relatives to visit Rinpoche and ascertain his health and well-being.