On 3 May, Gonpo Kyi shared a video decrying the unjust verdict against her brother Dorje Tashi. Kyi says in the video, "Both the masses and leaders must abide by the law of the country. Here, however, the leaders do not follow the law and are not punished while the masses are subjected to punitive measures. The court did not respond to my petitions calling for its judges to be held accountable and penalised for not following the rule of law. Instead, the petitions were snatched from our hands and thrown into the dustbin. If common people like us did such a thing, we would have been accused of breaching various laws and subjected to numerous punitive measures." 
This comes within a week after her detention in police custody for staging a relentless series of protests against the Chinese judicial authorities, specifically the Tibet Autonomous Region (TAR) Higher People's Court, which passed the verdict on Dorje Tashi. On 26 April, Gonpo Kyi and her spouse were apprehended by the Public Security Bureau (PSB) officers in Lhasa and were released the following night on 27 April, reported exile Tibetan sources. During their detention, they were reportedly subjected to physical abuse, rigorous questioning and warned not to engage in such activities in the future. Instead Gonpo Kyi responded, "I will continue to protest until they kill me."
Unfazed by police beatings and intimidation, Gonpo Kyi staged a protest in front of the TAR Higher People's Court on 23 and 24 April. She demanded a fair and just trial for her brother Dorje Tashi, whose case was marred with allegations of false conviction and judicial irregularities. Notwithstanding the peaceful nature of the demonstration, the authorities attempted to suppress her voice by covering her protest with long black sheets.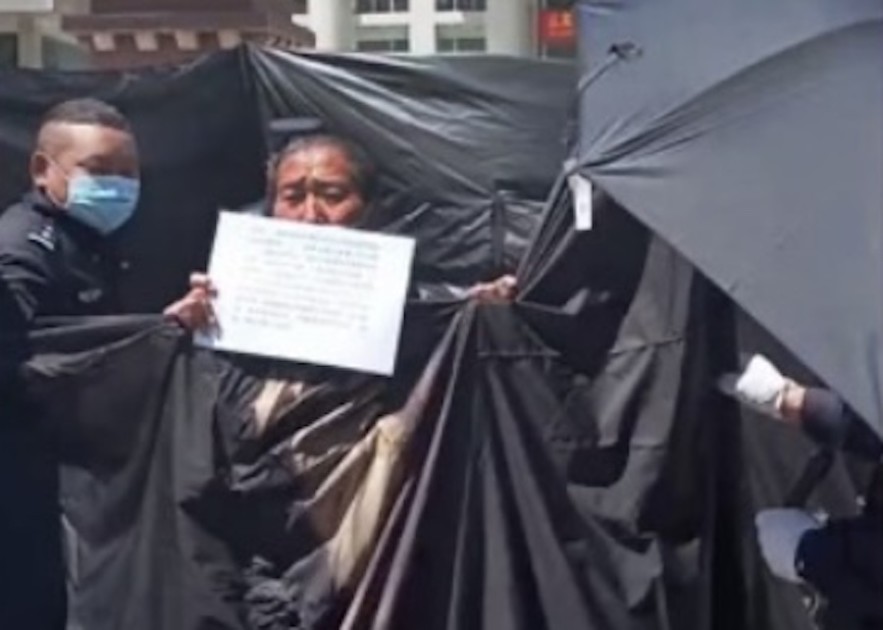 Earlier on 20 March, Kyi stood outside the TAR Higher People's Court wearing a white shirt on which was written a slogan in Mandarin Chinese: "The allegations made by the Tibet Autonomous Region Higher People's Court against Dorje Tashi are false!" In her hand, she held a copy of the verdict against Dorje Tashi. Her protest was short-lived when the Lhasa PSB officers arbitrarily detained her overnight and subjected her to beatings and interrogation.
A day later, on 21 March, a video clip surfaced on social media showing the police beating up Gonpo Kyi in front of the police station.
Following this, on 26 March, Kyi returned to the site of the protest to call for the verdict against her brother to be overturned and for her brother to meet his family members. 
On 31 March, Dorje Tseten, brother of Dorje Tashi, was summoned to the Lhasa PSB office, where he was informed that regardless of the numerous discussions about the wrongful conviction of Dorje Tashi, there was no possibility of overturning the verdict. Furthermore, Dorje Tseten was threatened with harsh punitive measures if he or anyone else continued to protest against the verdict. 
Gonpo Kyi recorded a video just prior to the protest of 20 March, which later circulated widely on the internet. In the video, she says, "I have spoken about this issue and introduced myself numerous times. It is now common knowledge. I am the sister of Dorje Tashi, the owner of Yak Hotel. In 2008, both of my siblings were arrested. Dorje Tsetan was sentenced to six years in prison, as indicated by the verdict document. My other sibling has been in prison for fifteen years now. The verdict was made 15 years ago by Norbu Dhondup, a judge from the TAR- Higher People's Court, along with Penpa Lhamo and Pasang. At the same time, a Chinese couple, He Xingyou and his wife, were convicted of mortgage fraud worth 53 million yuan and sentenced to only 15 years in prison and released after serving just ten years. But my brother Dorje Tashi, who has been falsely accused of the same crime, remains behind bars despite repaying his total loans."
It's been 15 years since Dorje Tashi has been unjustly imprisoned for life for false loan fraud charges. Despite numerous appeals for a just trial and case revision, he remains behind bars. His family is not allowed to meet with him or to appeal to higher authorities about his case.
Both Gonpo Kyi and Dorje Tseten have resorted to peaceful protests in front of the TAR Higher People's Court and carried out protests in the form of open letters and video messages to expose the names of those responsible for the unfair trial.
The Chinese authorities' repeated detention and intimidation of Gonpo Kyi, a peaceful protester demanding justice for her brother Dorje Tashi, clearly violates her fundamental right to protest and expression. Such actions are not only contrary to the law, but they also show a blatant disregard for fundamental human rights.
TCHRD calls on the Chinese authorities to respect the fundamental rights of Gonpo Kyi and all Tibetans. We condemn the cowardly and unlawful acts of the Lhasa PSB authorities for intimidating and threatening Dorje Tseten and his family members for merely exercising their basic human rights and demanding justice for Dorje Tashi, who is in prison for a crime he did not commit. We demand that the authorities cease their harassment of Gonpo Kyi and address her grievances, as a responsible government must. It has been proven through expert legal analyses that Dorje Tashi was unjustly imprisoned and disproportionately sentenced in a politically motivated verdict.