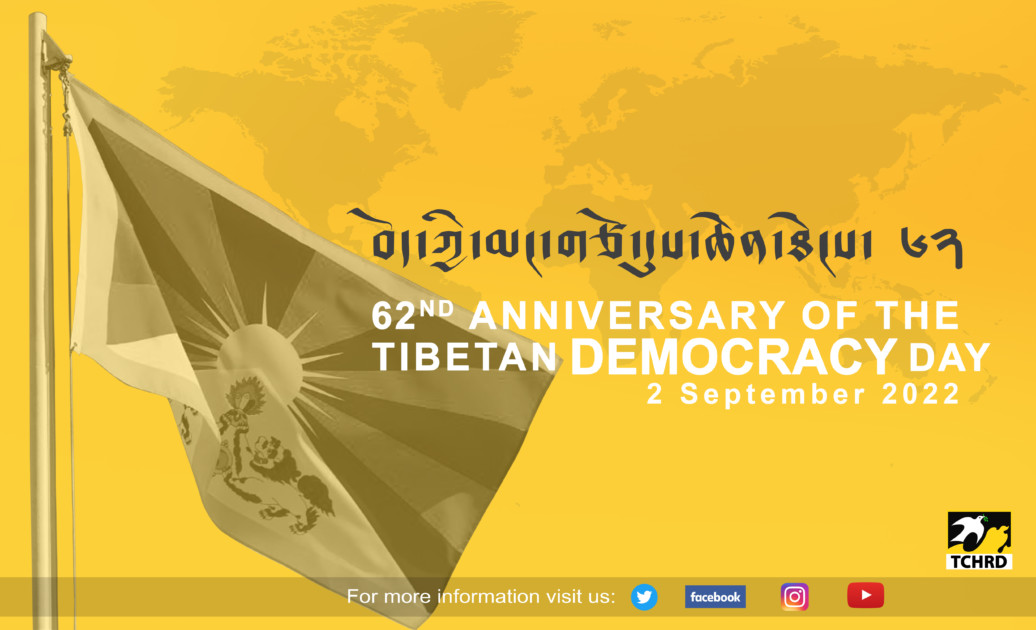 On the 62nd anniversary of the Tibetan Democracy Day, the Tibetan Centre for Human Rights and Democracy (TCHRD) extends greetings to Tibetans all over the world both inside and outside of Tibet.
Under the far-sighted leadership of His Holiness the Dalai Lama, the Tibetan people have demonstrated tremendous courage, determination, and resilience in establishing a system of governance underpinned by human rights and democratic values in exile.
Since the historic moment when the first Commission of Tibetan People's Deputies (now the Tibetan Parliament in exile) took oath of office in Dharamsala on 2 September 1960, the Tibetan democratization process has achieved major milestones: the adoption of the 'Charter for Tibetans in exile' in 1991;the direct election of Kalon Tripa (head of the exile Tibetan administration) in 2001; and the devolution of His Holiness the Dalai Lama's political authority to an elected leadership in March 2011.
Today, the Tibetan exile community has set up a system of governance based on democratic principles. The exile government is democratically elected by popular vote every five years, as is the Tibetan parliament in exile. We have the Tibetan Supreme Justice Commission, other autonomous bodies such as the Election Commission, Auditor General's Office, NGOs, and media organizations.
However, democratic institutions alone cannot ensure the realization of our most cherished goals, such as freedom, peace, security, human rights, and gender equality. Now, more than ever, we need to promote values, principles, behaviors, and practices that are indispensable to the development of a democratic culture in any society.
Building a democratic culture requires an engaged and informed citizenry, capable of accommodating and tolerating diverse views and other differences, in a spirit of compromise and consensus building. Conflicts and disagreements are inevitable in any group or society; it is our way of negotiating these conflicts, using the two-pronged approach of tolerance and dialogue, that will help us establish a healthy democracy. Ultimately, any solution or decision must be achieved through objective dialogue, and taken in the larger interests of the community – without violating the rights of any dissenting individuals or groups.
TCHRD recognises the vital role of education and advocacy in producing an informed and independent public, which is an important component of building a democratic culture. We believe that it is important to transmit and instill democratic values, principles, and knowledge, in a spirit of open inquiry among the different sections of society. It is equally important to create inclusive spaces and platforms for dialogues and debates on unpleasant and controversial issues and ideas.
This autumn, TCHRD will launch a series of education and advocacy activities aimed both at creating awareness about Tibetan democracy in the international community, and at building a culture of democracy among the exile Tibetan community. Under the series, short explainer videos will be produced on the system and functioning of Tibetan democratic institutions, including civil society organizations and other pressure groups. Public debates – primarily among the Tibetan youth, both lay and monastic – will be organized around the potential ways and means to identify and counter practices that hinder the development of a healthy democratic culture in the Tibetan community. These debates will be recorded, subtitled in multiple languages, and published on social media platforms for wider dissemination. Another important initiative is our Tibetan language digital literacy campaign, aimed at generating awareness about issues surrounding digital democracy, freedom of expression, disinformation, and 'post-truth politics'.
What's your reaction?
0
Cool
0
Upset
0
Love
0
Lol