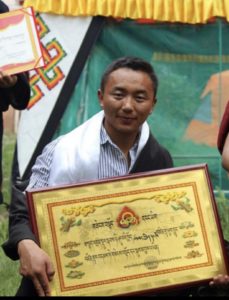 The Tibetan Centre for Human Rights and Democracy (TCHRD) has been informed by reliable sources about the arbitrary detention of a Tibetan man on the eve of a political anniversary deemed sensitive by Chinese authorities.
Pema Samdup, 26, was detained on the morning of 9 March this year in Lhasa, a day before the 60th anniversary of the Tibetan National Uprising Day. After being held in Lhasa for sometime, he was handed over to the Public Security Bureau (PSB) authorities in Chamdo (Ch: Qamdo) Prefecture, more than 480 km east of Lhasa.
Sources informed TCHRD that Samdup had been detained due to "political reasons" and for "sharing photos on his WeChat account".
Samdup was born and brought up in Khugyu Village in Sertsa Township in Tengchen county (Ch: Dengqen) County, Chamdo Prefecture. He is the youngest of the four sons of the Ragshitsang family. At the time of his detention, he had been working as a clerk at a bar cum restaurant in Lhasa. It had been little over a month since he had started this job.
Samdup's family members have not received any formal notification about his arrest nor have they been allowed to meet him. His elder brother Kunchok Tsegyal was called for interrogation twice by the Tengchen County PSB in connection with the case. His father had travelled to Lhasa once but could not find him.
Samdup's relatives fear that he is being subjected to life-threatening torture and abuse in the detention facilities of Chamdo. "My worst fears came true when I heard about [Samdup]'s detention in Chamdo. [The detention officers] in Chamdo are notorious for using brutal torture methods on political detainees," a close relative of Samdup who lives in exile told TCHRD. "I now fear for his life. He is such a bright young man with his whole life ahead of him and now his future is uncertain."
In March 2018, Samdup graduated from the reputable Gangjong Jigme Sherig Norbu College in Xining where he studied for four years. He excelled at academics securing good grades and honours at the college where all the subjects are taught in Tibetan and teaching standards are exceptionally high. After graduation, he returned to his hometown in Tengchen County to find work. Unable to find permanent employment, he decided to leave for Lhasa.
TCHRD urges the Chinese authorities in Chamdo Prefecture to stop the torture or other cruel, inhuman or degrading treatment or punishment of Pema Samdup and release him immediately and unconditionally from arbitrary detention. We also urge that Chinese authorities guarantee in all circumstances the physical and psychological integrity of Pema Samdup, in addition to granting immediate and unhindered access to his family members and necessary medical treatment.
The arbitrary detention and suspected torture of Pema Samdup for merely sharing photos online are flagrant violations of his human rights and fundamental freedoms guaranteed in the Universal Declaration of Human Rights and other international human rights instruments that have been signed or ratified by the People's Republic of China.