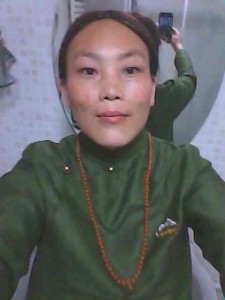 Chinese authorities have sentenced two Tibetan monks for sharing online information and images about the self-immolation protest of a Tibetan mother in Sangchu (Ch: Xiahe) County in Kanlho (Ch: Gannan) Tibetan Autonomous Prefecture, Gansu Province, in the Tibetan province of Amdo.
Jinpa Gyatso, about 39, and Kelsang Monlam, 37, were each sentenced to one year and a half on 12 September by the Sangchu County People's Court. Both monks belonged to the college of Buddhist Dialectics at Labrang Tashikyil Monastery in Sangchu County. They were arbitrarily detained separately on 4 June 2015 and held in prolonged incommunicado detention.
Jinpa Gyatso was detained at the local market located below Bora Monastery in Bora Township, Sangchu County. At the time, Jinpa was with two other monks from Bora Monastery, both of whom were also detained along with Jinpa. The two monks, identified as Jamyang Gyatso and Kelsang Gyatso, were held in police custody for two days and released.
Kelsang Monlam was apprehended from his residence at Labrang Monastery by a group of security officers. No explanation was given at the time of his detention.
Both Jinpa and Kelsang are being held at Menkar Prison in Sangchu County.
According to a reliable source, Jinpa Gyatso is one of the most intelligent and able monks at Labrang Monastery known for his wide-ranging scholarship and knowledge of Tibetan Buddhism and culture. He became a monk at a young age at Bora Monastery in his hometown. He later joined the Gansu Province 'Nangten Lobda' Buddhist Academy and graduated with honours. In 1998, he joined Labrang Monastery where he excelled in his studies and became well-known for his keen intelligence and insight.
Kelsang Monlam was born in 1980 in Nyinpa Village in Chebishi Township, Chone (Ch: Zhuoni) County, Kanlho Tibetan Autonomous Prefecture.
Sangyal Tso, a mother of two, died of self-immolation protest on 27 May 2015 in Dokhog (Ch: Daogao) Township in Chone (Ch: Zhuoni) County. The self-immolation was staged in front of a Chinese government office, located near Choephel Shing Tashi Choekorling Monastery in Dokhog Township.
As previously reported by TCHRD, her self-immolation was followed by the arbitrary detention of six known Tibetans. Two of the detained were her husband Tadrin Wangyal and her nephew Tenzin Soepa. Tadrin Wangyal was detained with a monk named Trinley Gyatso. The others were Samten Gyatso and Lobsang Tenzin. The status of the above six remains unknown. With the detention of Jinpa Gyatso and Kelsang Monlam, the total number of known Tibetans arbitrarily detained in connection with Sangyal Tso's self-immolation has increased to eight.