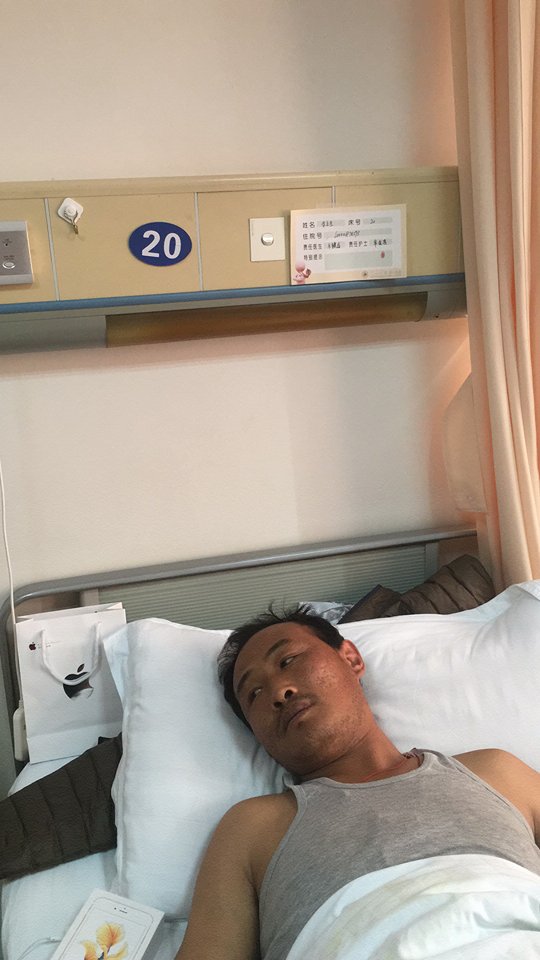 Chinese authorities released a Tibetan man from prison before the completion of his term to avoid responsibility for his imminent death due to torture injuries. Meanwhile his daughter has been refused school admission because her father had engaged in political activities in the past.
Shonu Palden, 40, was released on 24 July 2013 before the completion of his prison term. He was released early, having served only a little over a year of his two years and nine months sentence, because continued incarceration would have led to his death in prison. Since his early release, he has undergone two massive surgeries in a local hospital to treat various health complications including a serious heart condition he developed in detention. He suffers from blocked arteries, weak eyesight, and breathing and hearing problems.
There has been no improvement in Shonu Palden's health despite the prolonged treatment. The family is struggling to meet the rising costs of his medical treatment. The first surgery cost 110000 RMB and the second 70000 RMB. Local authorities provided a subsidy of 29000 RMB for the first surgery. The family is hopeful that the government would refund about 10000 RMB for the second surgery.
Pictures obtained by TCHRD show Shonu Palden in hospital soon after his release from prison in 2013. Another picture shows him bedridden this year in a local hospital. The first photo was taken on 22 November 2013, less than four months after his release and the second on 23 October 2017.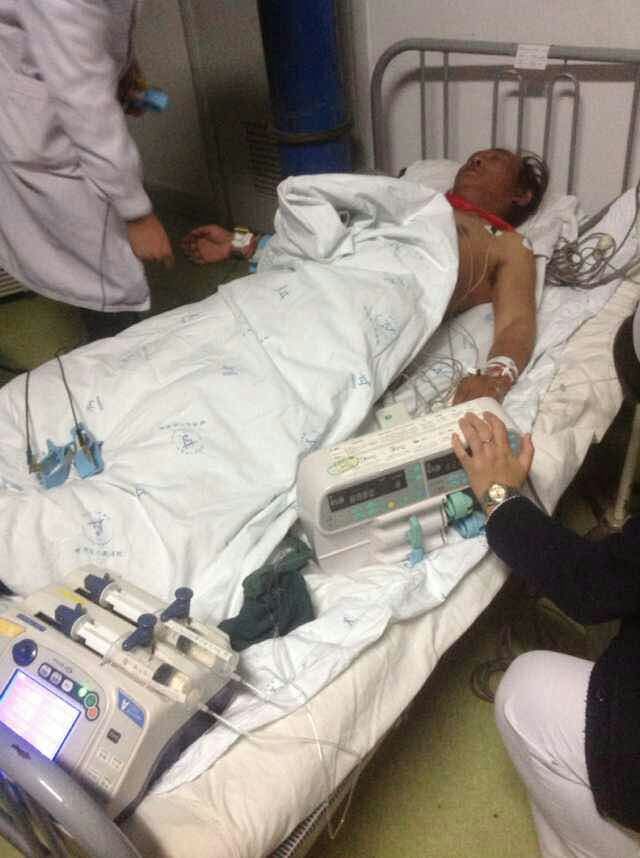 TCHRD earlier reported on Shonu Palden's arrest on 18 June 2012 from a tea stall in Bhelpan Village in Machu (Ch: Maqu) County, Kanlho (Ch: Gannan) Tibetan Autonomous Prefecture, Gansu Province, in the Tibetan province of Amdo. The arrest was conducted by a group of local State Security Bureau officers who came in four vehicles and took him away without any explanation.
It has now come to light that Shonu Palden was held incommunicado at Machu County Detention Centre for two and a half months during which he was subjected to rigorous interrogation and severe beatings and torture. He was later sentenced to two years and nine months for spearheading the protests of March 2008 in Machu County.
Sources told TCHRD that Shonu Palden's eight year-old daughter named Namgyal Dolma has been denied school admission due to her father's political past. The school authorities had cited Dolma's incorrect birth date as the reason for the denial of admission. She was born in November 2009 but her illiterate parents had mistakenly entered the birth date as 3 November 2011. To correct her birth date, Dolma's parents had submitted applications to the township government office along with the required supporting letter from the village head, as is evident from the copy of the application obtained by TCHRD. However, local authorities have yet to issue her the correct document. There had been several other cases similar to Dolma but none had faced any problems in correcting birth dates. When Dolma's parents questioned the local government authorities why she was treated differently, they were told that it had to do with her father's political past without explaining further. To this, Shonu Palden had retorted that he had faced all the consequences including torture and imprisonment for his involvement in political activities but his daughter could not be punished for something she had not done. Despite repeated petitions from the family members, local authorities refuse to correct her birth certificate making it impossible for Dolma to go to school.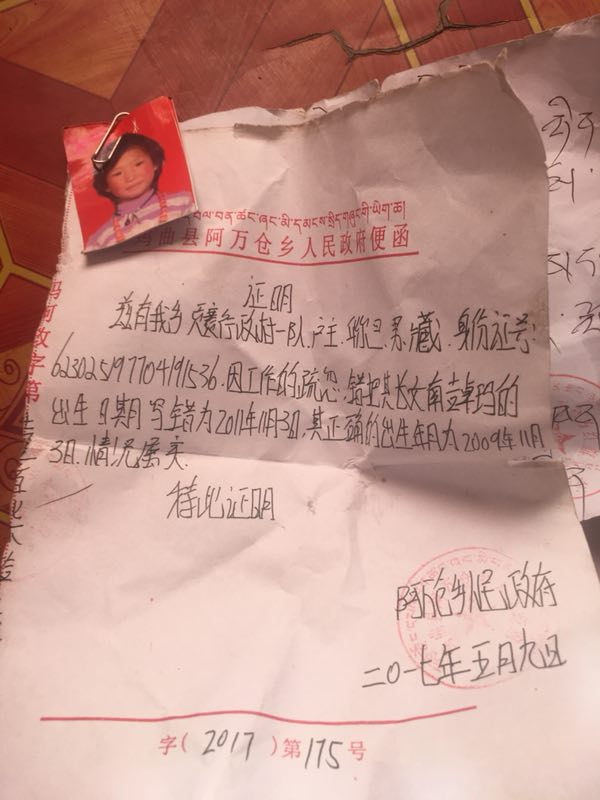 The denial of school admission to Shonu Palden's daughter is the latest example of Chinese authorities using collective punishment as a tool to silence dissent and intimidate other Tibetans from protesting against Chinese authorities. In recent years, these punishments focused on discouraging self-immolations, attendance of religious festivals and protests by punishing innocent people unconnected with the event. At a more basic level, collective punishment is the Chinese government's attempt to get retribution when the actor is beyond its reach. Under international law, imposing these collective punishments is illegal.
TCHRD is appalled by the poor health condition of Shonu Palden and the discriminatory treatment meted out to his daughter and calls on Chinese authorities to take all responsibility for the medical condition and treatment of Shonu Palden and to grant school admission to his daughter Namgyal Dolma without further delay. It is shockingly evident that Chinese authorities have made no improvement in outlawing torture and other cruel and degrading treatment in its detention centres and prisons. An increasing number of Tibetans such as Shonu Palden are subjected to inhumane treatment and torture in pretrial detention and then denied proper medical treatment after their sentencing, thus contributing to the rising number of custodial deaths. Shonu Palden's case attests to the fact that the Chinese government has failed to fulfil its obligations under the Convention against Torture and Other Cruel, Inhuman or Degrading Treatment or Punishment, which it ratified in 1988.
By denying school admission to Namgyal Dolma, Chinese authorities are clearly violating its obligations under the Convention on the Rights of the Child and Convention on the Elimination of All Forms of Racial Discrimination both of which it ratified respectively in 1992 and 1981. Chinese authorities must respect the rights of Tibetan children and ensure that all Tibetan children have access to education without discrimination.
Chinese authorities must prohibit the use of torture during interrogation and detention and conform to the provisions of the UN Convention Against Torture. Prison and detention centre officials responsible for torture and mistreatment of detainees must be investigated and held accountable. Prisoners must be provided prompt and adequate access to medical care and any deaths in custody must be investigated immediately and external medical authorities and the victim's family must be allowed to examine the body.
Shonu Palden was imprisoned for taking part in the March 2008 protests in Machu County. He is married to Tsering Dekyi aka Nangtso, 28, and the couple has three children – a son and two daughters.