As reports emerged of massive protests by the Chinese public against the government's zero-Covid policy, sources in Tibet informed TCHRD about the discriminatory treatment and arbitrary detention of local Tibetans in the last three months in Tibet Autonomous Region (TAR) and other Tibetan areas.
Following the protest by Tibetan and Chinese workers on 26 October this year against the prolonged pandemic lockdown in the Chakrong neighborhood in Lhasa City, 200 protesters were detained and held in a building owned by the government housing development authority.
Among the detained were 47 Tibetans, mostly workers from other parts of Tibet.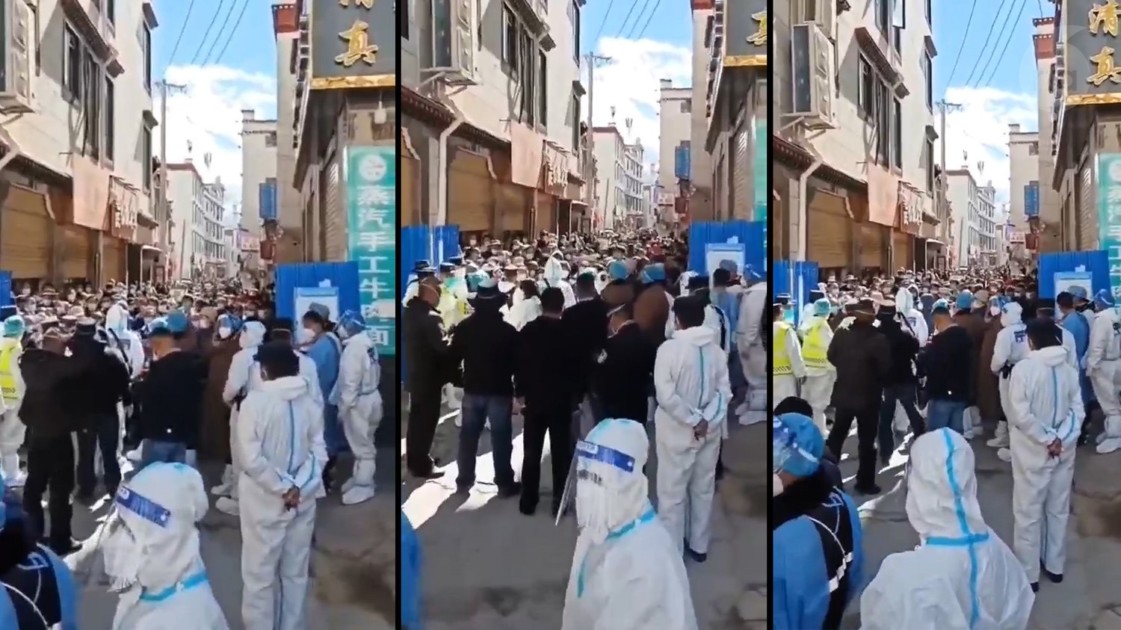 In a clear instance of official discrimination, Chinese protesters were given lighter punishment in the form of denial of rent and other government help for breaking the law on the crime of protesting. They were detained only for a day and released to return to their respective hometowns.
Tibetan protesters were held for 14 days in one-room cells, not allowed to contact fellow detainees. Each was fed only once a day and put to interrogation sessions where they were repeatedly asked to divulge information about protest leaders, their motives, and planning process.
Disproportionate restrictions on Tibetan cyberspace
In a comparison between the enforcement of the zero-Covid policy in April this year in Shanghai and in August in central Tibet, it was found that severe measures were taken to stop people from sharing information about the toll taken by the harsh enforcement of zero-Covid policy in Lhasa. In the name of combatting "rumors" and "fake news", many were detained amid an iron-clad control over online information sharing.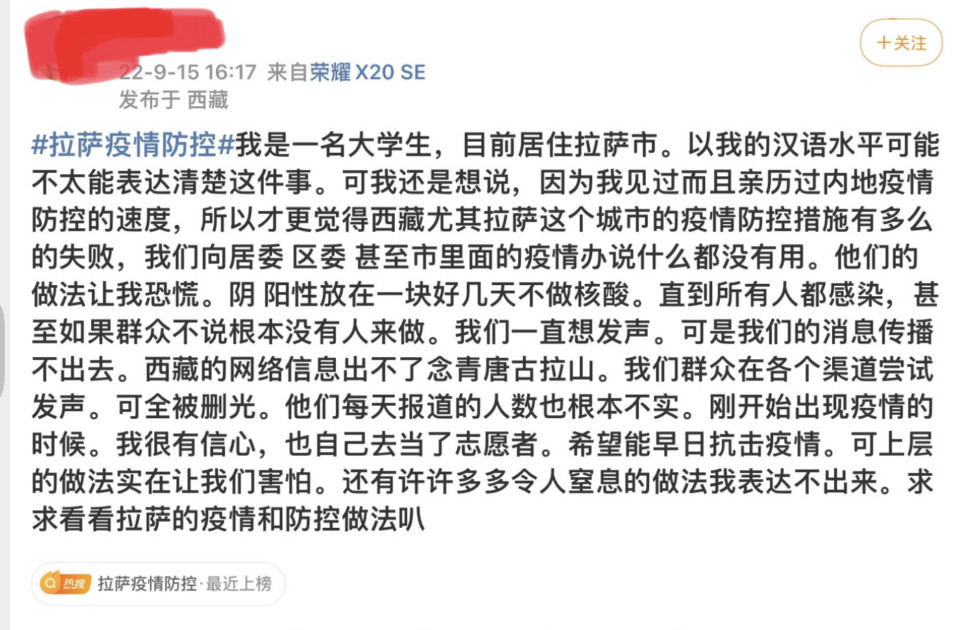 Many netizens in Lhasa published numerous posts on "Lhasa's emergency news cannot cross beyond Dangla Mountains" (Dangla being a reference to the mountain that marks the borders of TAR) and "Only Lhasa people can understand Lhasa's suffering and hardships". However, censors deleted the majority of them within hours. 
News of zero-Covid restrictions in Chinese cities and towns became popular in little time. News about Tibet, however, is subjected to heightened restrictions to the point that not only the Chinese audience but also Tibetan netizens living in other places in Tibet are unable to learn about the situation in their neighborhoods.
A Tibetan netizen named 'Pentse' in a Douyin post on 30 October, wrote: "I saw on my phone this morning that all the infected areas have come under the purview of government surveillance. But Tibetan areas, where infections were first reported three months ago, could not be seen. Did they forget us? No one and no media organisation is willing to raise voice on our behalf. The current situation is crystal clear in our minds. But no one speaks about it. Even if someone were to speak, no one would listen.  In this society, is it so hard to tell the truth? For each group and neighborhood to tell the reality? It is highly important that our city needs attention and support from the online community."
In the first week of the enforcement of the zero-Covid policy in central Tibet, a large number of Tibetans from Kham and Amdo areas outside TAR were made to leave for their respective hometowns and quarantined in government custody for a minimum of one week on their arrival. Soepa, who returned from Lhasa to Sershul County, told TCHRD that on 15 August, he was quarantined on arrival at a guesthouse where he was made to stay for a minimum of one week even after testing negative in multiple tests in three successive days. He learned that other Chinese workers made to leave Lhasa were released from quarantine the same day.
"There was no electricity or water in this quarantine facility. We didn't have enough to eat or drink. We were given phone numbers to order food from, but the numbers didn't work," he said. After contacting their relatives, detainees like Soepa were able to access home-cooked food through their families and relatives. "It looks like the guesthouse owners deliberately cut electricity and water. Everyone in the facility began complaining."
Some threatened that they would leave the facility if they didn't get electricity and water.
In an online post on 20 August, Tibetan writer and former political prisoner Tashi Rabten, aka Theurang, wrote that the zero-Covid policy was enforced in a discriminatory manner in his hometown and surrounding counties and townships. Domestic Chinese tourists were free to visit Tibet, while local Tibetans were put under strict lockdown, unable to practice religious activities and exercise freedom of movement. This resulted in a quick spike in the number of infections in Tibetan areas.  In Chinese cities and towns, when a case is reported, restrictions on movement will be imposed in that particular area, and other surrounding areas remain without control. The situation in Tibetan areas is different.
On 29 August, Tsondue from Khyungchu (Ch: Hongyuan) County in Ngaba Tibetan Autonomous Prefecture explained that the pandemic restrictions did not cover the domestic Chinese tourists who visited Tibet in hordes. Four Tibetans from Tsondue's township in Khyungchu tested positive on 28 August after they contracted the virus from Chinese tourists at the local Covid testing station.
TCHRD previously reported on the deadly consequences of pandemic lockdowns in central Tibet, calling for transparency and respect for human rights. We reiterate our calls to China, as a party to various international human rights treaties, to guarantee freedom of expression as a fundamental right even in the time of a pandemic.  Freedom of expression is crucial for ensuring other fundamental rights, such as the right to access information, which is all the more critical in the context of a pandemic.
The right to freedom of expression and information guarantees that the government authorities abusing emergency pandemic measures are held accountable. UN human rights experts have concluded that "in a moment of global pandemic, the right of access to the internet is a critical element of health-care policy and practice, public information and even the right to life." A free, open, and secure Internet is indispensable for the enjoyment of freedom of expression. 
TCHRD calls for the immediate and unconditional release of all Tibetans unjustly detained for criticising the Chinese government's failed 'zero-Covid' policy, put an immediate halt to the questionable practice of holding healthy individuals in unhealthy and unsafe conditions in Covid quarantine centres, and mobilise state resources to address the hardships faced by local Tibetans in terms of food security, unemployment, and inflation.