Forty nine days have passed since Chinese authorities imposed an authoritarian lockdown to ostensibly prevent and control Covid-19 in Lhasa and other major cities in Tibet Autonomous Region (TAR).
China's strict enforcement of its zero-Covid policy in central parts of Tibet has so far forced five Tibetans to commit suicide between 23 and 25 September in Lhasa city. Videos of some of them jumping to death from atop buildings have made their way online.
According to information published on social media platforms such as Weibo and WeChat, an unidentified person jumped to death on 23 September in Gakyiling neighbourhood 3 in Lhasa city.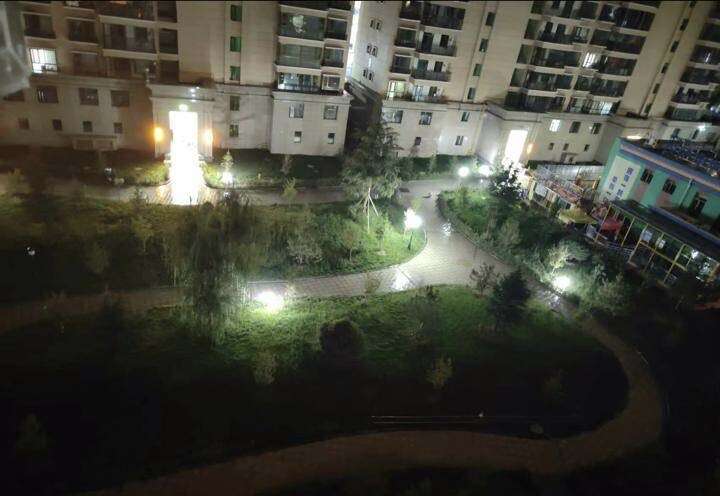 Five people who died of suicide on 23, 24 and 25 September were from Lhasa Comprehensive Protective Tariff Zone no. 2(West Lhasa), the Bayi community (southwest Norbulingka), Lanting apartment (near Tibet University), and Gakyiling neighbourhood 3 (east of Lhasa).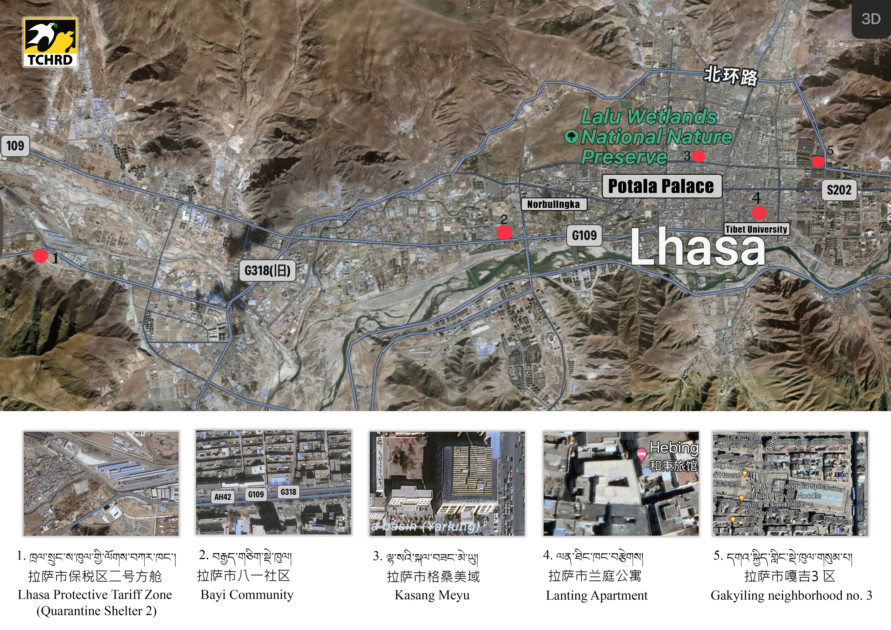 Social media posts about hardships faced by Tibetans are immediately deleted and many of the accounts making such posts are forcibly closed. A Weibo post published on the evening of 24 September alongside a picture of an apartment building in Gakyiling neighbourhood 3 read: "It rained today in Lhasa as if to mourn the person who died. Only the dead can reach heaven. The human realm is hell. Only those living in Lhasa can understand the situation of the epidemic in Lhasa. I request everyone to look after us. I request the authorities to stop deceiving the masses. The masses have suffered too much. The China Central Television and People's Daily [major state media] may not see this but I thought everyone should see the situation posted below".
On 25 September, another post with a picture of a dead person lying on its back on a flight of stairs was posted with a message: "What does Covid prevention and control mean to us? Every life [lives of ordinary people have no value]. Despair. Desperation. No one speaks up. Even when someone speaks, [his voice] cannot go beyond the Dangla mountains [central Tibet]. These lives must be happy in heaven because they have escaped this hell realm."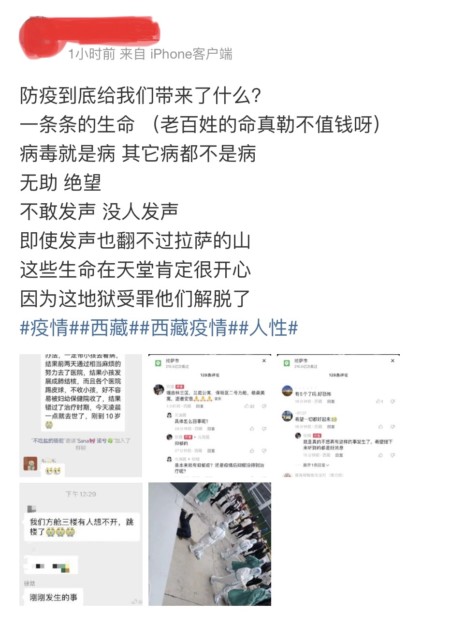 The Chinese government censors have already deleted the above mentioned posts. But one of the comments on these posts read: "Extreme repression has cost the lives of four persons. This cannot be tolerated further. But[one] should not have protested by giving away one's life."
Another netizen wrote, "It is really intolerable now, but one should not give away one's life to protest".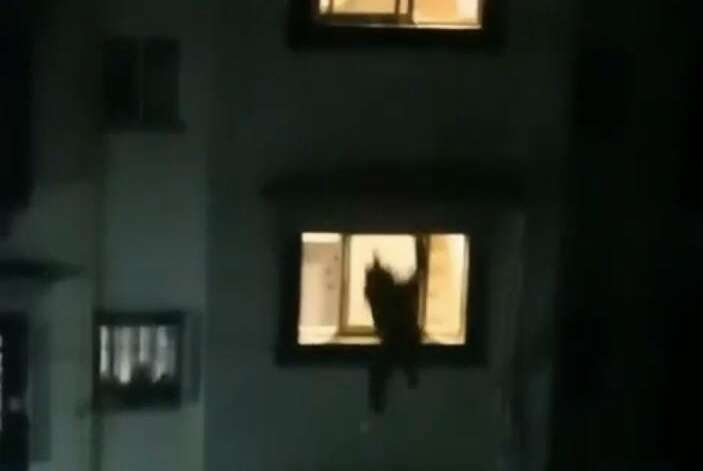 "What a loss! After enduring so much suffering, [the person] shattered eventually!" commented another.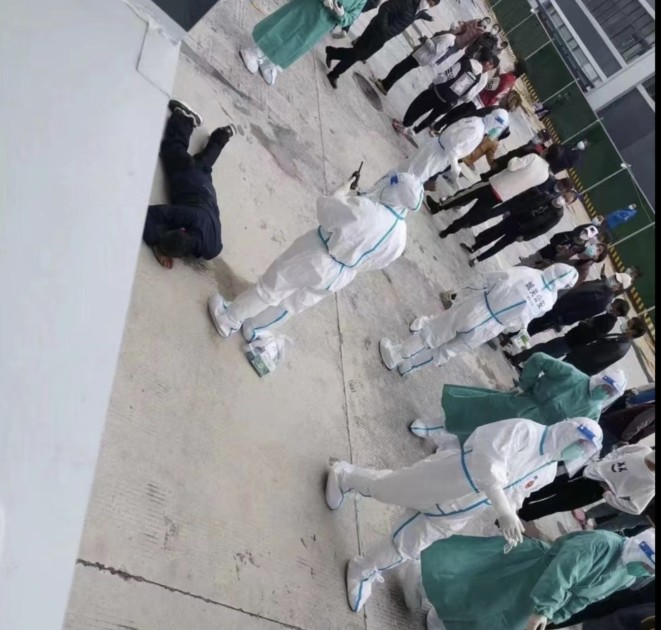 Yet another comment read: "Left with no options, such actions are committed in our small community."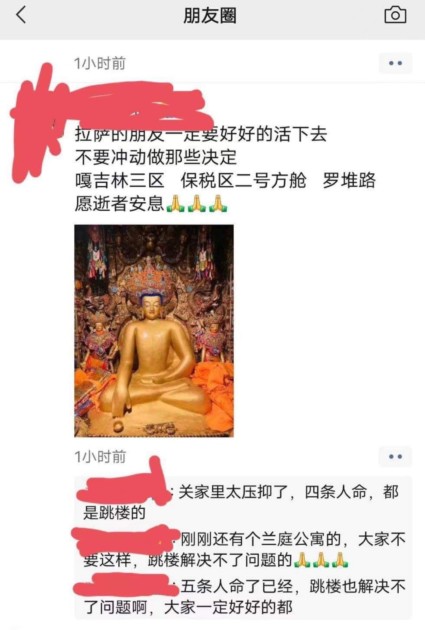 An account on WeChat offered prayers for the deceased with a post: "Friends in Lhasa, do not act abruptly on instinct". To this, a person responded, "We lost four people due to extreme restrictions and all of them jumped from atop buildings".
Another comment on the post read, "A person just jumped from a building, taking the total suicide count to five. Please do not do this. Suicide won't resolve the issue".

News that cannot cross Dangla Mountains
An unprecedented number of social media posts including videos by Tibetans about the Covid crisis in central Tibet forced the Chinese authorities in Lhasa municipality to formally issue a public apology for its failure to meet people's needs and solve their problems. However, there hasn't been a single video uploaded since. Clearly, the warning issued by Chinese police to silence whistleblowers and other outspoken netizens has been implemented.
Information obtained by TCHRD through sources in Lhasa reveals that all those who had spoken out after the issuance of the formal apology had been detained. Restrictions have been increased on online accounts. The uninfected people are still being quarantined with the sick in Lhasa. Lockdown measures have been tightened causing many to starve and suffer in the frigid cold.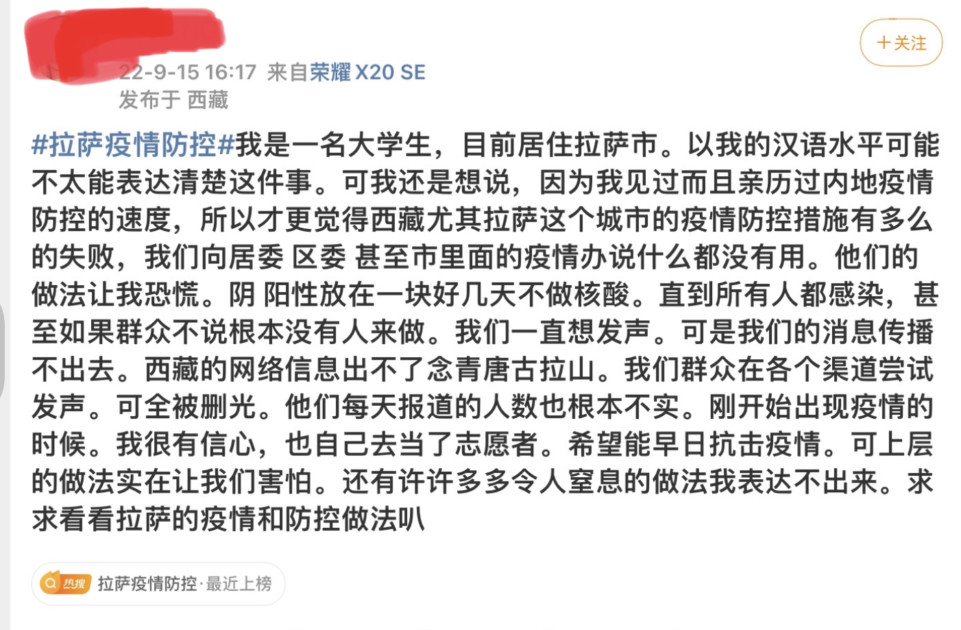 Except for government posts, very few people are posting online on the Covid situation these days. The handful that do post hope for the "cries to reach beyond the Dangla mountains [Lhasa or central Tibet]." As a Weibo user wrote, "Only Lhasa folks will know about the epidemic situation in Lhasa. No one is speaking up. Even if someone speaks, it doesn't go beyond the Dangla mountains".
A student from Lhasa wrote, "Whatever we speak about and the information we post cannot go outside of Tibet. Everything that we post on Weibo and other [online platforms] is immediately removed. The official figures on the number of infected people and other information are not true. At first, I was sincerely motivated and worked as a volunteer. I hoped that we would swiftly overcome the epidemic. However, the way the authorities functioned has generated fear in us. I can't put into words the other more urgent issues that [we are facing]. Please have mercy! Pay more attention to the Covid crisis in Lhasa."
Another account posted, "It greatly pains me to see my Tibetan brothers and sisters suffering. I pray that with everyone's support, the information about the epidemic in Tibet will be known beyond the Dangla mountains!"