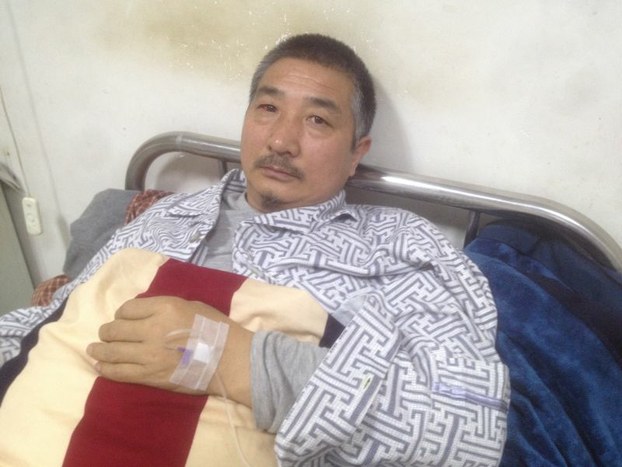 Prominent Tibetan monk Jigme Gyatso who was released from prison after five years last October has been diagnosed with multiple diseases and is now admitted to a hospital in Sangchu (Ch: Xiahe) County of Kanlho (Ch: Gannan) Tibetan Autonomous Prefecture, Gansu Province, in the Tibetan province of Amdo.
Jigme Gyatso was admitted to the Sangchu County People's hospital on 26 December on the advice of the doctors at the hospital. He will undergo further tests and treatment in the coming days. Earlier on 11 November, several weeks after his release from prison after five years, Jigme Gyatso's family took him to Lanzhou for treatment after he complained of headaches and other problems. Doctors at Lanzhou diagnosed him with diabetes, hypertension, and other complications related to his heart, liver and eyes. Recent pictures of Jigme Gyatso show the monk sporting traces of blood in his eyes causing them to appear red.
Jigme Gyatso had been subjected to beatings and torture while being detained on four different occasions. His fourth detention in 2011 resulted in five years imprisonment. In his famous torture testimony that he gave to an overseas media organisation, Jigme Gyatso had said: "I was kept there for one month during which time I was handcuffed in one position for many days and nights … They would hang me up for several hours with my hands tied to a rope… hanging from the ceiling and my feet above the ground. Then they would beat me on my face, chest, and back, with the full force of their fists. Finally, on one occasion, I had lost consciousness and was taken to a hospital. After I regained consciousness at the hospital, I was once again taken back to prison where they continued the practice of hanging me from the ceiling and beating me. As a result, I again lost conscious and (was) then taken to the hospital a second time. Once I was beaten continuously for two days with nothing to eat or a drop of water to drink. I suffered from pain on my abdomen and chest. The second time, I was unconscious for six days at the hospital, unable to open my eyes or speak a word."
Two months after his arbitrary detention on 20 August 2011, Jigme Gyatso's health began to deteriorate. After repeated appeals, he was granted medical help after four months. At the time, prison doctors diagnosed him with diabetes and kept him for further treatment. Last March, prison authorities again took him to a hospital in Lanzhou for emergency treatment.
Jigme Gyatso continues to live under the strict watch of the local Public Security Bureau (PSB) officers in his hometown of Sangchu. He has not been allowed to resume his religious studies at Labrang Monastery or to wear his monastic robes. Prison authorities have not returned his personal belongings including his computer, documents, purse and permanent resident ID cards (Tib: Yulmi Thobthang Lagkyer; Ch: Shen Feng Teng). Jigme Gyatso has so far requested the authorities three times to return his belongings but to no avail. Without the resident ID card and extreme restrictions placed on his movement, Jigme was unable to seek better treatment in private hospitals.
By depriving Jigme Gyatso of his resident ID card, Chinese authorities forced the ailing monk to get admitted in a government hospital that also made it more convenient for the Sangchu County PSB authorities to monitor the monk.
The current restrictions imposed on Jigme Gyatso are part of the 'deprivation of political rights' sentence that individuals charged of endangering state security (ESS) crimes are required to serve in the People's Republic of China (PRC). The PRC's Criminal Law stipulates that 'deprivation of political rights' is a supplementary sentence, in addition to actual imprisonment, imposed for one to five years on individuals convicted of ESS and other serious crimes. Jigme Gyatso was charged of 'engaging in activities aimed at splitting the country', an ESS crime. Due to the unavailability of his sentencing document, it is not known how long he has been sentenced to deprivation of political rights. Deprivation of political rights begins the day after an individual is released from imprisonment.
Articles 54 to 58 of the Chinese Criminal Law stipulate that individuals deprived of political rights lose their rights to freedom of speech, press, assembly, association, procession, and demonstration. In addition, the 'Regulations for Monitoring and Management of Offenders Subject to Public Surveillance, Deprivation of Political Rights, Suspended Sentence, Parole, or Medical Parole by Public Security Organs' provide specific restrictions on individuals deprived of political rights. The regulations require the local PSB authorities to monitor and surveil the individual concerned. The person placed under such surveillance is required to report periodically to local PSB office and seek approval for travelling outside one's place of residence. He or she is also prohibited from giving media interviews and "publishing or circulating, inside or outside China, any remarks, books, audio recordings, or other such items that damage the reputation or interests of the state or pose any other threat to society."
The Tibetan Centre for Human Rights and Democracy (TCHRD) calls on the Chinese authorities to respect the basic rights of Jigme Gyatso and allow him to seek medical treatment of his choice outside his hometown. Relevant Chinese law does not stipulate any provisions that allow the authorities to deprive a former ESS convict of his or her resident ID card. By all indications, the restrictions imposed on Jigme Gyatso are arbitrary and extralegal.
"Often the local PSB authorities employ discretionary power to restrict the rights of an individual whose political rights are deprived due to ESS conviction. In Jigme Gyatso's case, he was not allowed to join his monastery and resume his studies. Additionally his resident ID card was not returned making it impossible for him to get treatment in hospitals other than those owned by the government," said Pema Choedon, research officer at TCHRD.