The Tibetan Centre for Human Rights and Democracy (TCHRD) has been informed by credible sources that Tsewang Norbu, 25, a famous Tibetan singer died of self-immolation on 25 February this year protesting the Chinese government's repression at the Potala Palace Square in Lhasa, Tibet Autonomous Region (TAR), in the Tibetan province of U-Tsang.
A Tibetan inside Tibet confirmed that as soon as Norbu set himself on fire, Chinese security officers sprang into action and took him away. He died several days later.
Sources familiar with the deceased told TCHRD that the prevailing circumstances of extreme government surveillance and censorship are making it difficult to obtain tangible evidence such as photos or footage of the self-immolation or for any witnesses to come forward.
In a post that he uploaded on his Weibo account at 11.59 am local time on 25 February, Norbu shared some old photos of himself and wrote to his followers: "I read all your comments. Thank you! After getting disheartened, I am at peace now. If you too are disheartened, do not fail to remain silent."
These are words from his new song, "Don't fail to remain silent despite distress", which was released three days before his self-immolation.
It appears that he self-immolated only an hour or two after writing that post.
All comments on Norbu's recent post have been disabled by government censors after his self-immolation but the 'like and share' garnered by the post kept increasing steadily.
As of 12 March 2022, a notice had been added to his account by the Weibo admin that reads, "The user is currently banned for violating relevant laws and regulations".
Tsewang Norbu was born in Nagchu (Ch: Naqu) City in 1996. He was a graduate of the Tibet University in Lhasa. He was married with a child. His father, Choegyen, from Pelgon County, is a teacher at the Nagchu City Performance Arts Troupe. Choegyen is counted among the best musicians and composers at the national level. Norbu's mother is the famous singer Sonam Wangmo from Sog County.
In 2018, Norbu's uncle Lodoe Gyatso was sentenced to 18 years in prison for staging a peaceful protest against the Chinese government at the Potala Palace in Lhasa. His wife Gakyi was also sentenced to two years for helping to shoot a video of her husband's protest. Gyatso had previously served 21 years in prison and the expiration of his current term would mean that he would have spent 39 years of his life behind bars.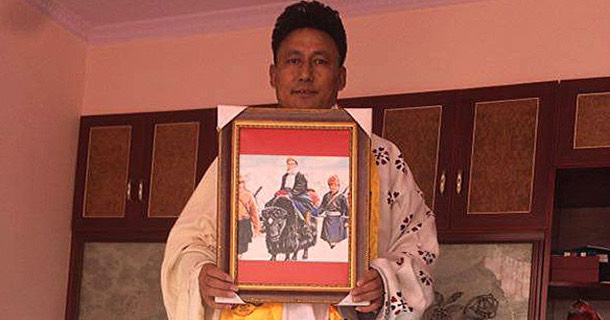 In 2014, Norbu participated in Guangdong's Satellite TV's "China's Good Boys", a musical talent contest. He had been recognised as one of the top 12 artists from his region as well as one of the best among 48 artists nationally. In 2017, he became one of the nine finalists in a national talent contest called "The Sun of Tomorrow".
In 2021, his participation in the "Sing China Competition" earned him many fans in both Tibet and China. He was known for many self-composed popular songs notably 'Tsampa' ('Barley Flour') and 'Phayul Log Dro' ('Let's Return to Fatherland'), among many others.
Tsewang Norbu has become the first known Tibetan to self-immolate after 24-year-old Yonten who also died in Ngaba (Ch: Aba) County in November 2019 and the 158th known Tibetan to self-immolate in protest against the Chinese government since 2009.
The self-immolation of young Tibetans like Tsewang Norbu, who seems to have it all, lays bare China's claim that the spate of self-immolations that have engulfed the Tibetan plateau since 2009 is triggered by psychological and livelihood issues.
China continues to hatch strategies to win the hearts and minds of the new generation of Tibetans in its Sinicization project, but the self-immolation protests by young Tibetans like Yonten and Tsewang Norbu expose how China's ill-intent strategies in Tibet is deeply hurting young Tibetans.
To prevent self-immolations and save lives, TCHRD calls on China to halt its Sinicization programs and uphold the human rights of Tibetans to protect and promote their culture and language, and freely exercise basic freedoms including freedom of expression and freedom to practice one's religion or belief.
TCHRD urges the Chinese authorities to hand over the remains of Tsewang Norbu to his family so that they can conduct customary rites and rituals for the deceased. Norbu's family and relatives must not be subjected to coercive interrogations and arbitrary detention.
---