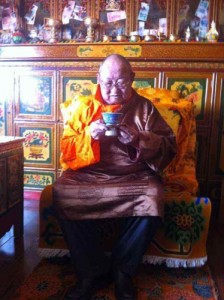 A Tibetan monastery with over 300 years of history has been shut down indefinitely after Chinese authorities attempted to impose its own choice of reincarnation on the monastery in Nagchu (Ch: Naqu) Prefecture in Tibet Autonomous Region (TAR).
Shak Rongpo Gaden Dhargyeling Monastery, located in Shakchu (Ch: Xiaqu) Township in Nagchu County, has been under intense pressure and restriction since 2010 when local authorities arrested and sentenced a senior spiritual teacher, Lama Dawa Rinpoche, to seven years in prison on charges that he contacted His Holiness the Dalai Lama during the search for the ninth reincarnation of Rongpo Choeje, the head lama of the monastery. The previous eighth incarnation of Rongpo Choeje passed away on 14 August 1999. The first Rongpo Choeje founded the monastery under the guidance of the fifth Dalai Lama some 300 years ago.
According to information received by TCHRD, out of 113 big and small monasteries in Nagchu Prefecture, Shak Rongpo Monastery has been blacklisted among the top group of reactionary monasteries, undeserving of any measure of official leniency.