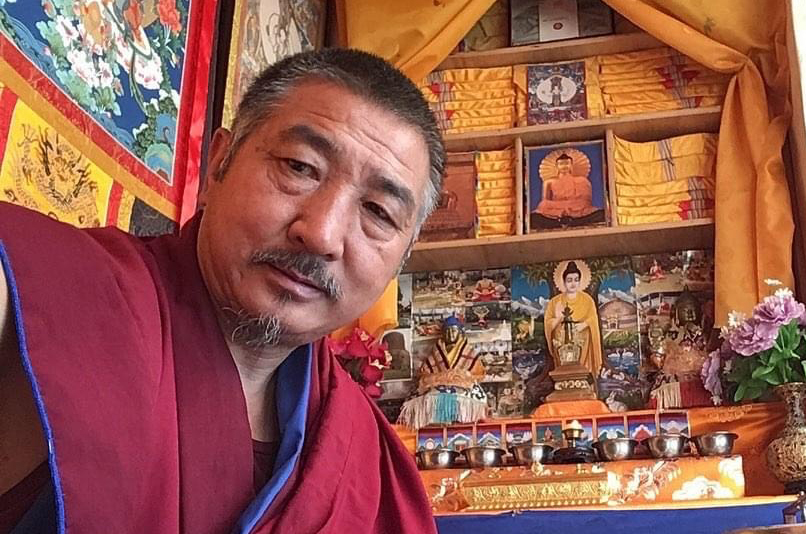 The Tibetan Centre for Human Rights and Democracy (TCHRD) is overcome with grief over the death of the prominent former political prisoner Jigme Gyatso AKA Labrang Jigme at about 12.15 pm local time on 2 July this year. Jigme Gyatso, 56, has joined a long list of Tibetans who died as a result of series of human rights violations, including torture, extrajudicial killing, and enforced disappearance.
Known for his remarkable courage and strength of character, Jigme Gyatso had been released in 2016 after serving a five-year sentence on the trumped-up charge of "inciting separatism". His detention on 20 August 2011, which resulted in his imprisonment, was his fourth detention at the hands of Chinese security officers.
"We are devastated to learn about the loss of Jigme Gyatso, one of the most courageous and compassionate human rights defenders, who sacrificed everything to advance the cause of freedom and human rights in Tibet. Gyatso's death was the direct result of the long years of torture and cruel, inhumane, and degrading treatment he suffered at the hands of Chinese government and the denial of proper and timely medical treatment," said Tsering Tsomo, executive director of TCHRD.
"We demand immediate and impartial investigation into Gyatso's untimely death and prosecution of his torturers in the Chinese law enforcement establishment. For far too long, China has made false promises to the international community to improve prison condition and prevent torture. It is therefore incumbent on the international community to effectively acknowledge, condemn, and monitor the use of torture and the resulting deaths in detention. We must not let his sacrifice go in vain."
Forced confession under torture
For almost three years since his detention in August 2011, he was held incommunicado at an undisclosed location and subjected to torture to extract forced confession. On 26 November 2016, several months after his release, Gyatso wrote about his experience in detention in his usual forthright manner in a letter: "In short, [they have] mastered [both violent and peaceful means] violent fury and deceptive grin and other means to fool the people, and accuse us of breaking laws and committing various crimes. They do this repeatedly: beat us violently to make us immobile or to kill us." Despite such experience, he added in the letter that it would be akin to "giving a free rein" to the wishes of the Chinese government if he lost courage, determination, hope, pride and love for his country and people.
Denial of medical treatment
Due to prolonged torture, Jigme Gyatso's health had already deteriorated two months after his fourth detention in August 2011. He had undergone treatment in prison after appeals for his medical parole got rejected. In March 2016, months before his release, he had again been hospitalized for emergency treatment in the prison hospital and his family had been denied monthly visits since January that year.
On 25 January 2016, Jigme Gyatso asked his family members who had come to visit him in prison to pay attention to the fact that the prison officials were planning to take him to a hospital in Lanzhou.
Chinese prison authorities often subject political prisoners to inappropriate and sometimes fatal medical treatment to either intimidate or silence them.
Upon his release from prison, he was suffering from multiple health complications including diabetes, hypertension, and other complications related to his heart, liver and eyes. Continued police surveillance and other restrictions such as not being able to recover his national ID card meant that his family could not seek proper and safe medical treatment at private hospitals. He was instead admitted into government hospitals where his condition did not improve.
A source with close contacts with Jigme Gyatso's relatives told TCHRD: "He was gone too soon. That was no age to go. But his family couldn't get timely medical help due to restrictions imposed by the Chinese authorities. He would have survived if he was treated properly. He was an exceptional individual."
Chilling account of torture
In a 22-minute video testimony about his second detention on 22 March 2008, he recounted his experience of suffering brutal torture and other interrogation tactics at the hands of Chinese security officers.
"I was kept there for one month during which time I was handcuffed in one position for many days and nights … They would hang me up for several hours with my hands tied to a rope… hanging from the ceiling and my feet above the ground. Then they would beat me on my face, chest, and back, with the full force of their fists. Finally, on one occasion, I had lost consciousness and was taken to a hospital. After I regained consciousness at the hospital, I was once again taken back to prison where they continued the practice of hanging me from the ceiling and beating me. As a result, I again lost consciousness and [was] then taken to the hospital a second time. Once I was beaten continuously for two days with nothing to eat or a drop of water to drink. I suffered from pain in my abdomen and chest. The second time, I was unconscious for six days at the hospital, unable to open my eyes or speak a word."
Background
Jigme Gyatso was a monk and Buddhist scholar at Labrang Tashikyil Monastery in Sangchu (Ch: Xiahe) County, Kanlho (Ch: Gannan) Tibetan Autonomous Prefecture, Gansu Province, in the Tibetan province of Amdo.
He was first detained in 2006 upon his return from India after attending the Kalachakra religious teachings of His Holiness the Dalai Lama. In 2008, he was detained for the second time accused of being the ringleader of a protest staged by Labrang monks to interrupt a media tour organized by Chinese authorities. This detention proved near-fatal for Jigme Gyatso who was then promptly released to avoid his death in detention.
His third detention occurred on 4 November 2008. He was detained from his monastery and held in custody until 3 May 2009 and released under the condition of qubao houshen ("release on guarantee pending further investigation"), a form of pretrial measures alternative to detention. This conditional release meant that he was still subjected to a host of restrictions and conditions including freedom of movement, communications, and possible summons for further interrogation.