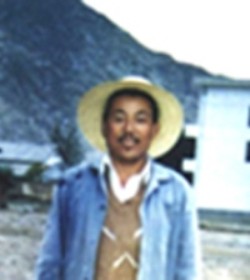 The Chinese authorities in Tibet have released a long-serving political prisoner, Thupten Yeshi, upon completion of his 15-year imprisonment term on 5 July 2007, according to confirmed information received by the Tibetan Centre for Human Rights and Democracy (TCHRD).
Thupten Yeshi was arrested on 6 July 1992 on alleged charges of being the main plotter of demonstration by a group of four farmers during a meeting at Gyama Township, Meldrogungkar County, "Tibet Autonomous Region" 'TA" earlier on 30 June 1992.
According to reliable sources, Thupten Yeshi, 58-year old, was released on 5 July 2007 from Chushul Prison [Ch: Qushui] after completing his 15-year prison sentence. Born to a humble farming family, in Gyama Township, Thupten Yeshi married and joined his bride's family in Gyama Township before his arrest in 1992 by the Chinese authorities for leading the demonstration.
On 30 June 1992, a large assembly of around 1200 people, including prominent leaders of Gyama Township in Meldrogungkar County gathered for a meeting. During the meeting, the four farmers Lhundup, Sonam Rinchen, Kunchok Lodroe and Sonam Dorjee suddenly came forward with a huge Tibetan National Flag and stormed the stage while the meeting was in progress. On the stage they shouted slogans such as "Free Tibet", "Chinese Leave Tibet" and "Long Live His Holiness the Dalai Lama". Their protest created disruption and chaos amongst the crowds and the meeting was unable to continue. After fifteen minutes of protest, the police came to the scene and immediately arrested them.
On 6 July 1992, Thupten Yeshi was also arrested on charges of being the prime plotter as well as the 'ring leader' of the group. He was detained in Meldrogungkar County Detention Centre for about 13 days. During that time, his wife Tsering Yangchen was allowed to see him once but they were not allowed to talk. Later he was secretly transferred to Gutsa Detention Centre, in east of Lhasa, where he was detained for almost three months and suffered inhuman treatment and torture during interrogation sessions.
After a period of thorough interrogations and repeated torture in Gutsa prison, the Lhasa People's Intermediate Court on 20 October 1992 convicted all five of them of offenses of "counter revolutionary plot", and "inciting reactionary propagandas". Thupten Yeshi, Lhundup and Sonam Rinchen were sentenced to 15 years of imprisonment and deprivation of political rights for 5 years. Sonam Dorjee and Kunchok Lodroe were sentenced to 13 years of imprisonment and deprivation of political rights for 5 years as well.
On 20 November 1992, they were shifted to Drapchi Prison. Immediately after their arrival in Drapchi, Thupten Yeshi was put in a solitary confinement cell for reciting Mani (prayer) and his failure to 'reform'. They were later transferred to Chushul Prison in April 2005. The length of the sentences handed down to all five Tibetans who peacefully demonstrated against the Chinese rule, clearly indicates the determination of the authorities to crack down on the political activisms.
One of the group members, Sonam Rinchen, then in his twenties, died in 1999 while in prison, after being ill and part of his body paralyzed as a result of repeated torture whilst in prison and detention centre. The fifth member of the group, Kunchok Lodroe, was released on medical parole in 1996 and is still reportedly in poor health. TCHRD fears that Thupten Yeshi is in poor health due to lengthy imprisonment and maltreatment in the prison. While in prison in February 1999, Thupten Yeshi suffered from renal problem and had blister all over his body that he was admitted to Xizang Military Hospital [Ch: Zong yi yuan] near Drapchi for 17 days for treatment.
Before being fully recovered he was taken back into prison in his poor physical condition. Torture and maltreatment being a regular feature in the network of Chinese-administered prisons and detention centres, the Centre is highly concerned about the well-being and safety of the political prisoners upon whom the worst of torture is afflicted.
According to a former Drapchi inmate who recalls Thupten Yeshi's patriotism and audacity, "He is very hard, robust and never easily gives up his stand even after lot of punishment. He is patriotic to the core." TCHRD expresses serious concern over China's treatment of (political) prisoners. The deaths of more than 89 political prisoners as result of torture and ill treatment-inflicted by prison officials are alarming, requiring serious investigation by independent bodies. TCHRD does not recognize release of high-profile Tibetan political prisoners as a mark of improvement in human rights situation in Tibet. The Centre also urges the PRC to release Jigme Tenzin , Jigme Gyatso, Lobsang Tsultrim (all serving lengthy sentences and currently imprisoned in Chushul [Ch: Qushui] Prison) as per the appeal of the UN expert since they have "been convicted of a political crime, possibly on the basis of information extracted by torture". In 2007 TCHRD documented 116 known Tibetan political prisoners languishing in a network of prisons in Tibet. China must release all political prisoners and prisoners of conscience if it is sincere about improving its human rights record.