The Tibetan Centre for Human Rights and Democracy (TCHRD) has received information from reliable sources that the well-known Tibetan writer Rongwo Gendun Lhundup, 48, has been sentenced to four years in prison on the trumped-up charge of "inciting separatism".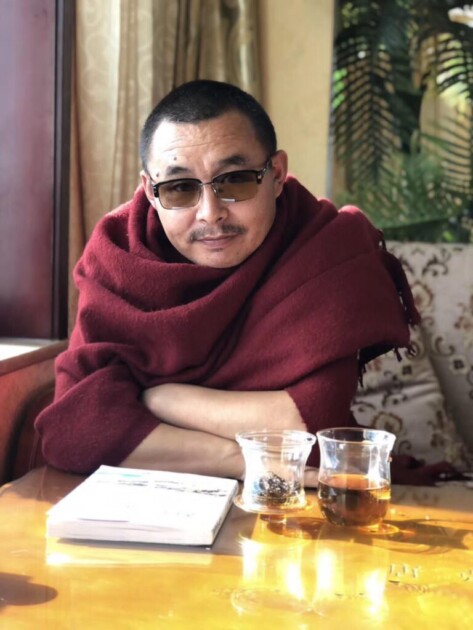 Writing under the pseudonym 'Lhamkok' (Eng: Shoe), Rongwo Gendun Lhundup was detained by Chinese security officers on 11 November 2020 from Rongwo Monastery in Rebkong (Ch: Tongren) City, Malho (Ch: Huangnan) Tibetan Autonomous Prefecture, Qinghai Province.
Since his detention, he had been held in an undisclosed location for almost two years. Recently, a source from Tibet informed TCHRD that the famed writer was sentenced on 1 December 2021 by the Xining Intermediate People's Court. In addition to four years of fixed-term imprisonment, he was sentenced to two years of "deprivation of political rights".
Rongwo Gendun Lhundup is well-versed in Tibetan language and traditional knowledge systems. He is known for his great love and concern for the status and future of Tibetan language and culture. He used to administer the famed website 'Tsenpo' and frequently travel all over Tibet teaching and participating in panel discussions on Tibetan culture.
He is well-known and respected among Tibetans inside and outside Tibet. Some of his poems written under the title 'The One Born in the Pig Year' were widely interpreted by readers as a dedication to the Tibetan spiritual leader His Holiness the Dalai Lama, who was also born in the Pig year of 1935 according to the Tibetan horoscope.
He had been interrogated several times in the past by Chinese security officers for criticizing the Chinese party-state's policy of "sinicising Tibetan Buddhism".
He was detained soon after he published his latest collection of poems titled "Khorwa" ('Samsara' or the Buddhist concept of the endless cycle of birth, death, and rebirth) that led to his recent sentencing.
Rongwo Gendun Lhundup has become one of the latest in the long list of Tibetan writers and intellectuals detained and persecuted under the Chinese party-state's forced cultural assimilation policy. Under this policy, whoever advocates for the protection and promotion of Tibetan language and culture are silenced and imprisoned.