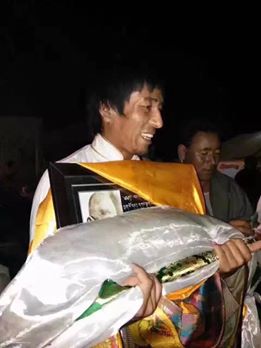 Two Tibetan singers imprisoned for four years for releasing a music album were released on 3 October from Mianyang Prison and received a warm welcome from friends and well-wishers including former political prisoners in Meuruma Town in Ngaba (Ch: Aba) County in Ngaba Tibetan and Qiang Autonomous Prefecture, Sichuan Province, in the Tibetan province of Amdo.
Singers Pema Trinley, 26, and Chakdor, 36, residents of nomadic camp no. 1 of Meruma Town, were jailed for recording and distributing a music album titled 'Agony of Unhealed Wounds' that contained songs about self-immolation protests and songs praising prominent Tibetan leaders including Dalai Lama, Panchen Lama, Kirti Rinpoche (exiled head of the Kirti Monastery) and Lobsang Sangay (exiled Tibetan political leader). Days after the release of the album in July 2012, both men, who are cousins, were arbitrarily arrested in the neighbouring Machu (Ch: Maqu) County in Kanlho (Ch: Gannan) Tibetan Autonomous Prefecture, Gansu Province, in the Tibetan province of Amdo.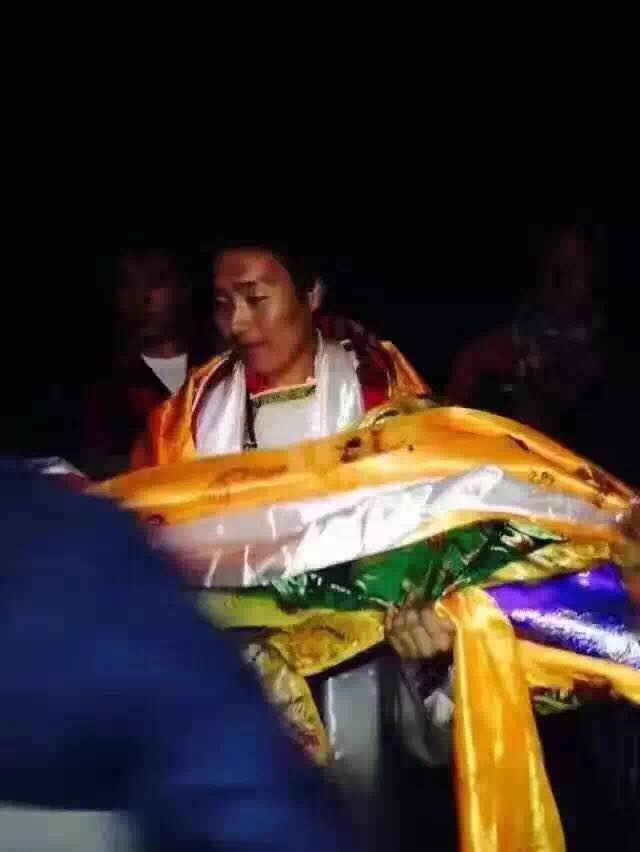 In recent photos shared on social media, Pema Trinley and Chakdor are seen holding a black and white portrait of the global icon for peace and non-violence Mahatma Gandhi, draped in Tibetan ceremonial khata scarf, while being welcomed by a group of friends and well-wishers including the prominent Tibetan writers Tashi Rabten aka Theurang and Buddha. Former political prisoners Sangga and Jamyang Phuntsok aka Jangkho were also seen welcoming the singers. Theurang, Buddha, Jangkho, and Sangga had also served in Mianyang Prison.
Following the singers' release, Theurang wrote in an online post on 4 October, "Both the cousins had to go to prison for singing songs. They were imprisoned for four years. They returned to their homes yesterday evening. One of them is Pema Trinley. They ate and drank together in the same prison. The other one is Chakdor. They were put in the same prison but in different cells. They are both natives of Meruma Village of Ngaba County. Meruma is on a mountaintop where a reconnaissance unit is located. There, in a span of half a day, 30 humans and horses lost their lives."
Following their arbitrary detention in July 2012, both men were detained incommunicado for six months in Ngaba County and sentenced in secret in February 2013. Due to extreme restrictions on communication channels and secrecy surrounding their arrest and detention, it was erroneously reported at the time that the singers received two years' sentence for 'inciting separatism'. At the time of their arrests, family members and relatives tried to locate their whereabouts but in vain. On 15 June 2013, TCHRD staff made a direct call to Mianyang Prison at (0086)8162890762 asking to speak with the Party Head of Mianyang Prison, Mr Xie Ping regarding the whereabouts of the singers but the call was abruptly cut short. Latest information provided by sources in Tibet confirmed that they were each sentenced to four years. In June 2013, two other Tibetans, lyricist Nyagdompo and musician Khenrap, who worked on the album had gone missing. TCHRD has received no updates on their whereabouts.
Chakdor is brother of Choepa, a 24 yr-old nomad who died of self-immolation protest on 10 August 2012 in Meruma. Choepa was one of the three Tibetans who died of self-immolation protest in Meruma.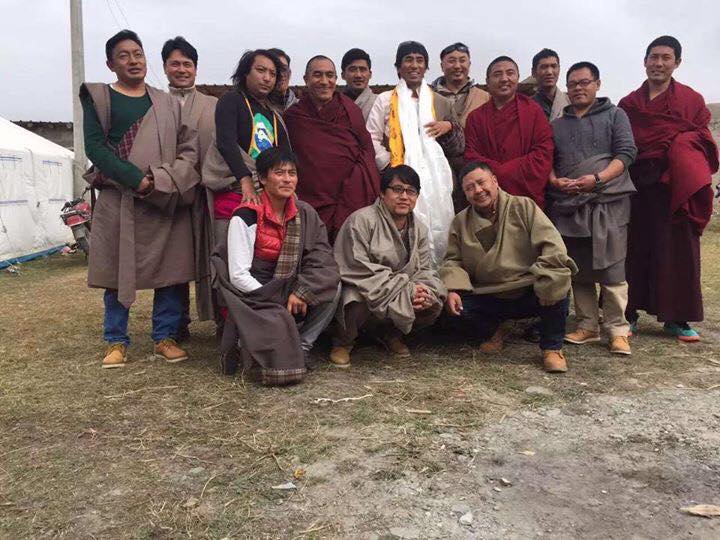 The album 'Agony of Unhealed Wounds' has 12 songs with titles such as 'The Protector of Snow Land', 'Lamentation', 'The Flag of Truth and Blood', 'The Unbearable Suffering', 'Dark Boundless Barren Desert', 'This Is How It Is', etc.
A translation of the track 'Lamentation,' written by Nyagdompo and sung by Pema Thinley, is as follows:
Alas
The white snow mountains are engulfed in darkness
Talented cubs of the snow lion are exiled
In the cold boundless desert
Alone and unprotected
Alas
Soldiers surround the monasteries
Patriots are put in prison
From the land of death devoid of karmic law
Tibetans are defenseless and powerless
Alas
The heroism of the martyrs is seen as ignorance
Unity and solidarity seen as enemies
In the times of the ruthless Chinese Communist Party
How can there be a future for the Land of Snows?
In the times of the ruthless Chinese Communist Party
How can there be a future for the Land of Snows?
Nyagdompo also wrote 'This Is How It Is' which was sung by Chakdor. Below is the English translation of the track by High Peaks Pure Earth:
Our precious minerals
Being deceptively destroyed by authorities
Making this sacred land hollow
It is a force against our will
The accomplishments of our past scholars
The five major and minor supreme sciences
Using all means to destroy them
It is a force against our will
The inheritors of the Snowland
The heroic male and female youths
Being murdered by authorities
It is a force against our will
The protector of sentient beings
His Holiness Tenzin Gyatso
Cut off from us by authorities
This is our fate
This is our fate