The Tibetan Centre for Human Rights and Democracy (TCHRD) yesterday released a special report on Chinese lawyers defending Tibetans detained for exercising human rights. The report, drafted by TCHRD in Chinese language, was launched at a press conference in Dharamsala, India where Ms Zhu Rui, a Chinese-Canadian author and political advocate of human rights in China was the chief guest.
The release of the report on 24 May marks the 10th anniversary of the issuance of a second open letter in which a group of 21 prominent Chinese civil rights lawyers offered to provide legal assistance to Tibetans detained during March 2008 protests in Tibet. The first open letter was issued in early April 2008 that partly read, "As professional lawyers, we hope that the relevant authorities will handle Tibetan detainees strictly in accordance with the constitution, the laws and due process for criminal defendants," the letter said. "We hope that they will prevent coerced confessions, respect judicial independence and show respect for the law."
This special report pays tribute to the indomitable courage and deep sense of justice shown by the Chinese civil rights lawyers in defending Tibetan detainees. The report honours the brave lawyers for taking a principled stand on human rights and the rule of law in the face of extreme risks to their personal and professional security. The report is also a call to the Chinese authorities to immediately release all Chinese human rights lawyers, activists and their associates who remain imprisoned, disappeared, and under surveillance since the launch of the "709" crackdown in 2015.
The report contains case studies of 15 Tibetan detainees represented by 16 Chinese lawyers since 2008, except for Tenzin Delek Rinpoche whose case began in 2002 and was represented by lawyers Zhang Sizhi and Li Huigeng. The 16 Chinese lawyers included in this report are Li Guoyong, Li Huiqing, Li Fangping, Jiang Tianyong, Teng Biao, Zheng  Jianwei, Tang Tianhao, Chen Bin, Chen Bin, Tang Tianhao, Wang Quanzhang, Pu Zhiqiang, Liang Xiaojun and Lin Qilei. Only four of them were allowed to appear at trials. Eight lawyers were forced to drop the cases, while others wanted to take the cases but could not due to various hurdles created by the authorities. The report also details the harassment, intimidation and persecution experienced by Chinese lawyers when representing Tibetan defendants. Despite the risks, Chinese lawyers continue to defend Tibetans as was evident in the case of Tibetan language advocate Tashi Wangchuk.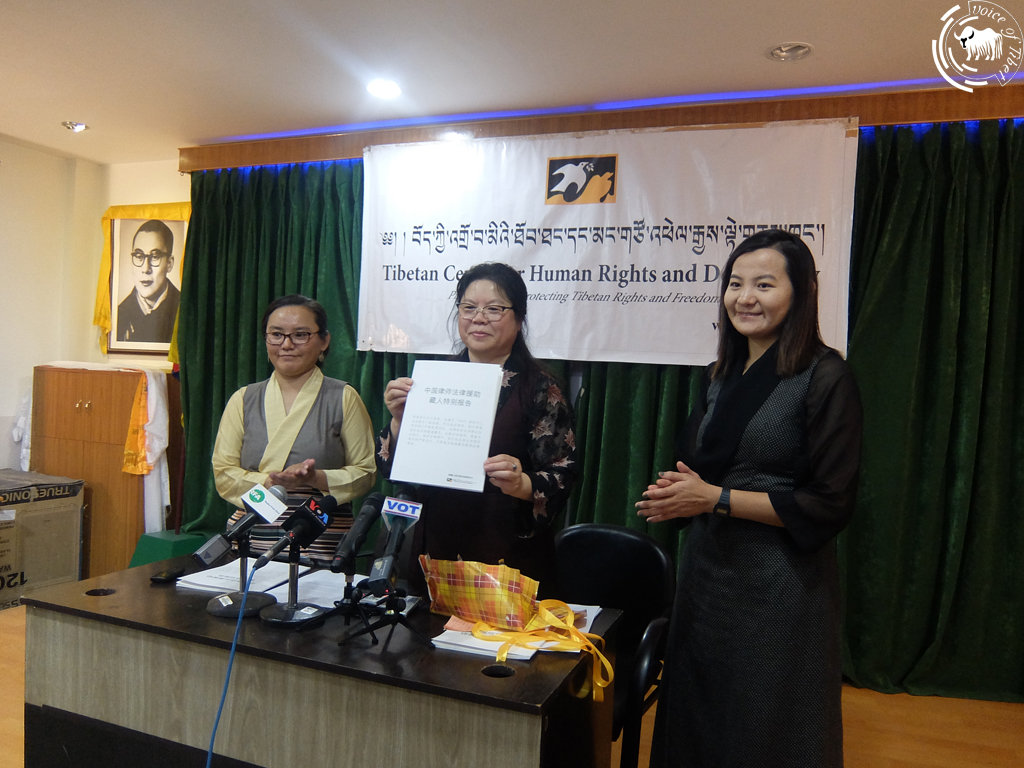 Speaking at the press conference, Ms Zhu said the gravity of human rights situation in Tibet could be clearly gauged from the number of self-immolation protests. "Where else in the world have we witnessed 159 self-immolation protests?" She condemned the racial discrimination Tibetans are made to suffer by Chinese authorities including at airport security gates. "Several days ago, I heard that when Chinese airport security staff check passengers' national ID cards, they can easily identify Tibetans because the machine used to swipe ID cards lets off a different sound for Tibetan passengers. This is nothing but racial discrimination. That this is happening in the 21st century is shameful, not to mention the shame it brings on Chinese government." She said Chinese government's practice of discrimination between Tibetans and Chinese is evidence that historically Tibet has been an independent country.
While commending the Chinese lawyers supporting Tibetans, Ms Zhu also emphasized the overriding importance of 'honest motivation' in supporting the Tibetan cause. Giving the example of Chinese democracy advocates, she said, "Although Chinese democracy activists support the Tibetan cause, we should know that their ultimate goal is to make China democratic. The goal of the Tibetan movement is to end China's colonial policy and restore freedom to Tibet. So the goals are different but both can work together. But no condition exists that requires China to become democratic first followed by the granting of freedom to Tibet." Adopting an 'honest motivation' requires the acceptance of the fact that Tibet has been historically independent and to support the right to self-determination of the Tibetan people, Ms Zhu said. "Personally when I write or work on Tibet, I always question myself if I am doing it for my personal benefit or with 'honest motivation'. I support Tibetans whether they struggle for independence or genuine autonomy. It is their self-determination that I support."
Click here to download the full report in Chinese.