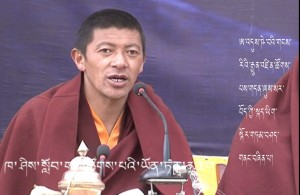 A senior Tibetan monk who went missing for eight months since his arbitrary arrest last October has been sentenced to seven years in prison for 'sharing pictures of nun Tenzin Wangmo and information related to her self-immolation protest with outsider' by an Intermediate People's Court in Ngaba (Ch: Aba) Tibetan Autonomous Prefecture, Sichuan Province.
The sentence was passed on 18 June 2012 by an Intermediate People's Court in Ngaba Prefecture.
The charges leveled against Yonten Gyatso, 37, a monk who had held various official posts at his Khashi Monastery in Ngaba County also included "sharing information since 2008 about political events in Tibet by attempting to make telephone calls to human rights mechanisms of the UN", a source tells TCHRD.
Gyatso is now serving his sentence at Mianyang Prison in Sichuan province.
"It is outrageous that China continues to detain Tibetan human rights defenders whose only 'crime' is to share information about events in Tibet. Even if the charges against Yonten Gyatso were true, it doesn't make him a criminal; he let the outside world know about human rights violations in Tibet putting his life at risk," said Tsering Tsomo, executive director of TCHRD. "Instead of arresting and handing unjust sentences to Tibetan human rights defenders, China must open up Tibet to outside observers and independent media."
Gyatso was first detained on 18 October 2011 from Khashi Gyephel Samtenling Monastery where he was the chief disciplinarian, chant master (Tibetan: Umze) and former member as well as the director of the Monastery Management Committee. Khashi Monastery is two kilometers from Ngaba County town.
After his sudden arrest, local military officers handed Gyatso over to the local State Secrets Bureau officers in Chengdu city, capital of Sichuan Province. At a detention centre in Bhugang town in Chengdu, Gyatso was beaten and tortured by officers of the local State Secrets Bureau. The beatings and torture he suffered in detention were so severe that he contemplated taking his own life a number of times to escape from the hellish experience, a source told TCHRD quoting contacts in the area.
TCHRD is unable to confirm whether Gyatso was detained in an unofficial detention centre, also called "Black Jail" or if the detention center in Bhugang was indeed official.
Yonten Gyatso was a leading educator and community leader in Ngaba County. In 1992, through donations collected from local Tibetan businessmen, he founded Remon primary school in Khashishul village to teach Tibetan language. As the head of Khashi Educational Society, he used to carry out programs all over Ngaba region to teach local people on Tibetan religion, language, culture and traditions; experts and scholars were also invited to speak during such programs. In his speeches to the local people and students, he used to put special emphasis on promoting and preserving unity among Tibetans and often quoted lines from the Dalai Lama's teachings and speeches to assert his point.
Yonten Gyatso is son of Mr. Choesum and Mrs. Ga-nga and he has two younger sisters.