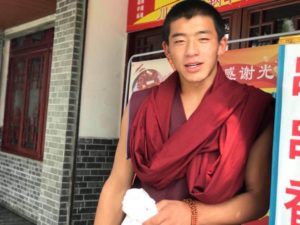 The Tibetan Centre for Human Rights and Democracy (TCHRD) has utmost concern for the physical and psychological health and wellbeing of a Tibetan monk who remains in incommunicado detention since September this year in Ngaba County in Ngaba (Ch: Aba) Tibetan and Qiang Autonomous Prefecture, Sichuan Province, in the Tibetan province of Amdo.
Sonam Palden, 22, was detained on the evening of 19 September, outside a public bathhouse in Ngaba county town. He had just finished bathing and was on his way to the monastery when local police officers took him away.
Reliable sources informed TCHRD that Palden had been detained for posting critical views on China's policy on Tibetan language on his WeChat account. In the short write-up that he posted on 18 September, he bemoaned the status of Tibetan language and its marginalization due to the Chinese government's policy of prioritizing the Mandarin Chinese, the so-called common national language. The post titled, 'Father Tongue', also carried a picture of the banned Tibetan national flag. It is the last post visible on his WeChat account.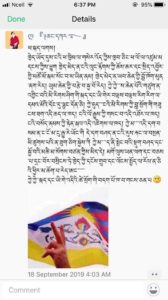 Sources further informed TCHRD that Palden was quite prolific and outspoken on his WeChat account and had been under the radar of local police for quite some time. He is a monk from the local Kirti Monastery and son of Mrs Kelkho from the Naktsangma nomadic village in Cha (Ch: Jia) Township, Ngaba County.
TCHRD can confirm that Palden is currently being held in the Ngaba County Public Security Bureau detention centre. Sometime in October and in November, some of his relatives had made several attempts to meet him there. But the detention officers did not allow them to meet Palden. The relatives were however allowed to leave pocket money for the monk but no food or clothing.
TCHRD fears that the prolonged incommunicado detention of Sonam Palden will gravely endanger his life given the fact that the worst torture happens during pretrial detention and in the secrecy of Chinese detention facilities. TCHRD calls on the Chinese authorities to release him immediately and unconditionally and also provide him proper medical treatment without delay. His family members must be granted immediate access to ascertain his health and wellbeing.
By holding Palden incommunicado, the Chinese government is violating its obligations, as required under international human rights law, to promote and protect human rights and fundamental freedoms of all citizens. Sonam Palden has the right to freedom of expression and opinion to "voice and discuss ideas", "criticise and make demands", and "defend [his] interests and rights" freely. The right to freedom of opinion is absolute and a state cannot allow any exception to or restrictions on its enjoyment. Furthermore, the right to freedom of expression is both individual and collective right in that the right belongs to individuals but "also implies the collective right to receive information and to have access to the thoughts expressed by others".
Father Tongue

Your presence fills the home of my father with golden rays

 And enriches the smile of my beloved father.

 Your absence dries up the lake of our religion, politics and economics.

 Without you, father's soul becomes a dark hole and mother's love pale.

 Why have the spoken and written language of a nationality standing on the top of the world fallen into the abyss?

 The lifeforce of my nationality is about to end.

 The secret of my history is about to shatter.

 The source of my good fortune is under threat.

 Thinking of these makes me cry.

 Talking about these brings unbearable pain into the depths of my bones.

 Why now do I have to reluctantly swallow my grief and hide my tears?

 And why can I not stretch my body and mind freely to enjoy your blessing and knowledge?

 Oh, the people of snowland, the soulforce of our spoken and written language!

Sonam Palden's WeChat account