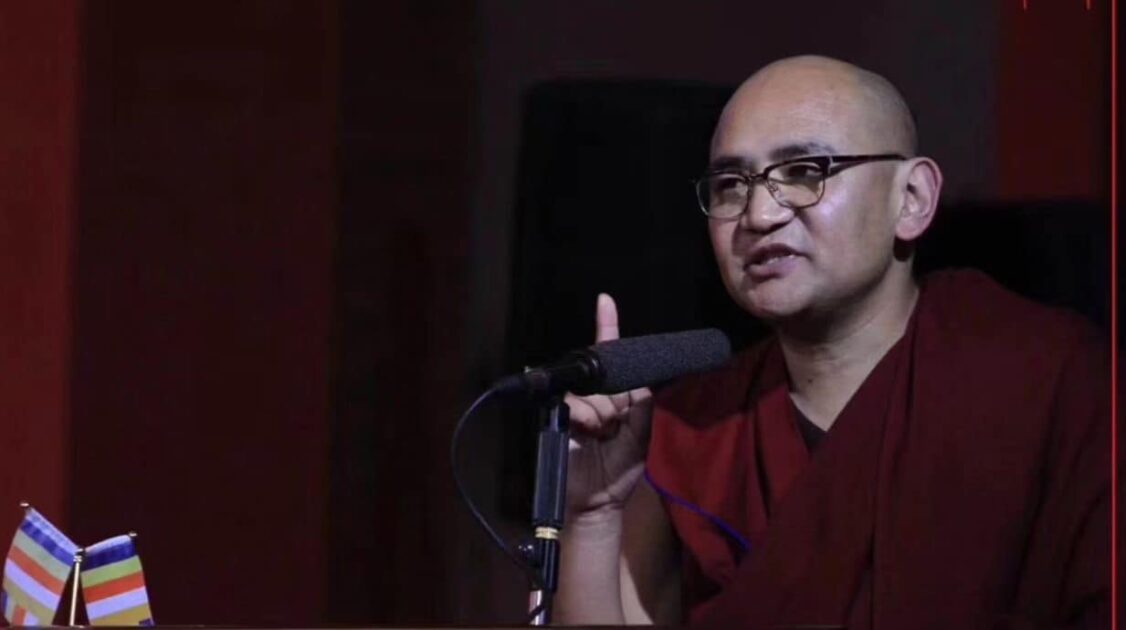 The Tibetan Centre for Human Rights and Democracy (TCHRD) confirmed that Gō Sherab Gyatso, also known as 'Gosher', was sentenced to 10 years in prison by the Lhasa Intermediate People's Court a month ago, following news of the sentencing that surfaced on social media on Human Rights Day last Friday.
China's response on 27 August 2021 to a United Nations experts group's questions on Gō Sherab Gyatso and Rinchen Tsultrim, indicates that Gosher may have been convicted of "inciting separatism".
"Inciting separatism" is one of the key pretexts used by the Chinese Party-state to implicate Tibetan political prisoners.
The same charge was earlier used to convict Tibetan language rights activist Tashi Wangchuk and many ​other ​activists for ​exercising rights enshrined in the Chinese constitution and Regional​ National Autonomy Law.
The ​Chinese Party-state has once again resorted to using this vague charge to justify the heavy sentence given to Go​sher ​who has not committed any crime ​that violates domestic Chinese law.
The unrelenting and systematic maligning of Tibetan cultural leaders like Go​sher ​under this blanket charge reflects a renewed effort to annihilate Tibetan ​national consciousness.
An accomplished Buddhist scholar and influential educator from Ngaba in Sichuan Province, in the Tibetan province of Kham, Gosher was detained by the Chinese security officials on 26 October 2020 in the Chinese city of Chengdu. He was in the city then to help translate for a patient and the ensuing enforced disappearance lasted for five months.
Following concerted efforts by Tibetan human rights advocacy groups and activists, including urgent appeals sent by TCHRD, a UN group of experts consisting of Working Group on Enforced or Involuntary Disappearance (WGEID), Working Group on Arbitrary Detention (WGAD), Special Rapporteurs on minority issue and freedom of religion or belief, sent a communication to the Chinese government on 16 July ​2021​ demanding information on Gosher and Rinchen Tsultrim.
The Chinese government categorically denied instances of alleged arbitrary detention and enforced disappearance in the cases of both Gosher​​ and Rinchen Tsultrim, who was later​ found to have been ​sentenced to four and a half years in prison in April 2021.
Fourth Detention
Gosher has made significant contributions to uphold Tibetan culture, history, religion, and language, therefore earning the wrath of the Chinese party-state, resulting in his fourth detention.
From March 1998 to November 2001, he was detained for possessing the Dalai Lama's photo during the Patriotic re-education campaign, a state-wide political campaign aimed to boost the CCP's legitimacy, and sent to labor camps.
In 2008, he was detained for a year when mass protests spread across Tibet. He was detained again in 2011 for two months for an unknown reason.
He has written on subjects like education, history, democracy, freedom, and morality in books such as Gyunshe Dang Lam, Langdhor Tatsul, Ranglam Rangtsol, Ngatso Sedren, Chedtsol Dang Tatsul, Kyeschen Gyi Shudlam, Himalayi Phartsur, Samshikpe Semdra.
The classes he held on these subjects in schools and monasteries have made a considerable ​​impact, raising his profile as an eminent scholar, regarded highly by Tibetans both inside and outside Tibet.
TCHRD stands in solidarity with the hundreds of ordinary Tibetans, former Tibetan political prisoners, writers, and scholars in Tibet risking their lives in openly condemning the unfair and harsh sentence meted out to Go Sherab Gyatso.
We call on China to release Gosher at the earliest and give assurance of his physical and psychological integrity.
We urge the international community, including the UN, governments, organizations, and individuals defending human rights to reject the verdict and hold China accountable for the human rights crimes it continues to commit in Tibet with impunity.
​