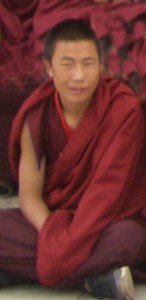 On 12 November, a Tibetan monk named Lobsang Sangyal was released from Mianyang prison near the provincial capital of Chengdu, Sichuan Province in People's Republic of China.
Lobsang Sangyal was a monk at Kirti Monastery in Ngaba (Ch: Aba) County in Ngaba Tibetan and Qiang Autonomous Prefecture, Sichuan Province.
Chinese authorities restricted the monk's family members from receiving him outside the prison. Compared to his pre-prison picture with the present, Lobsang Sangyal appears very weak and is said to suffer from memory loss, according to exile Tibetan sources.
Previous information released by TCHRD indicates that the monk was detained soon after the self-immolation of his cousin Lobsang Kelsang, also a monk at Kirti Monastery, on 27 August 2012.
However exile sources claim that Lobsang Sangyal had been detained several times before his imprisonment in 2012. The reason for 2012 detention that led to his four-year sentencing was due to the sale and distribution of Dalai Lama's photos and records of the teachings of the Tibetan spiritual leader. TCHRD is unable to verify the exact charges although Lobsang Sangyal has been released. The charges and sentence term imposed on him still remain vague because of the extreme restrictions imposed by the Chinese authorities inside Tibet.
Lobsang Sangyal is believed to have returned to his monastery.