On 8 August, Chinese authorities publicly admitted for the first time that there were 22 Covid positive cases in Lhasa and Ngari cities, Tibet Autonomous Region (TAR) in central Tibet. Most of these cases had been traced to various areas in Shigatse city, where the Covid infections were initially discovered on 4 and 5 August.
The announcement came after what the authorities claimed were 920 consecutive days of zero Covid in TAR. Less than a week after the government admission, the total number of positive cases, according to official sources, had reached over 3627 with 133 high-risk areas and 228 medium-risk areas. Since 9 August, authorities have begun imposing strict lockdowns in Shigatse, Lhasa and Ngari, with local authorities in Nyingtri, Lhoka, Chamdo, Nagchu cities also reporting positive cases.
Silencing so-called pandemic rumours
On 9 August, the TAR Internet Network Information Center in a four-point directive called for "striking hard" on those "spreading rumours about the pandemic" and invited the public to report the alleged offenders so that they would be dealt with in accordance with various laws and regulations on cyber security and online information sharing. The directive emphasized the importance of "creating a clean cybersphere to safeguard social stability" in the overall realm of preventing and controlling the pandemic.
Chinese government reports taunted some Weibo users for allegedly spreading rumours about hospitals in Lhasa overflowing with patients with no space to quarantine new patients. Some were penalised for spreading fake information in other government reports.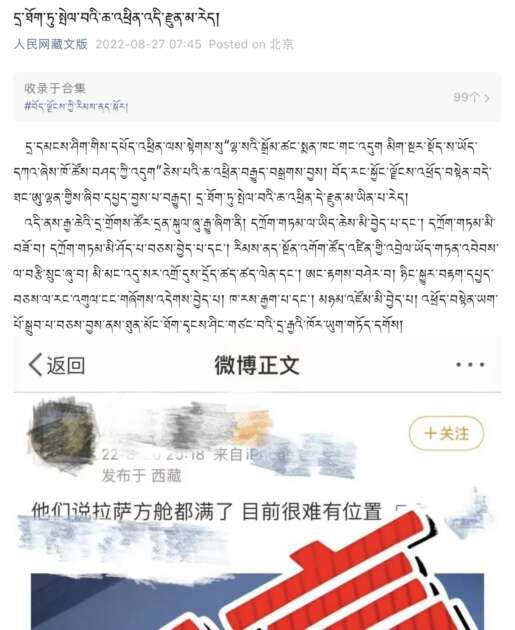 More recently, many Tibetans have used online platforms to openly criticize the Chinese government's mismanagement of pandemic lockdowns, which continue to bring great suffering and hardships to the local people. As discontent grew online, official Chinese media sources warned netizens to "mind [their] typing thumbs lest they get into trouble". Other government reports repeatedly issued threats that those 'spreading rumours during pandemic' will be prosecuted for the crimes of "inciting separatism", "destroying ethnic unity", "destroying national unity" and "inciting state subversion".
Desperate appeals
Despite extreme restrictions on freedom of expression, an extraordinary number of Tibetans using pseudonyms have spoken out online on the unfolding tragedy of the pandemic made worse by draconian measures of Chinese president Xi Jinping's zero-Covid policy.
As the authoritarian lockdown in Lhasa entered its second month, videos posted by local Tibetans began going viral. A TikTok video posted on 15 September showed a Tibetan recounting his lockdown experience with unusual candour: "I have stayed in a quarantine shelter for 34 days and undergone 24 tests. Finally, this morning, I tested positive. When I shared honestly about my experience online, some people cautioned me. Out of concern, they told me: 'when the pandemic ends, you will be taught a lesson for breaking the law'. But I haven't broken any laws. Perhaps they will not feed me well in the shelter. And that's fine. Now that I am infected, I can't return to my hometown. So, on behalf of the people, I appeal to the higher authorities to properly manage this pandemic as soon as possible. It is better to die than live like this. Execute us, whatever, being dead is better."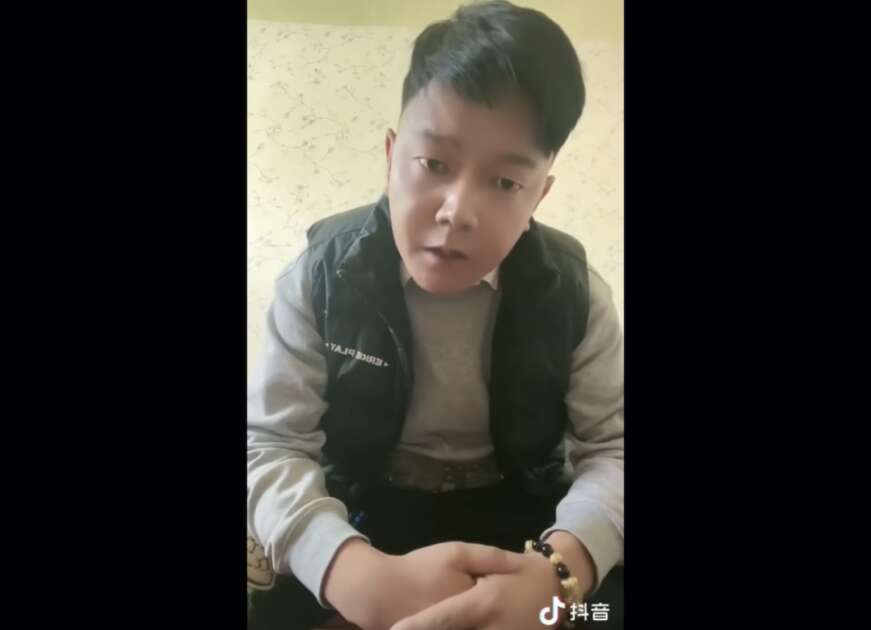 On 28 August, a Weibo post shared by a university student volunteer in Lhasa city read: "I have been on the frontline for 20 days. I have encountered many people asking for help. I wanted to help those in need but I am helpless now. Too many people at home are hungry. Young people who had come to Lhasa to work have used all their wages on rent, there is no food, no government office answers the phone, and no one delivers groceries to them. We are a group founded by student volunteers. How can we have so much money to buy essential supplies for all these people? We have been driving for more than 10 days using our own money to refuel our cars. The initial enthusiasm we felt is slowly dying. Now it is my mother and my beloved brother who have become sick for three or four days but no one came for testing. The local cadres do not care at all. Initially I did not want to share my thoughts because I thought it's not easy in such a situation. But now I feel the situation is not what I thought and it's getting worse. Can you still get better in Lhasa? How long will we have to wait to get back to normal life?"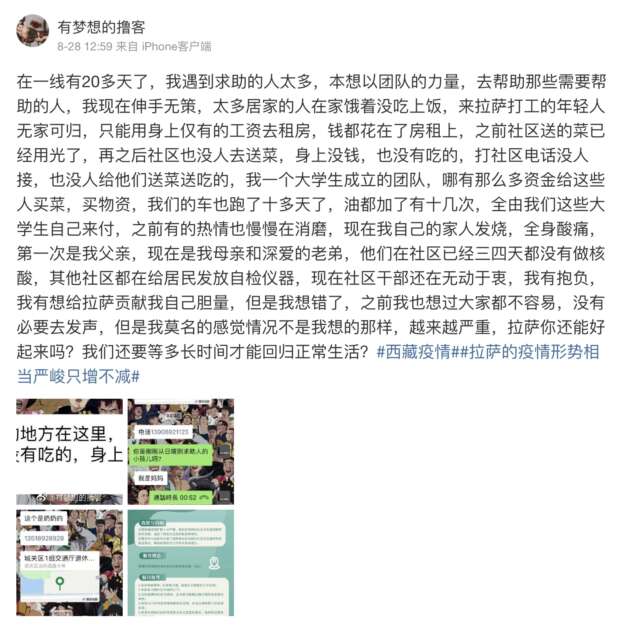 A long Weibo post from Lhasa questioned a claim made by the Chinese government on 29 August: "Today at 11.59 am, the Lhasa Chengguan government announced on its official account that the goal of zero Covid in society has been achieved. Is that true? For them, this is just a show. No one really cares about those who are still sick at home. If you are positive and call someone for help, they will make a series of excuses like they don't have enough vehicles or can't find a bed, and hang up on you.
"As shown in the picture, the deputy Party secretary of Chengguan District Youth League Committee, how could he say such a thing in the group: 'Hold on, there are so many people. Can't you take care of yourself?' As a leader, what you need to do is to help the people when they are sick and take them for treatment immediately, instead of telling sick people to care for themselves. To whom is this [claim of] so-called zero Covid in society for? In addition to volunteers, police, and medical staff, who is really paying attention to this battle against the epidemic? The community pandemic prevention and control office is telling the patients to isolate at home and drink more hot water. What about the provision of medical facilities reported in the media? The government announced in the media that it will strengthen the control of the pandemic in Tibet, provide the best services in terms of delivery of groceries, medicines and setting up specialized hospitals. But what is the truth? No doctor in the specialized hospitals will treat you or tell you what to do. Instead, they tell you to drink more hot water and exercise more. Officials refuted the rumour that the quarantine shelters were already full, but isn't it the fact that the shelters are full and sick people are staying at home without getting timely treatment.
"The government said it would deliver groceries and other essential supplies but the truth is the [sick people] have not received anything. Regarding any news released by the official sources, I just want to say that during the pandemic, the media should take the initiative to fulfil the responsibility of supervision, identify problems and drawbacks, instead of engaging in blind flattery! We all know that news has three characteristics: timeliness, authenticity, and accuracy. But what's happening? There are always people who want to tell the truth about what is happening. The positive cases are still increasing in Tibet. If you can't control it, please ask the outside world for support."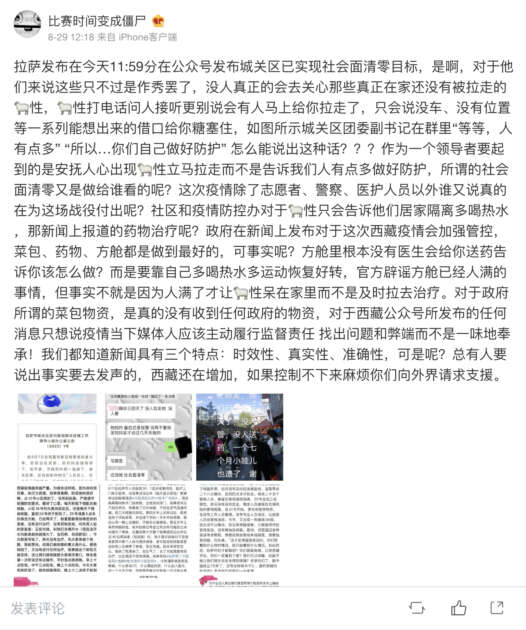 The same Weibo user shared on 30 August that a pregnant Tibetan woman in Lhasa suffered miscarriage after she failed to get timely medical care. The woman had contacted several emergency helplines but her calls were either ignored or the numbers were not working. An excerpt from the post read: "Also the specialized hospitals in Lhasa are full of patients and the patients that tested positive on the 25th were attended to on the 28th. They were sent to a quarantine shelter in Chushur where they are reportedly facing food shortage. More than 100 patients in this facility were left unattended, receiving no further help aside from a visit by a Beijing-based aid organization, which distributed some medicines, and that was it."
Chinese state media have published reports of aid groups from Beijing and other Chinese cities arriving in Tibet to help the local residents during the pandemic lockdowns. But the Tibetan experience shared online tells a different story.
A Tibetan man from Amdo was seen in a video dated 6 September, recorded near Lhasa's Jokhang Temple, talking about the scarcity of food and medical supplies in the city, where hundreds of people were forced to quarantine in crowded facilities without adequate medical care and meals. He shared how he had also been infected with Covid "like 80-90% of the population in Lhasa" and that it could be easily cured with timely medication. The strict quarantine rules, he added, however, meant that the inmates could not hope for a swift cure due to lack of food as well as psychological pressures.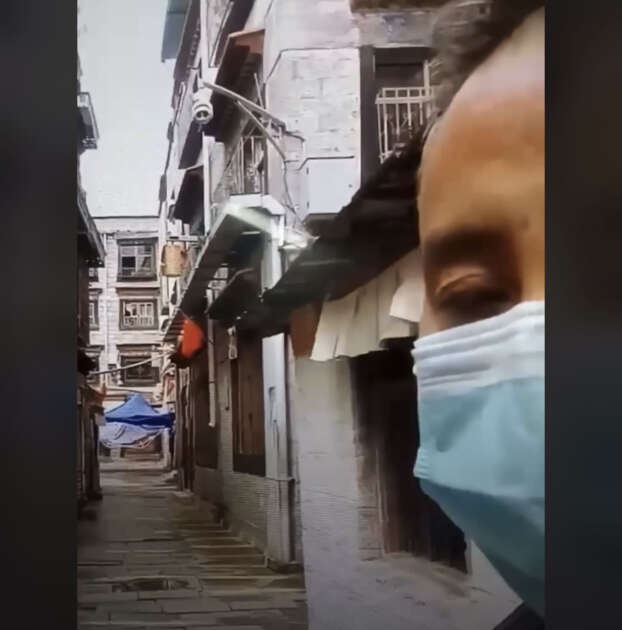 A Tiktok video posted by a Tibetan woman working in Lhasa on 12 September complained that she had not received any of the support announced by the government during the pandemic. Originally from a distant village in TAR, she had been working in Lhasa to earn her livelihood when the lockdown was imposed. There were many other Tibetans like her in Lhasa without the support of a larger family network because they had left their family behind in the villages to work in Lhasa. In the video, she shared the hardships they faced with little support after having spent all of their savings on rents and expensive groceries and appealed to the government to facilitate their safe return to their respective hometowns. In just a couple of days, the video got shared widely.
She followed this up with another video in which she shared the tremendous response she received for the previous video; people thanked her, with tears in their eyes, for conveying their sufferings to the government. Some people offered her help, which only made her wish that the government leaders should have done the same and helped the people. The whole experience, as she shared in the video, had extreme impacts on her mental health.
Quarantined in 'pigsties'
Owing to the dismal conditions in the quarantine shelters built in Lhasa, Shigatse and Chamdo cities, local Tibetans have taken to calling these 'fangcang' shelters 'phaktsang' (pigsties in Tibetan).
A viral video posted by a woman on 12 September about a fangcang shelter in Lhasa showed patients offered spoiled food with no caretakers in sight. Stale rice and rotten vegetables were given for breakfast and lunch putting the health of many patients including the elderly and children at risk.
A Tibetan woman in Lhasa was seen in another widely shared video berating the authorities for being heartless and giving rotten food to the shelter inmates. Furiously, she describes the condition of the inmates "worse than prisoners" and asks for them to be released so that they could at least "die in their homes".
Yet another viral video recorded on 14 September showed some Tibetan youth with bruises on their faces and necks after being beaten up for protesting the terrible conditions in a shelter in Lhasa. Footage from the video also showed poor quality of food, bedding and bathrooms in the shelter.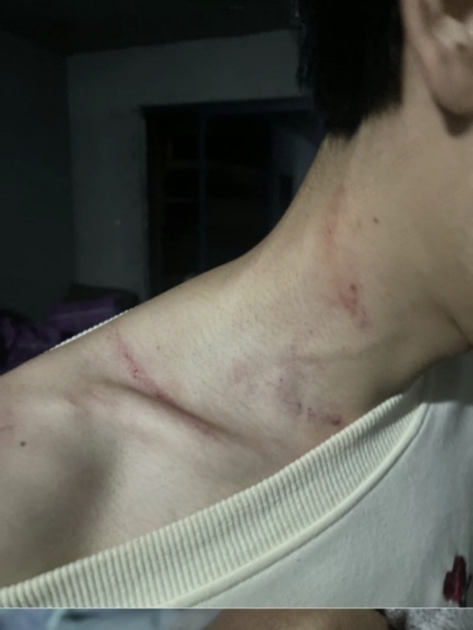 A woman in a Lhasa shelter shared a video in which she talked about how there was no one providing medical care or food. No one in the police, the city government office, and the community pandemic prevention and control office responded or offered help when emergency calls were made. The video showed her asking those yet to arrive in the shelter to bring enough food on their own to survive.
Compulsory quarantine
For some time in Lhasa and Shigatse, there were so many positive cases that the government shelters had run out of space forcing many patients to quarantine in their homes. At other times, large numbers of healthy Tibetans were forced to quarantine with infected people in temporary shelters where universal Covid guidelines such as social distancing were not observed.
A conversation among some Tibetans in Lhasa in an online chat group revealed that local authorities had been actively encouraging healthy individuals to enter quarantine shelters even if they had not tested positive. A woman can be heard relating to a government announcement inviting family members of those who had tested positive to "voluntarily" enter the shelter regardless of their test results. The announcement came with a veiled warning that those joining the shelters at a later time would be quarantined in poorly equipped facilities in Nyemo while the early birds would get to stay in a shelter located in Meldro Gongkar where conditions are said to be better.
A Tibetan from the Lhasa Teacher's Training College posted on Weibo that he had tested negative 20 times and exhibited no symptoms, still he was admitted into a quarantine facility on 19 August because someone from his neighbourhood had contracted the virus. The poster shared how he was bundled up into a bus full of people to the quarantine facility where he had to share a room with three other people who were in direct contact with the infected person. Testing was done daily and many people afterwards tested positive including two of the poster's roommates. Still no action was taken to isolate the positive cases in separate rooms causing much fear and anxiety for those who were yet to contract the virus.

He later updated on 2 September that he had contracted the virus because he was quarantined alongside the infected patients for 14 days.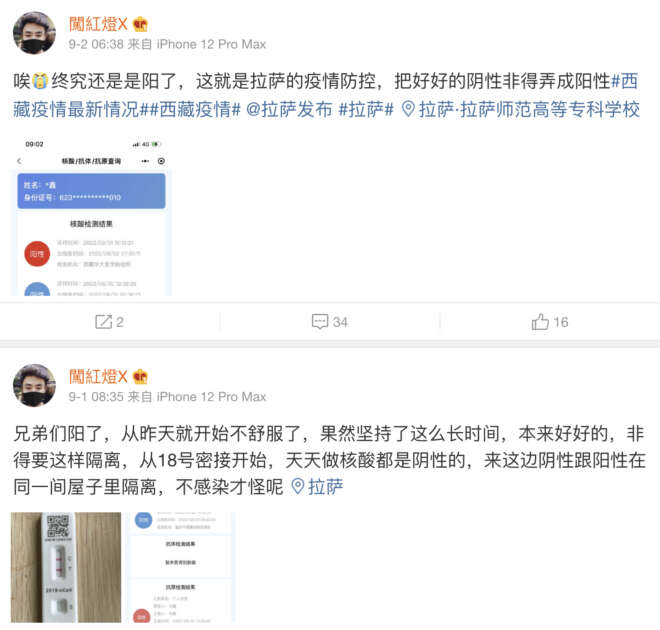 The zero-Covid ruse
As of 16th September, it has been 37 days since the authoritarian lockdown was imposed in many areas of TAR although the restrictions have recently become less severe in Nyingtri and Chamdo cities. With extreme measures employed to achieve the goal of zero-Covid, local Tibetans are facing growing hardships, aggravated by pandemic inflation and scarce supply of essential commodities such as groceries.
For all intents and purposes, the zero-Covid policy is being used as a pretext to double down on repression by silencing dissent and clearing the way for next month's 20th Communist Party Congress that is widely believed to anoint Xi Jinping as the paramount leader of PRC for an unprecedented third term.
TCHRD calls on the Chinese authorities to ensure that the right to freedom of expression is respected and guaranteed at all times. This is particularly vital considering the scale and extent of Chinese government mismanagement of Covid pandemic, which has caused great suffering and hardships to local Tibetans.
We echo the call made by numerous civil society organizations and individuals to protect the people reporting or exposing the "harms, abuses and serious wrongdoing" that occur as a result of the Chinese government's attempts to achieve the unrealistic goal of zero-Covid.
Chinese authorities must also ensure that the efforts to control the pandemic must be guided by the principles of transparency, integrity and accountability, in addition to providing timely and proper assistance and support to the affected individuals and families in overcoming one of the greatest public health challenges of our time.