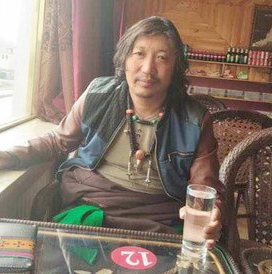 The Tibetan Centre for Human Rights and Democracy (TCHRD) strongly condemns the illegal sentencing of Mr A-nya Sengdra, a Tibetan nomad and anti-graft campaigner, to seven years of imprisonment and calls for his immediate release from arbitrary detention.
The verdict, issued on 6 December, was based on vague and overbroad criminal charges of "picking quarrels and provoking trouble" and "gathering a crowd to disrupt social order". These charges, along with the ongoing nationwide campaign to destroy the 'black and evil forces" of organised crime, have been weaponized in recent years by the Chinese authorities to silence criticism and crush dissent in Tibet.     
Mr Sengdra was among eight other Tibetans sentenced by the Gade (Ch: Gande) County court after a two-day trial in Golok (Ch: Guoluo) Tibetan Autonomous Prefecture (TAP), Qinghai Province, in the Tibetan province of Amdo. The others sentenced are identified as Soedung, Chinthrun, A-shol, Do Sang, Wangyal, Gyaltsen, Ngogbey, Orgyen Tsering, and Wangchen. The last two are believed to be monks. It is not known which one of the eight did not stand trial. All of them had been held in pretrial detention for more than 14 months. 
Mr Sengdra's lawyer Mr Lin Qilei has said that he and another lawyer will appeal against the verdict. Mr Lin called the verdict "unfair" because Mr Sengdra had committed no crime, let alone collaborating with the so-called 'black and evil forces' of organised crime, as claimed by the police.   
The verdict once again lays bare the inherent failings of China's emasculated judiciary and lack of rule of law, which enable Chinese law enforcement authorities to continue committing human rights abuses with impunity. 
It exposes the hollow slogans of president Xi Jinping's so-called war on corruption and poverty. Mr Sengdra was hailed as a courageous and exemplary voice against corruption and abuse of power in petitions signed by hundreds of local Tibetans calling for his release.   
It is clear that Mr Sengdra and his associates were imprisoned for carrying out successful anti-graft campaigns and uncovering the unfair and illegal practices of local government authorities in Gade County. 
Just before his detention in early September 2018, over 200 local Tibetans had joined Mr Sengdra's campaign to lodge a petition to the Provincial Discipline and Inspection Bureau against the embezzlement of poverty alleviation funds by local authorities in various townships including Mr Sengdra's hometown of Kyangche.       
In August this year, the Provincial Discipline and Inspection Bureau sacked local officials responsible for turning a blind eye to the embezzlement of poverty alleviation funds in Gade County. Local state media reported on the dismissal of Lu Xuhu, the Party Secretary of Tsangkor Sholma Township; Gonpo, head of the Township government; and Drugchoe Tsering, director of the Gade County Poverty Alleviation Bureau for building substandard housing for 135 families living in Kyangche and other townships. The Gade County government's deputy magistrate Yang Jinfeng was also dismissed and given stern warnings. 
The dismissal of the abovementioned local officials was the direct result of the years of anti-corruption campaign led by Mr Sengdra and other Tibetans. It was Mr Sengdra's able and vigilant leadership that exposed the fraudulent dealings between the government officials and businessmen to swindle public money.
Local Chinese authorities spent much of the pretrial detention period preparing bogus charges against Mr Sengdra and his associates. Attempts were also made to influence Mr Lin. On the evening of 18 October, following a three and a half days pretrial conference where Mr Sengdra refused to plead guilty, his lawyer received two phone calls from Dorje Tsering, the case manager of the Gade County Public Security Bureau, asking a fraud claim to be added to Mr Sengdra's charge sheet, before adding that the state prosecutors had previously forgotten to do so when submitting the charge sheet to the court. Mr Lin refused and responded that it was his legal duty to defend Mr Sengdra, not go against the interests of his client.
 TCHRD believes that the verdict is the result of a well-planned conspiracy to discredit Mr A-nya Sengdra and his associates and to crush the successful grassroots campaign against corruption that has exposed the numerous failures of China's war on poverty and corruption. This illegal verdict must be rescinded immediately to end the arbitrary detention of Mr Sengdra and his associates. TCHRD urges the international community, civil society, and individuals to exert concerted pressure on the Chinese government to fulfil its human rights obligations so that Tibetans like Mr Sengdra are not silenced and imprisoned for exercising their conscience.