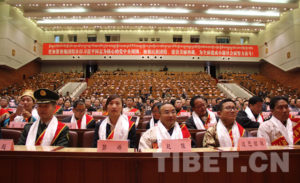 Chinese authorities have announced the stationing of more than 20,000 cadres in 5,464 villages as part of the controversial 'Solidify the Foundation, Benefit the Masses' (Ch: qianji huimin) campaign in TAR.
A ceremony was held in Lhasa on 15 January to introduce the new batch and commend the work of the previous batch of "village-based cadre teams" (Ch: zhucun gongzuodui) in "establishing a solid foundation for stable development at the grassroots level", reported Xinhua on 16 January.
Running for the ninth year in a row, the program has been used to monitor and surveil local Tibetans, organise anti-Dalai Lama themed political indoctrination campaigns, and entrench and expand the influence of the Party-state in Tibet.
Since October 2011 when the program was started, more than 170,000 cadres from party and government organs, state-owned enterprises, and institutions directly under the central government have been stationed at the grassroots level in TAR. The report said the village-based cadres had "fought hard on the front line, becoming a "connecting bridge" between the Party and the masses".