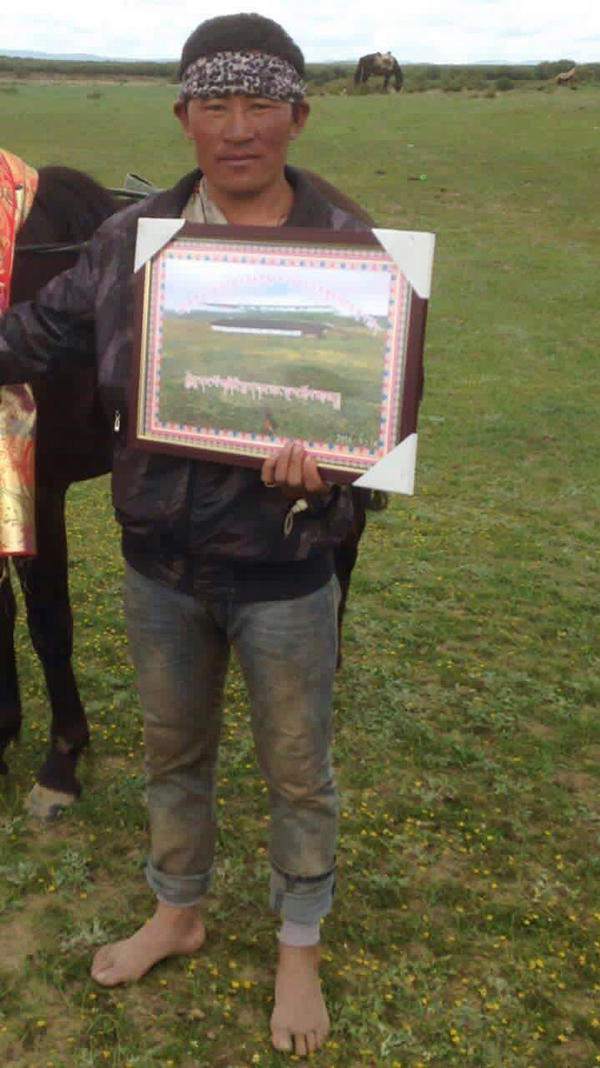 Information received by the Tibetan Centre for Human Rights and Democracy (TCHRD) indicates that local authorities have subjected several known Tibetans including family members, relatives and eyewitnesses to arbitrary detention and severe interrogation following the self-immolation protest staged by Tashi Rabten on 8 December in Machu (Ch: Maqu) County, Kanlho (Ch: Gannan) Tibetan Autonomous Prefecture, Gansu Province, in the Tibetan province of Amdo.
Soon after Tashi's burning protest on 8 December, the same night County Public Security Bureau (PSB) officers detained a group of eight Tibetans including Tashi's wife and two children. They were detained when they approached the PSB office to claim the body of Tashi so they could hold proper funeral rituals for the deceased.
A source informed TCHRD that the eight Tibetans were kept in police custody for several hours and released. But Tashi's wife Bhopey, 35, was kept until the next day for further questioning. Tashi's daughter, Tashi Dolma, 16, was released along with the group. Tashi's son, a monk named Tashi Dhondup, 13, was released after the monastery he belonged to signed the guarantee letter for his release. Bhopey was released at around 12 pm local time on 9 December.
In custody, interrogation officers inflicted psychological torture on Bhopey by subjecting her to rigorous interrogation and intimidation tactics. TCHRD is unable to confirm claims that physical force amounting to torture was used on her. Based on the limited information available, it is certain that the interrogation officers forced Tashi's wife to sign a letter that conformed to the government's version of the self-immolation protest. During the interrogation, Bhopey was repeatedly asked her if any domestic discord between the couple was the reason behind Tashi's self-immolation. She was also asked if she knew about anyone her husband had been in contact before the self-immolation.
In previous cases of self-immolation, Chinese authorities used the same tactics by detaining and questioning family members and relatives of a self-immolator. In some cases, family and relatives were subjected to threats and intimidation if they refused to support the official version of the events that caused self-immolation. In 2012 the Kanlho prefectural authorities directed every Tibetan household to sign a letter stating that no one in their family would self-immolate and that each family member would check on the other to avert such incidents. In 2013, a Tibetan man named Dolma Kyab was sentenced to death over his wife's self-immolation. Chinese state media claimed that Kyab strangled his wife to death following an argument over his alcoholism.
The four detained in connection with Tashi's self-immolation video clips are identified as Bhenkho, Tenpa and Dorjee. One among them is a native of Bhelban (Ch: Awangcang) Township in Machu County. They are believed to be detained for taking pictures and videos of the self-immolation. A laywoman named Tsezin Lhamo has also been detained. She was seen in one of the videos with her back towards the camera chanting prayers in the name of the Dalai Lama as she witnesses the self-immolation.
Before resorting to self-immolation, Tashi Rabten made a call to his father saying, "I could not look after you, I am going far away. I have requested my elder brother to look after you". After that he dropped the call and when his father tried to call him back, it was not reachable. Tashi Rabten is the youngest of three siblings.
Local Chinese authorities did not return Tashi's body but handed over the ashes to his family members. The first weekly prayer service for Tashi's funeral is being held at Tsendrok Monastery that is located in the deceased's hometown in Trokho Meyma Township. A Buddhist funeral ritual lasts over 49 days, the first seven days being the most important. Prayer services are held every seven days for 49 days. Tashi's son Tashi Dhondup is a monk at Tsendrok Monastery.