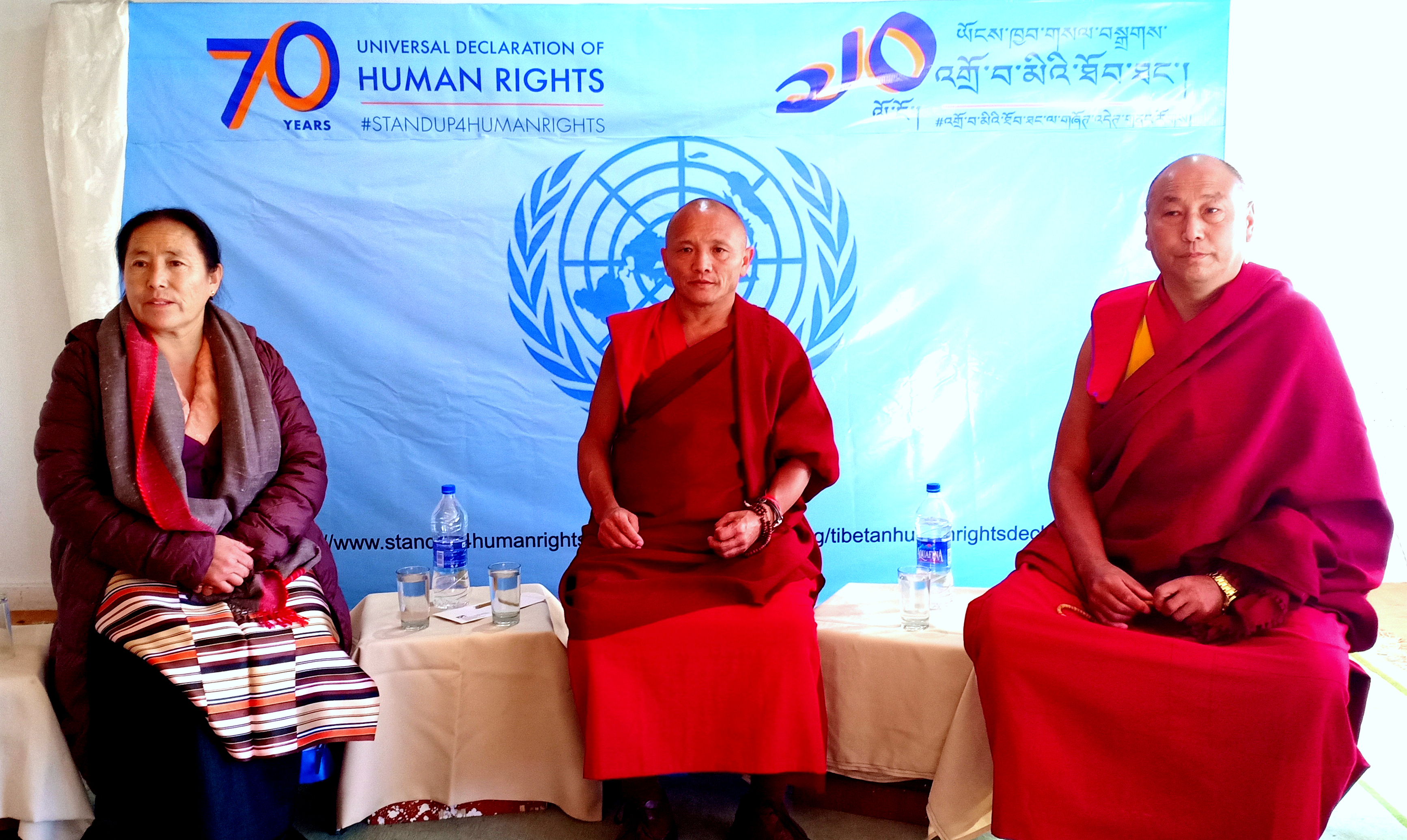 To honour the significant and valuable contributions exhibited by the Drepung monastery monks in the history of Tibetan freedom struggle by carrying out peaceful demonstrations while distributing woodblock printed Tibetan translations of the Universal Declaration of Human Rights in the year 1988 in capital Lhasa, the Tibetan Centre for Human Rights and Democracy launched a maiden Tibetan language website on Universal Declaration of Human Rights at an event at the conference hall of Hotel Tibet, Mcleod Ganj, Dharamshala.
30 November marks the date of the sentencing of 'Group of Ten' monks for distributing Tibetan translation of the Universal Declaration of Human Rights. The Chinese authorities convicted the monks of producing 'reactionary literature' and 'venomously slandering China's socialist system characterized by the people's democratic dictatorship'. The 'Group of Ten' monks were sentenced to 5 years to 19 years in prison. 
The chief guests at the event include Ven Ngawang Delek and Ven Ngawang Woeber, who were among the peaceful demonstrators of the 1987 protest in Lhasa. TCHRD also invited Mrs. Lhakpa Dolma, wife of Jamphel Monlam who was sentenced to 5 years prison term for translating and printing UDHR into Tibetan using carved wooden blocks in the year 1989.
"Even though we did not have proper equipment and facility to have banners and Tibetan flags, however, we drew Tibetan flag on clothes and prepared handwritten banners calling for 'Free Tibet', "Tibet belongs to Tibetans' and "May His Holiness the Dalai Lama live for 10,000 years' said Ven Ngawang Delek in his speech. "Along with me and several other Drepung monks, we secretly planned a peaceful demonstration and took to the streets of Lhasa on 27 September 1987. We were then arbitrarily arrested and detained for a few months. My cousin Jamphel Tsering was also one among the 'Group of Ten' Drepung monks. He was sentenced to 5 years and was released after the completion of his 5-year prison term. Nevertheless, he also took part in the 2008 uprising and was arbitrarily detained for few months." 
Mrs Lhakpa Dolma said "Jamphel Monlam would often tell that even though he spent 5 years in Chinese prison and underwent severe torture but he never really faced any health complications and it is because that he would always picture His Holiness the Dalai Lama in his mind when the torture equipment was meted onto him by the prison authorities and because of which it didn't really inflict much pain for him." 
"Chinese government's rhetoric of protecting the religious freedom of Tibetans inside Tibet is nothing but a big lie to the world and a travesty of justice. The reality is that monasteries in Tibet are extensively controlled by the Chinese authorities. Enrolment of the number of monks is limited strictly to 450. For instance, decades have passed by yet there are still only 450 monks at Drepung Monastery and children below 18 years of age are not allowed to join Monastery as their wish. Therefore, it is conspicuous that there is no freedom of religion in Tibet" said former Political Prisoner Ven Ngawang Woeber in his speech. 
As the event unfolded to the next session, TCHRD staff Mr. Ngawang Namdul gave a thorough description of the new Tibetan language website to a packed conference hall constituting representatives of different Tibetan NGO's, Monasteries, members of Regional Tibetan Women's Association, Tibetan college students and news reporters.
The new Tibetan language website will give access to information on the Universal Declaration of Human Rights in Tibetan language, UN Conventions translated in Tibetan language and seeks engagement from the Tibetan public to spread awareness by promoting and engaging on the importance of the Universal Declaration of Human Rights. The website also features human rights related posters and word cloud banners from which people can download and share on social media.  The full feature of the website can be accessed here:  http://tibetanhumanrightsdeclaration.org/
It is important that the world know about the significance of the UDHR in the Tibetan freedom struggle because a representative of People's Republic of China, Dr. Peng-Chun Chang equally took part in the drafting of the Universal Declaration of Human Rights in 1948 but the criminalization and subsequent prosecution of the 'Group of Ten' Drepung monks for printing and distributing Tibetan translation of the UDHR speaks true of China's blatant mockery of human rights to the international community.