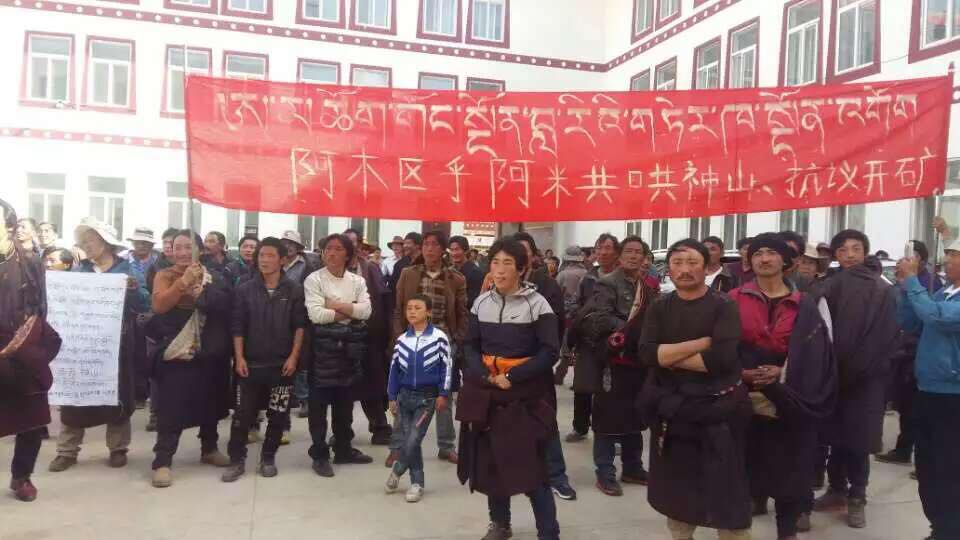 Rampant open-pit mining activities conducted for more than a decade by the Chinese authorities at Tibet's sacred Gong Ngon Lari Soul Mountain have faced renewed and sustained protests from local Tibetans living in Amchok (Ch: Amuqu) Township in Sangchu (Ch: Xiahe) County, Kanlho (Ch: Gannan) Tibetan Autonomous Prefecture, Gansu Province.
Thousands of Tibetans living in eight villages within Amchok Township are involved in the series of anti-mining protests that entered its sixth day on 5 June. To deter these protests, Chinese security forces including the police, armed police and the military have launched a violent crackdown on peaceful anti-mining protesters who were beaten and detained. The situation remains tense.
The Gong Ngon Lari Soul Mountain has a special place in the history and belief system of local Tibetans who believe that the mountain is home to their protector deity. Years of open-pit gold mining at this sacred mountain has destroyed the natural environment, violated the belief system of local Tibetans and harmed social harmony of the local community. Using the 'divide and rule' tactic, Chinese authorities had bribed some villages and families living close to the mining site to disrupt Tibetan unity.
For years, local Tibetans have staged numerous peaceful protests including self-immolations and submitted petitions but local authorities failed to act on their requests to cease mining activities.
Police block anti-mining protesters
On 31 May, led by a local Tibetan environmental protection group, local Tibetans gathered at Demothang, a community-gathering place where after conducting the ritual of burning junipers, they held out a huge red banner emblazoned with the slogan: "Stop Mining at Amchok Gong Ngon Lari!"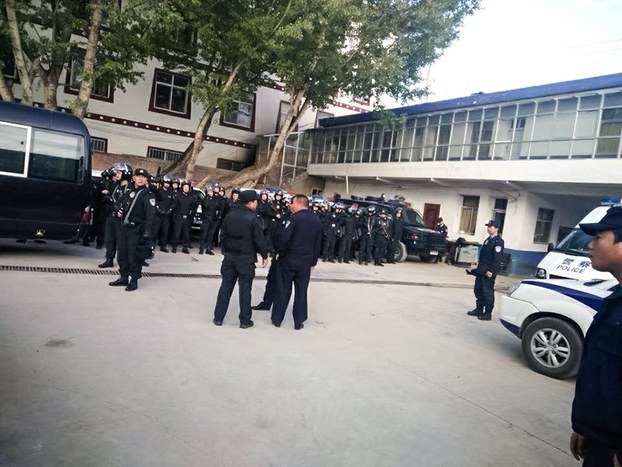 Carrying the banner, the protesters walked all the way to the mining site, with a signed petition calling on the authorities to put an immediate stop to the gold mining operation. Soon vehicle loads of police personnel reached the mining site and blocked the protesters from moving forward. The protesters then took out copies of the Chinese Constitution, waved them in front of the police and stated that mining violates the provisions of the constitution that call for environmental protection. Despite intimidation tactics from the police, local Tibetans spent the whole day at the mining site protesting.
Protest march to local government office
On 2 June, after learning about the arrival of a group of Prefecture and County-level officials in the area, hundreds of Tibetan protesters marched from the mining site to Amchok town to appeal the higher officials. They held the banner with the slogan in Tibetan and Chinese: "Stop Mining at Amchok Gong Ngon Lari Soul Mountain!" and raised slogans such as:
Protect the Gong Ngon Lari Soul Mountain!
Protect Environment and Tibetan Belief System!
People Need Security!
The visiting higher officials, however, refused to meet with the protesters. Instead they dispatched truckloads of County-level armed police and military personnel, who gathered themselves at the local police station in Amchok Town. The armed police and military personnel threatened the protesters with violence, and by the evening two protesters were detained. The detention led to other protesters deciding to meet at Demothang for a meeting the next day.
Protesters beaten and detained
On 3 June 2016, when local Tibetans met at Demothang as planned, Chinese authorities deployed a large number of armed police and military personnel who engaged in beating and manhandling the protesters. Six protesters were severely injured in the beating and detained. Among them, two have sustained serious injuries that required emergency medical treatment. Protesters did not retaliate when subjected to violence by the security forces because they had determined from the beginning that they would keep the protest non-violent despite provocations. Armed police force has been deployed on all major roads leading to Amchok and movement of local Tibetans is severely restricted.
Of the eight protesters who had been beaten and detained, TCHRD has identified five: Tsewang Kyap from Agon village, Ten Gye from Khi Mar village, Nam Kyab from Vana village, and Dhondrup and Tamding Kyab from Nyima Lung village.
Using religious personalities to stop protest
The beating and detention of peaceful protesters prompted Amchok Tibetans to meet again  next day at Demothang. It was decided by the village elders of Amchok that a representative from each family from all eight villages should gather at Demothang to conduct the ritual of burning junipers and to deliberate on the next course of action.
On the morning of 4 June, around 2000 Amchok residents including the village elders, representatives and leaders gathered at Demothang. They put their signatures on a petition calling for the end of gold mining at Gong Ngon Lari Soul Mountain and decided to form a united front in resisting the violence of security forces. A decision was also made to call for the release of the detained protesters.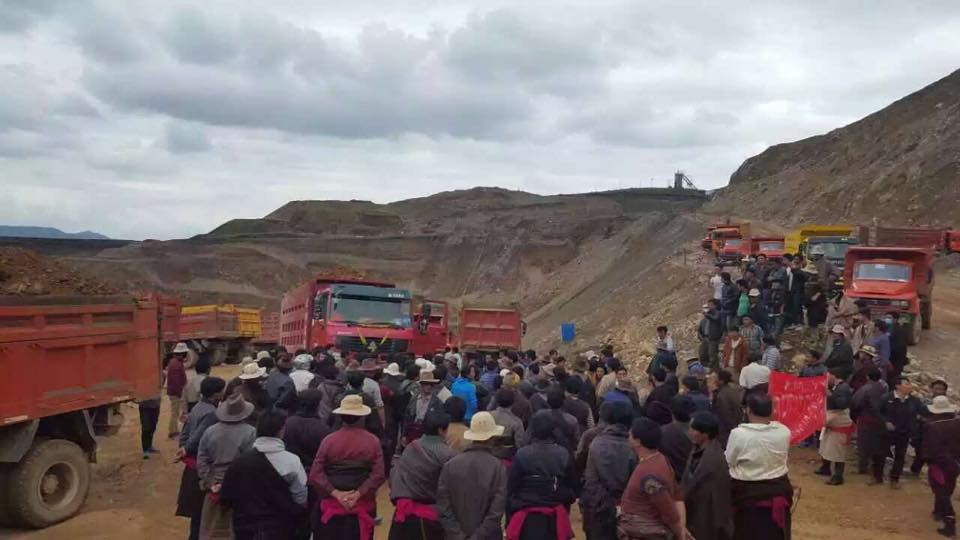 In the afternoon, apparently at the behest of Chinese authorities, Lama Wel Mang Tsang, the local lama in Amchok, accompanied by nearly 30 monks including the local Monastery Management Committee members and some senior monks, arrived at the meeting venue and tried to persuade the protesters to end the protest and instead work towards releasing those who had been detained. The protesters maintained that the urgent matter at hand was to work towards the end of the mining activities, not the release of the detained Tibetans. At around 5 pm, it was finally decided that the protest would end to facilitate the release of the detained Tibetans. It took some time for the authorities to release six protesters; the fate of the other two who have sustained serious injuries remains unknown.
Protest gaining force despite crackdown
The release of the protesters did not address the major issue, that is, end to mining at the sacred mountain. This led to another demonstration by local Tibetans at Demothang on 5 June, which witnessed the participation of more Tibetans due the violent crackdown during the previous protest. A young man was seen at the demonstration carrying a banner with the following slogans:
Soul Mountain is the source of our belief system and it cannot be trampled upon!
People and the government are joint owners of the beautiful Soul Mountain! 
Mining is unconstitutional!
We don't need money. We want the Soul Mountain and clean environment!
If the area is healthy, the people shall be happy!
Peace of mind is the source of Harmony!
Some of the images and videos of the protests show the massive deployment of Chinese security forces in the streets of Amchok Town and protesters waving copies of Chinese Constitution, trying to convince security forces that their protest is not illegal.
Official circular justifies violence on peaceful protesters
A Chinese government circular dated 3 June denounced the non-violent anti-mining protests as being manipulated by "a few evil people in collusion with anti-China forces". The circular ordered the protestors to end their campaign, with a stern warning that they should bear responsibility if any consequences accrue from their failure to abide by the government order.
Below is a translation of the circular:
Recently under the instigation of a few evil and corrupt people, a group of masses have illegally gathered to ostensibly protest against what they refer to as destruction of environment. Their protests have hindered gold mining at Nag Deu mine. They have also, in collusion with anti-China forces, indulged in lies and propaganda. These incidents have caused negative influence and serious consequences.
In accordance with the law, the security forces have launched a crackdown and arrested the ringleaders of this protest. Right now, again a group of masses, under the influence of a few individuals, have gathered near the monastery. This is a serious offence and violation of the law.
It is hoped that all of you, with clarity of mind, will be able to distinguish right from wrong and desist from participating in such illegal demonstrations. Those who fail to abide by this order must take full responsibility for any consequences that accrue from it.
Amchok Town Government
3 June 2016
[Circular bears the seal of Amchok Town Government,
Seal of People's Government of Amchok Township,
Sangchu County]
Mining and self-immolation
In the past local Tibetans have protested against gold mining at Gong Ngon Lari by committing self-immolations. Among the seven Tibetans who self-immolated in Amchok, two clearly called for an end to mining at the sacred mountain. Kunchok Tsering, 18, and Tsering Dhondup, 35, died of self-immolation near the mining site.
Another self-immolator, Tsultrim Gyatso, a monk from Amchok Monastery, left behind a note: "Whom should we appeal for the suffering of the six million Tibetans? China's repressive policies took away our precious gold and silver, plunging our people into suffering, thinking of this brings tears in my eyes."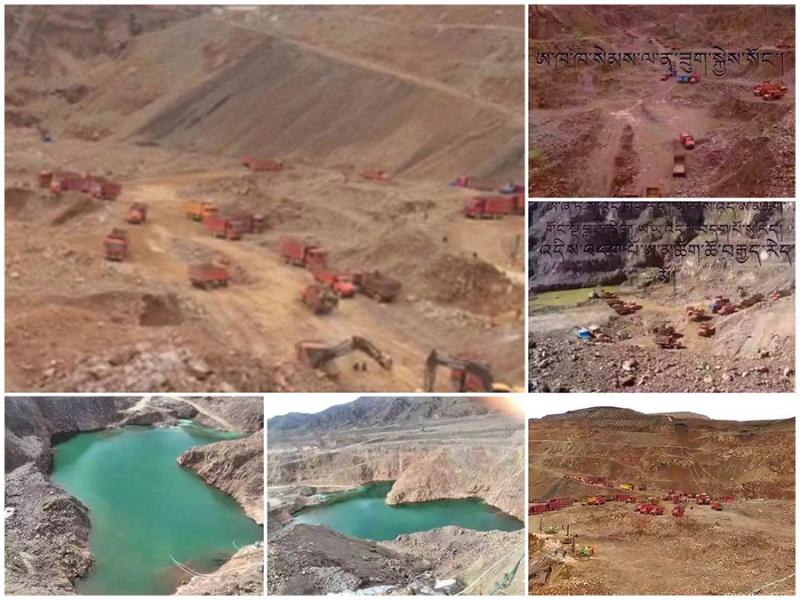 In 2013, Tibetans in Diru (Ch: Biru) County in Tibet Autonomous Region (TAR) protested against mining at another sacred mountain called Naglha Zamba. In 2014, six Tibetans were sentenced from eight to 12 years in prison for participating in a protest to protect environment in Lhundup County, Lhasa city. In 2010, the award-winning environmentalist Karma Samdup was sentenced to fifteen years in prison.
Protests render revised environmental law a paper tiger
Despite being the world's biggest carbon emitter, China has shown its willingness to address the environmental issues by promulgating a series of laws ostensibly to protect the environment and practice sustainable development.
China's Environmental Protection Law (EPL) was amended for the first time in 2014 since it was passed in 1989. The amended provisions that took effect in January 2015 put stricter fines against polluting companies and detention of business owners; protection of individuals who expose information relating to polluters as well as punishment of government officials who fail to implement the provisions. For instance, Article 1 of the revised EPL states: "This Law is formulated for the purpose of protecting and improving environment, preventing and controlling pollution and other public hazards, safeguarding public health, promoting ecological civilisation improvement and facilitating sustainable economic and social sustainable development." Article 4 declares that "The protection of environment is a basic national policy for China." Article 6 states: All units and individuals shall have the obligation to protect the environment. Article Article 53 states: Citizens, legal persons and other organisations shall have the right to obtain environmental information, participate and supervise the activities of environment protection in accordance with the law.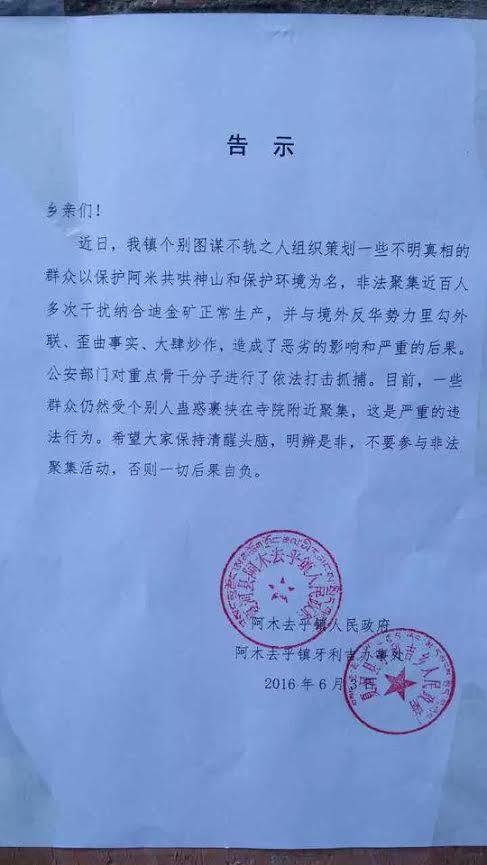 On the contrary, under the Western Development Strategy, the Chinese government has resettled Tibetan nomads in concrete blockhouses, built airports, railways, dams, power stations, and highways with little or no regard to the environmental health and sustainable livelihood of local Tibetans. These massive infrastructure projects and resource extraction enclaves have displaced and dislocated local Tibetans from their ancestral homes, alienated them from economic opportunities, as most jobs are taken away by the ever-increasing Chinese migrants.
TCHRD appeals the Chinese leadership to stop mining activities that cause destruction of Tibetan livelihood and environment. Protestors, who have been arrested illegally, should be released immediately without any pre-conditions. The maimed and injured should be given full treatment and financial compensation. Most importantly, people's belief system that mountains are sacred and inviolable should be respected.
TCHRD calls on the Chinese authorities to put an immediate halt to rampant and illegal mining activities that have led to harmful and disastrous consequences on Tibetan livelihood, food security and their natural environment. In particular, Chinese authorities must launch thorough investigation into the issues raised by anti-mining protesters at Gong Ngon Lari. This is important to ascertain whether any environmental impact assessment was done at the gold mining site, in accordance with PRC's Law on Evaluation of Environmental Effects. It is widely known that China's environment impact assessment law is poorly enforced and implemented. TCHRD strongly protests the violence perpetrated by armed security forces on peaceful protesters and calls on the Chinese authorities to respect their right to freedom of expression and right to decide on the judicious use of their land and resources. Chinese authorities must disclose the whereabouts and condition of the two injured protesters and allow their family members to meet with them.