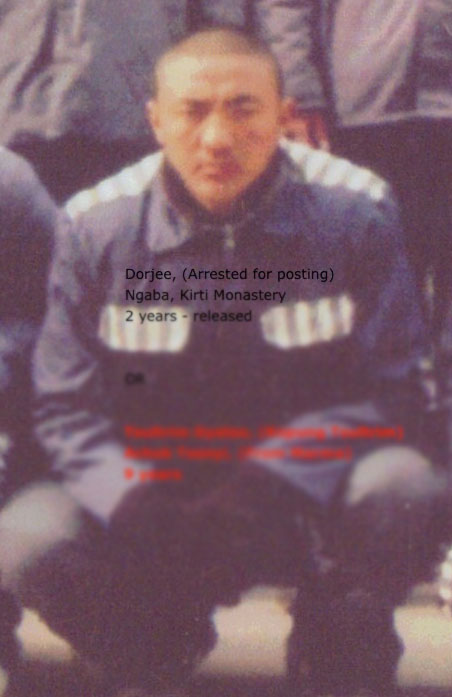 Chinese authorities have sentenced a Tibetan monk to three years' imprisonment on the suspected charge of disclosing state secrets in Ngaba (Ch: Aba) County in Ngaba Tibetan and Qiang Autonomous Prefecture, Sichuan Province, in the Tibetan province of Amdo.
Lobsang Dorjee, 36, a monk from the local Kirti Monastery, was sentenced on 3 September, following his detention in July last year. Local police had detained him in the middle of the night from his monastic quarter and held him in undisclosed location until his sentencing earlier this month. Earlier it was believed he had been detained for maintaining contacts with individuals living outside Tibet. The exact charge for which he was convicted remains unknown although it is not uncommon for someone to be sentenced to three years on the charge of ​'​negligent disclosure of State secrets​' under Chinese Criminal Law.
​Son of Mr Sangri of Chukle Gabma nomadic village, Lobsang Dorjee became a monk at a young age. He had earlier served two years' sentence following his arrest in 2008.
He had been detained on 23 May 2008 along with another monk named Kunga from Kirti Monastery. Both monks had not complied with the orders of the Chinese officials running the 'patriotic education' campaign at the monastery. They were subsequently sentenced to two years prison terms. According to an eyewitness account at the time, the defiance shown by the monks symbolised their determination to choose imprisonment over capitulation. "Obeying the repressive diktats of Chinese officials is similar to being imprisoned."
The Tibetan Centre for Human Rights and Democracy (TCHRD) believes that Lobsang Dorjee's unjust imprisonment is the result of ongoing systematic persecution of Tibetans for their political and religious beliefs and reiterates its call to the Chinese government to release him and other Tibetans immediately without conditions. The Chinese government must respect and guarantee the basic human rights enshrined in the national law and the international human rights law.
Corrigendum: In our previous update, we reported that Lobsang Dorjee was detained and sentenced to three years in 2011. We regret the error.