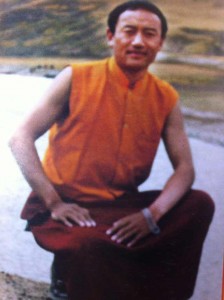 Ngawang Gyaltsen, 41, a monk and accomplished thangka artist has been found secretly detained at a detention centre in Nagchu Prefecture, Tibet Autonomous Region (TAR).
Local Chinese police detained Ngawang Gyaltsen on 24 February this year without the knowledge of his family members who thought he had disappeared. Sustained efforts by local Tibetans in the area led to the revelation that the monk has been in police custody since his detention in Nagchu area.
No one knows the exact reason behind the monk's detention.
Ngawang Gyaltsen, son of Tsering Migyur and Marzing, was born and raised in Gongsum Village in Tarchen Township in Nagchu County. He is a former monk of Shak Rongpo Monastery located in Shakchu (Ch: Xiaqu) Township in Nagchu County. During the '20 May [2010] Incident' which led to the temporary closure of Shak Rongpo monastery, he had confronted the Chinese officials during a 'Patriotic education program' for monks inside the monastery. Consequently, Ngawang Gyaltsen had to leave his monastery.
According to friends and classmates, Ngawang Gyaltsen was known for his sincere concern for the survival of Tibetan culture. He is also a skilled Thangka artist. Since the day he was forced to leave his monastery, he had been living an ordinary life constrained by restrictions put on his freedom of movement and association with people. Even before his detention, his movement was severely limited as he was required to seek permission from local authorities for every meeting and travel. In the past, he had been subjected to intimidation and threats through anonymous phone calls orchestrated by local authorities.
Shak Rongpo Gaden Dhargyeling Monastery has been under intense pressure and restriction since 2010 when local authorities arrested and sentenced a senior spiritual teacher, Lama Dawa Rinpoche, to seven years in prison on charges that he contacted His Holiness the Dalai Lama during the search for the ninth reincarnation of Rongpo Choeje, the head lama of the monastery. The previous eighth incarnation of Rongpo Choeje passed away on 14 August 1999. The first Rongpo Choeje founded the monastery under the guidance of the fifth Dalai Lama some 300 years ago.
According to information received by TCHRD, out of 113 big and small monasteries in Nagchu Prefecture, Shak Rongpo Monastery has been blacklisted among the top group of reactionary monasteries, undeserving of any measure of official leniency.
On 30 July 2013, the monastery was closed indefinitely after monks left to escape harassment and political education sessions.
The 'May 20 incident', dubbed as such by the state media, led to the closure of the monastery in 2010 after monks fled to avoid participation in 'patriotic education' campaigns that require them to denounce the Dalai Lama. On 20 May 2010, less than three days after the arrest of Lama Dawa Rinpoche, over 50 local officials and about 150 armed policemen arrived at the monastery and forced political education on the monks, ordering them to denounce the Dalai Lama and Lama Dawa, and maintain no contacts with Lama Dawa. The monks were told that Lama Dawa was no longer a reincarnated lama since he was a follower of the Dalai Lama and not the Party. The official denunciation of Dalai Lama and stripping Lama Dawa of all his spiritual positions at the monastery had emotionally taken a toll on the lives of at least two known monks. During the political education session, monk Jampa fell unconscious, unable to control his emotions, and monk Tashi Tensang who was also a prefect at the monastery became sick. Prefect Tashi Tensang later lost his job at the monastery.
Shortly after, monk Ngawang Gyatso, 70, committed suicide at his residence. He had left many letters he had written over an extended period of time, but the contents of these letters remain unknown as they were seized by local officials. Monks were ordered not to discuss the suicide with outsiders, or else face imprisonment.
For more on Shak Rongpo Monastery, click here.