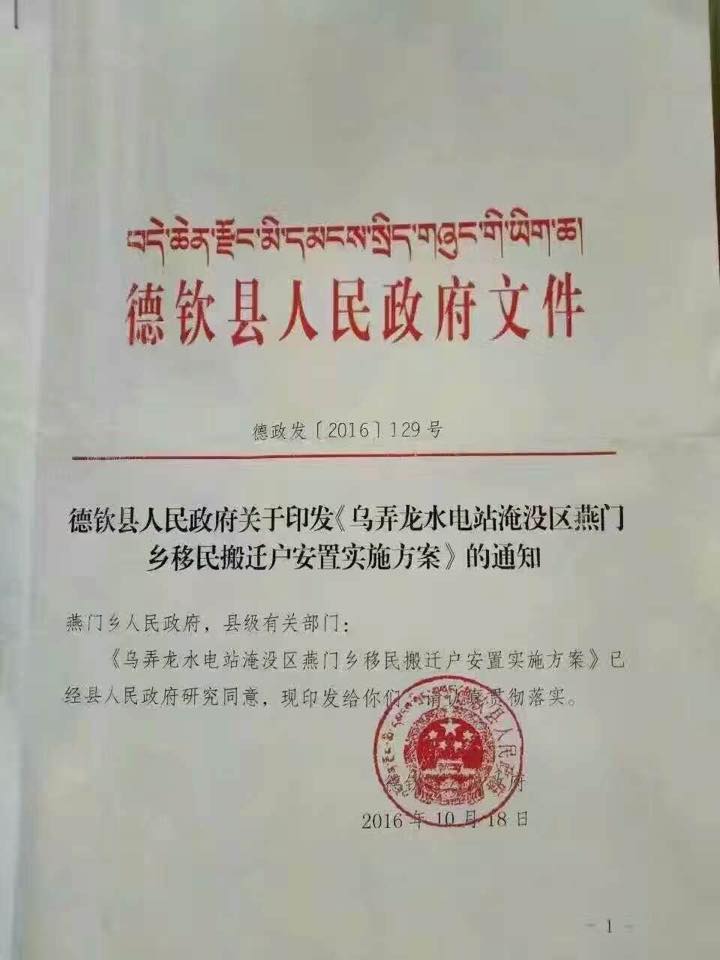 A growing number of rural Tibetans are increasingly deprived of their means of livelihood and pushed into poverty as Chinese government pursues an aggressive development policy that ignores basic livelihood needs and security of rural communities located mostly in remote, resource-rich yet ecologically fragile regions in Tibet.
On 17 November, a large group of Chinese police and armed police including the special police units beat and detained local Tibetans for protesting the forced expropriation of their farmland and cutting off crucial water supply by diverting the course of a local stream. The protest was staged by residents of Yangdro Village in Yonglin (Ch: Yunling) Township in Dechen (Ch: Deqin) County, Dechen Tibetan Autonomous Prefecture, Yunnan Province. Residents of this village are agro-pastoralists and relied on their farmland and forest produce for living.
An estimated 20 protesters were detained that day. Some were beaten and manhandled. In the video footage circulated on social media, some protesters are seen dragged by the armed police, with several others violently pushed back. The footage also shows women shouting as armed police barricade and beat back the protesters. There is no information on the identity and status of the detained persons due to increased restrictions on communication channels.
The 17 November protest is the result of years of frustration and helplessness experienced by local Tibetans who had lost large tracts of their farmland due to the construction of a highway that runs through the village. Forests were cleared and mountains were razed to make way for the highway. Tibetans in Yangdro are particularly outraged by the destruction of a sacred mountain that was revered for generations as the abode of the local guardian spirit. Local Tibetans also witnessed the local stream called 'Yachu' diverted for unknown purposes thus depriving their farms of irrigation sources. The destruction of the environment in the wake of highway construction led to abnormal changes in local weather patterns, according to a Tibetan with contacts in Dechen who wished to remain anonymous, as rainfall became scarcer and crops failed on whatever was left of their farmland after expropriation. With little option for livelihood, desperate Tibetans turned to collecting sand from dried riverbeds to earn money. This option did not last long. The local authorities soon took control and colluded with private businessmen to set up a sand mining enterprise.
Several years ago when the highway project was announced, local government officials had told Tibetans that the highway would bring them prosperity and employment opportunities. Despite the long list of promises, villagers in Yonglin Township today face a grim future with no option for legal recourse. Due to China's top-down approach to development, coupled with its extreme suspicion of Tibetans, any attempt to seek justice through legal actions or outright protests even on matters such as environment and livelihood, is considered criminal act equivalent to endangering national security or separatism.
Forced relocation of Tibetan village
Tibetans in Yonglin are not alone in this struggle. Last month, after years of anxious uncertainty, Tibetans living Yenmon (Ch: Yanmen) Township in Dechen County were ordered to relocate by the Dechen County government in a public notice, a photo of which was obtained by TCHRD. The 18 October notice orders the relocation of more than 200 households of Yenmon to make way for the new 990 MW Wunonglong Dam on the Dzachu (Mekong/Lancang River) that will become operational in 2018. Construction of the dam began in 2010. Yenmon is located close to the riverbank and will get flooded once the new reservoir becomes functional.
Tibetans in Yenmon will not be given separate lands as compensation; they will be entirely relocated and absorbed into Tsodruk (Ch: Cizhong) Town up north in the same county. To accommodate the 'dam migrants' from Yenmon, Tibetans in Tsodruk, who are predominantly Catholic Christians, have to give up portions of their land consisting mostly of lush paddy fields. In keeping with China's urbanization policy, post-relocation both Yenmon and Tsodruk residents will receive urban registration that will take away their rights to farm the land.
In September this year, residents of Yenmon voiced their fears of facing an uncertain future after losing their ancestral lands – the source of their livelihood – to the government's dam-building project. The electricity generated by the Wunonglong dam is to be sent to prosperous Chinese cities, not meant for the affected communities Yenmon or Tsodruk.
Although Chinese law guarantees compensation to affected parties at fair market value for expropriated land, the marginalized nature of Tibetan communities often prevents them from receiving fair compensation. The problem is compounded by pervasive corruption among local officials who are responsible for distributing the compensation amount received from the developers. Moreover, the compensation law fails to consider the value of customary land use among Tibetans. In Tibetan highlands, the shared practice of using "common pasture land for grazing animals, the forests as areas for collecting consumable and marketable products such as the matsutake mushroom and caterpillar fungus" creates community-building functions that cannot be easily converted into market value, unlike lowland agriculture.
According to a 2012 study on rural land seizures in China conducted by the Europe China Research and Advice Network, in many cases affected communities "are required to follow the decisions, terms of compensation and relocation plan that have been devised by the local government without their prior consent".
Tibetans challenge relocation order
On 30 October, Tibetans in Huafengping, another village located in Dechen County, submitted a petition challenging the 18 October relocation order, stating that the local authorities did not obtain their consent to the relocation plan. Residents in Huafengping earn their livelihood mainly through harvesting walnuts and other farming activities. Relocation will take away their lands including their walnut orchards and ancestral homes without adequate compensation. The petition called on the local authorities particularly those directly responsible for the relocation plan to hold public meetings to address the issues related to compensation rights, housing and livelihood.
In the petition, the villagers wrote: "Our living conditions will get worse after relocation. There will be huge difference between the quality of our current houses and the houses we will get as compensation after relocation. We will be forced to go into debt trying to build the new houses. Especially those families that cannot afford to build houses will become homeless. The compensation money we get [because of] the new reservoir is insufficient to meet even the needs of food and clothing. We appeal to the concerned authorities to look into the matter and arrive at a favourable decision on this matter. In the absence of such a decision, the relocation plan cannot be implemented. The people of Huafengping village was not consulted before issuing the [relocation order document]. Moreover, no officials connected with the relocation plan had attended the villagers meeting in Huafengping. The meeting failed to agree on a decision on the [relocation] matter. Therefore, the core leaders related to the resettlement plan should hold a discussion with the people of Huafengping to explain and respond on the matters [raised in this petition]."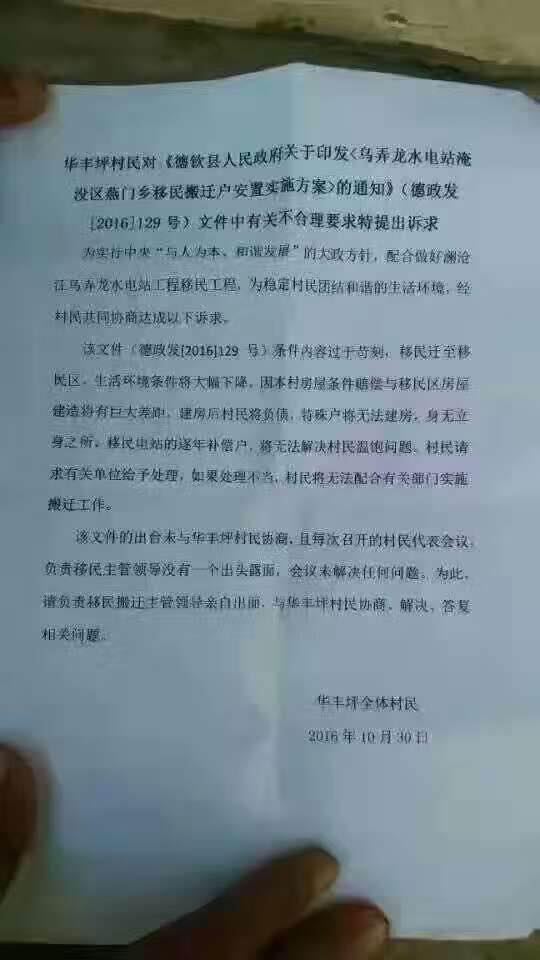 The outcome of the petition is almost decided because Sinohydro Power Company, China's state-owned corporation, is building the dam. Sinohydro is the world's largest dam builder with a 50% share of the global dam building market. Like many other dams and infrastructure projects in China, the construction of Wunonglong Dam proceeded without proper Environmental Impact Assessment (EIA). "EIAs are just a box for [Chinese] developers to check off," according to International Rivers, a leading international NGO that works against destructive dam-building projects.
China plans more dams and relocation
In its 13th Five-Year Plan (2016-2020), China has called for more dams to be built in Yunnan, Sichuan and Qinghai, where an estimated 3 million Tibetans (China's 2000 census) live in nine Tibetan autonomous prefectures. Despite growing environmental problems on the Tibetan plateau, China's latest plan will enable more large-scale dam building projects (and also infrastructure development and resource extraction) to meet its energy needs as well as reduce carbon emission. China's aggressive approach to achieving its "core interests" of energy production and carbon reduction will see more Tibetans relocated and resettled to unproductive living, their customary rights to land and food security taken away with little or no compensation.
China's third National Human Rights Action Plan (2016-2020) announced that the Chinese government "combines human rights with economic, political, cultural and social progress, ecological protection and Party building, adheres to the people-centered development approach, puts the protection of people's rights to subsistence and development in the first place, takes the people's well-being and all-round development as both the starting point and ultimate goal of China's human rights work, safeguards social fairness and justice, and better guarantees the various rights and interests of the entire population in the great cause of realising the Chinese Dream of rejuvenation of the Chinese nation."