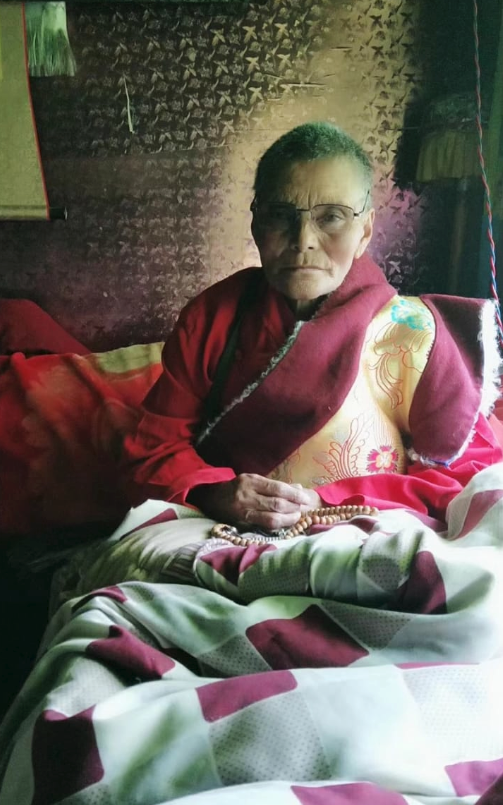 In a shocking case of reprisals against a former Tibetan political prisoner living in India, Chinese authorities have subjected his family members including his elderly mother to illegal detention in Pema (Ch: Baima) County in Golok (Ch: Guoluo) Tibetan Autonomous Prefecture, Qinghai Province. The family was threatened of severe consequences if they failed to hand over the former political prisoner to the authorities.
Tenzin Woeser, 35, informed Tibetan Centre for Human Rights and Democracy (TCHRD) that local police detained his mother Monlam Kyi, 69, on 23 May for interrogation and released her on 6 June. For two weeks, Kyi was held at an undisclosed location and subjected to intense interrogation about her son. Following her release, she is not her usual self and appears to have undergone traumatic experience in detention. "I learned that she keeps on babbling incoherent things. I am very concerned about her health because she is also a heart patient," Woeser told TCHRD.
Kyi was detained a day after the local police visited Woeser's family on 22 May in Welshul village in Drubchen Township. "They [police officers] were carrying a file and looking at its contents while asking my family about my whereabouts. The file apparently contained details about me and other family members." Kyi is a retired primary school teacher. She had taught at the local primary school for many years. Since her retirement, she has been living a life of a gyencho (lay Buddhist practitioner) fully dedicated to spiritual pursuits.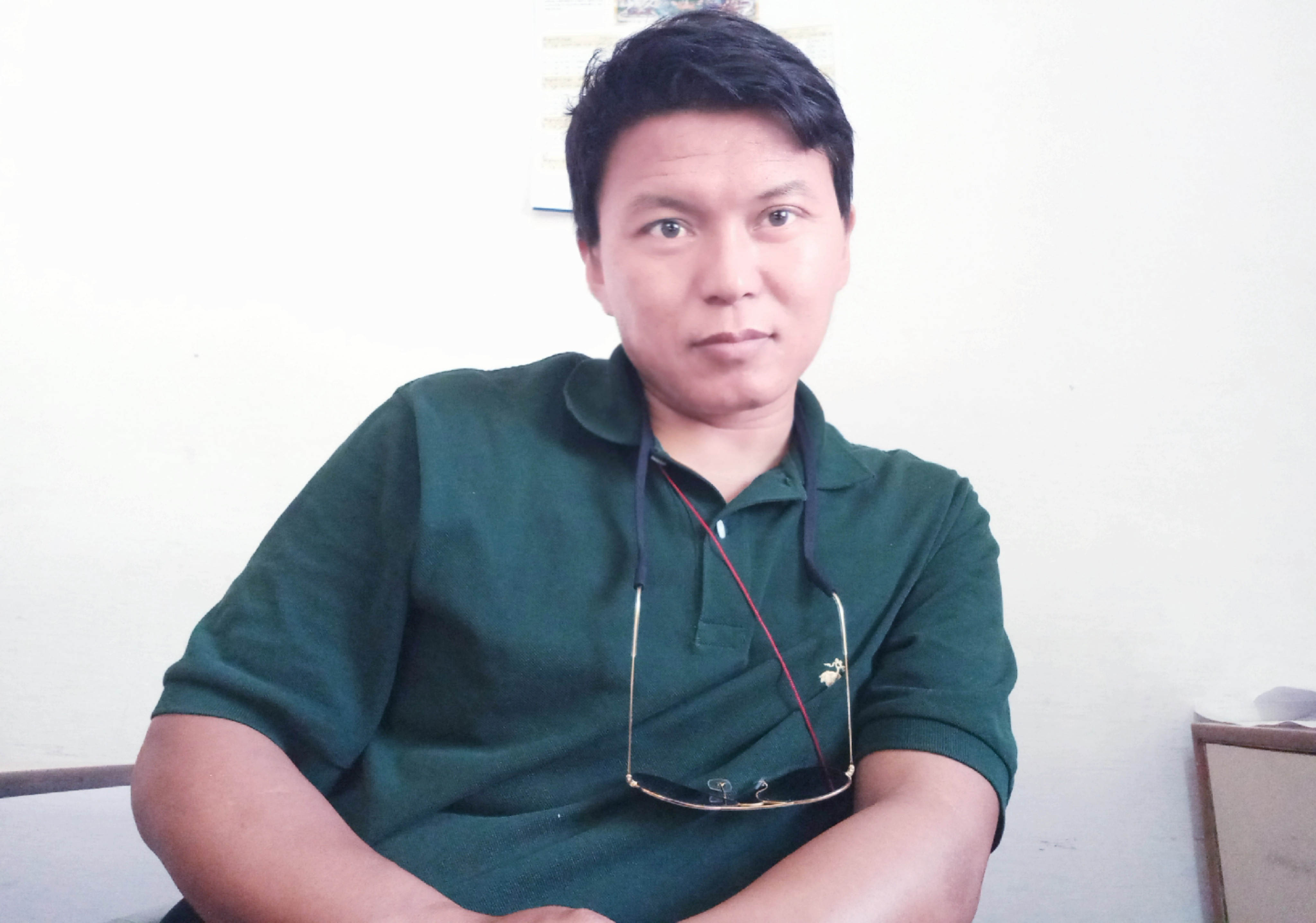 Since 6 June, local authorities have initiated other retaliatory measures that included firing Woeser's sister from her job as a nurse at the local government hospital. The sister's husband was also fired from his job as a staff at the local gold mining office. The family's ration card that entitled them to procure daily necessities at subsidized rates has been cancelled. Their small plot of land has been confiscated.
In 1997, Woeser was 14 when he joined his cousin Dothuk and some other monks in pasting leaflets calling for Tibetan independence in the county town. The other unknown monks hailed from Nyagrong (Ch: Xinlong) County in Kardze (Ch: Ganzi) Tibetan Autonomous Prefecture, Sichuan Province who had come to Pema County for religious education. Woeser was subsequently detained and sentenced to five years for engaging in political activity, his prison release document shows. Due to his minor age, he was subjected to 'thought reform' and released after six months' detention. Upon his release, he was ordered to report every month to the County Public Security Bureau office and barred from returning to his monastery. Woeser was a monk at Do Drubchen Gon Sangchen Ngodup Palwar Ling Monastery.
Woeser is clueless about why Chinese authorities have made him a target for reprisals given that his involvement in political activities was decades old. "I have no idea why they are doing this. My biggest concern is my mother and other family members that are still in Tibet. They are innocent especially my mother who dedicated her whole life as a schoolteacher. She should not be treated this way. I am equally worried about my sister and her husband. How can they survive without their jobs?"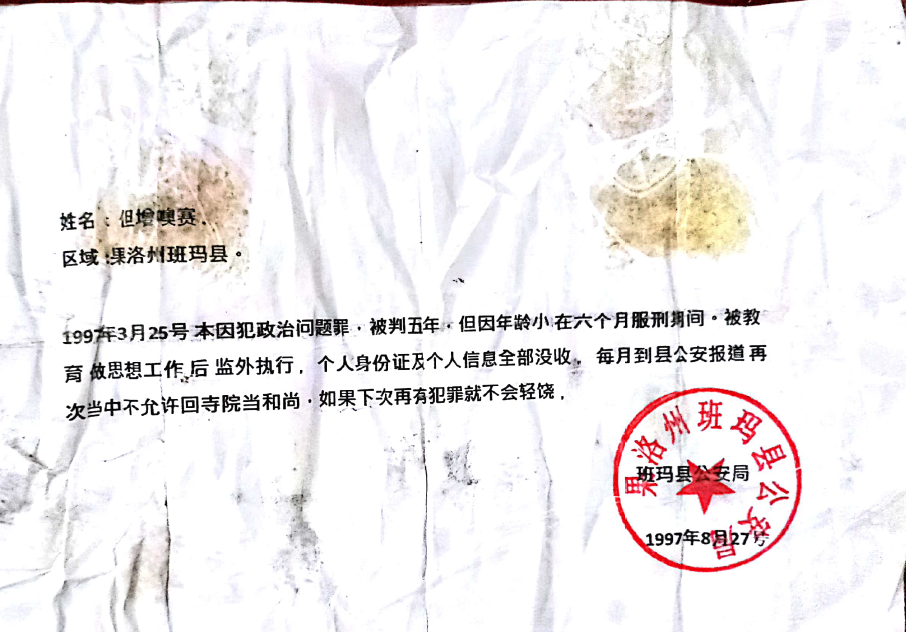 Dothuk, currently in his mid-40s was a monk at Didah Monastery in Didah Township in Pema County. He was sentenced to six years for his role in pasting leaflets and released in 2003. He was again arrested for participating in a protest in 2008 and is still serving prison time. It is unknown how long he had been sentenced in 2008.
Woeser fled Tibet and arrived in India in 2000. After attending Suja Tibetan Children's Village (TCV) School, he studied at Shri Mahant Public School in Dehradun and later learned motor mechanics at Shri Guru Ram Rai Automobile in Delhi. He now works as a staff at the Tibetan Children's Village School in Selakui, Dehradun in northern India.
TCHRD condemns the systematic acts of reprisals against Woeser's family members and calls on the Chinese authorities to immediately reinstate the employment of his sister and brother-in-law, return the family's ration card and land without any conditions. It is shameful of Chinese authorities to subject innocent Tibetans particularly Woeser's aged mother Monlam Kyi to cruel, inhumane and degrading treatment. Chinese authorities must put an immediate end to this worrying pattern of intimidating and persecuting former political prisoners and their kin. As a party to international treaties, the Chinese government has obligations and duties under international law to respect, protect and fulfil human rights of all Tibetans.