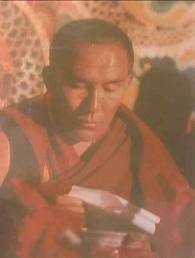 Anxiety begin to grip the Tibetans as Chadrel Rinpoche, the 62-year-old former abbot of Tashi Lhunpo Monastery and Head of the Search Committee to identify the successor of the 10th Panchen Lama, fail to make an appearance even after expiry of his six years' prison term May this year. Arrested on 17 May 1995 for "colluding with separatist forces", Chadrel Rinpoche received court sentence only after two years.
According to information received by TCHRD, Tibetans in Lhasa and Shigatse including the monks of Tashi Lhunpo Monastery express grave concern over the dearth of news concerning Rinpoche's expected release, his present whereabouts and health condition. Chadrel Rinpoche's prison term of six years was to expire in May 2001. With no information available on Rinpoche's release, the apprehension that Rinpoche might not actually be alive has become a daunting speculation.
China's Criminal Law stipulates that the detention period, starting from the day of arrest, is counted in the term of prison sentence. In accordance with the Chinese law, Chadrel Rinpoche's six year prison term was to expire by 16 May 2001 since his arrest took place on 17 May 1995.
"The continued arbitrary detention of Chadrel Rinpoche manifest Beijing's total disregard of its domestic law as well as international law. It is in fact a clear violation of article 9 of the International Covenant on Civil and Political Rights (ICCPR) signed by China in October 1998 that outlaws arbitrary detention", stated Mr. Lobsang Nyandak Zayul, the Executive Director of Tibetan Centre for Human Rights and Democracy, based in Dharamsala.
On 14 May 1995, the Dalai Lama announced the then six-year old Gedhun Choekyi Nyima as the reincarnation of the 10th Panchen Lama. Three days later, the Chinese authorities arrested Chadrel Rinpoche and his assistant, Jampa Chung, from Chengdu Airport in Sichuan Province.
On 21 April 1997, after two years of incommunicado detention, Shigatse Intermediate People's Court held a closed trial and passed judgement on Chadrel Rinpoche and his assistant. In May 1997, Xinhua News, the official Chinese news agency, revealed that Rinpoche was sentenced in accordance with article 92, the first clause of article 186, and the 23rd, 24th, 51st, 64th articles and the second clause of the 59th article of the People's Republic of China's (PRC) Criminal Procedure Law.
Chadrel Rinpoche received six years' prison sentence and subsequent three years' deprivation of political rights for "conspiring to split the country" and "leaking state secrets". Four months after the sentencing, Chen Jian, the Chinese Foreign Ministry Spokesman said that Chadrel Rinpoche was "ill and in hospital" and was not in custody. Jampa Chung, the 50-year-old monk and assistant of Chadrel Rinpoche, was sentenced to four years' imprisonment and deprivation of political rights for additional two years on similar charges.
It was only around September 1997 that the initial reports filtered about Rinpoche's detention places. Previously detained in Trochu County (Ch: Heishui), Rinpoche was later imprisoned in Chuandong No. 3 Prison, Tazhu County, Sichuan Province, which held highly sensitive political dissidents. Chadrel Rinpoche was reportedly kept in the top-secret compound, referred to as "prison within the prison" sometime in late April or early May after the sentencing. In protest against total denial of visitors and outside contacts, Rinpoche held hunger strike sometime in July. He was reportedly in a very poor health.
Prior to his arrest, Chadrel Rinpoche held the posts of the director of the Civil Administration Society and Chairman of the Democratic Management Committee of Tashi Lhunpo Monastery. Rinpoche was the member of national Chinese People's Political Consultative Conference (CPPCC) and Vice-chairman of the "Tibet Autonomous Region" ("TAR") CPPCC.
In 1989, the Chinese authorities entrusted him to head the official Search Committee to locate the reincarnation of the 10th Panchen Lama. Armed with Beijing's approval, Chadrel Rinpoche maintained private communication with the Dalai Lama in order to arrive at a mutually acceptable candidate for both the Dalai Lama and Beijing authorities concerning the Panchen Lama's reincarnation issue.
By May 1996, Chadrel Rinpoche had been dismissed from all official posts because he had "gone against the basic principles and lost the political stand of a patriot". On 24 May 1996, Radio Lhasa announced that "in doing this, we have purged the CPPCC of bad elements and have made it clean".
What's your reaction?
0
Cool
0
Upset
0
Love
0
Lol