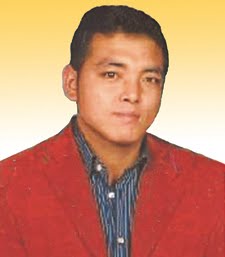 Tenzin Choedrak, a Tibetan social activist died two days after his release from prison at the age of 34. He was serving a 15-year prison term for acting as a ringleader of the March 2008 protests in Lhasa, Tibet [1].
When he was returned to his family, Choedrak had dislocated jawbones and damaged kidneys. He was physically emaciated and vomiting blood because of a brain injury. All the bones in his feet were broken. This suggests that he may have been subjected to the falaka, or foot whipping, torture technique. The falaka involves beating the sole's of the victim's feet with a heavy cable or whatever else is available. It causes extreme pain up the victim's body and the feet to swell. The technique was used in the PRC, the Middle East, and Romania.[2]
Tenzin Choedrak died after less than six years of his 15-year prison sentence. Before his detention, Tenzin Choedrak was an employee of a European NGO affiliated with the Red Cross in Lhasa.
TCHRD presents below a tribute written by Tsewang Rigzin, a close friend of Tenzin Choedrak who exhibited rare courage and dignity even in death.
Remembering Tenzin Choedrak: A Son of Tibet
– Tsewang Rigzin*
My childhood friend and classmate, Tenzin Choedrak, died on 5 December 2014, two days after he was released from Chushur Prison near Lhasa in the Tibet Autonomous Region (TAR).
In April 2008 Chinese police arrested Choedrak for allegedly leading demonstrators during March 2008 protests in Lhasa. He was sentenced to 15 years in prison in September 2008.
In violation of the Convention Against Torture and other international human rights treaties, to which China is a party to, Choedrak was brutally tortured on a daily basis for months. As a result, he suffered from vision loss and other chronic diseases until his death. To prevent Choedrak from dying in the prison, the Chinese government released him. However, two days after his release on medical parole, Choedrak succumbed to his injuries.
I knew Choedrak both as a friend and classmate. We studied together in Tibetan Children's Village School in Dharamsala, India where the exile Tibetan government is based. Like many of us, Choedrak was a teenager when he escaped from Chinese ruled Tibet to India. To many of us, Choedrak was strong and unbending. These unique characteristics earned him the nickname dhong-drey (Eng: ghost). His physical toughness was well known. Sometimes he would call us to punch him. No matter how hard we hit him he would not show any sign of pain. I played countless soccer games with him as a teammate and opponent. Due to his physical sturdiness, he usually played in the position of stopper/sweeper.
In the summer of 1995 we were in fifth grade. Just before an evening study hour ended, Choedrak went to our second-floor classroom balcony to close the windows. Suddenly the light went off. Choedrak stumbled in the darkness and fell out the window to the concrete ground floor. In panic, we all rushed down and saw him lying in a pool of blood. The atmosphere in the classroom was chaotic and we thought he might not survive the fall. He broke both his arms and legs. Choedrak survived and recovered well.
Like many of my friends, Choedrak finally returned to Tibet in 2004. Before his arrest, Choedrak worked with a European non-governmental organization associated with International Red Cross and worked mainly in the area of environmental protection in Lhasa and Shigatse region of Tibet.
During the months following the 2008 mass protests in Tibet, I chatted with a friend in Tibet who knew Choedrak. Our mutual friend told me there were 'wanted' posters of Choedrak all over Lhasa city. She recalled how she and other friends persuaded Choedrak to escape arrest by hiding in the mountains. Choedrak's response was, "Let them come and catch me. I am not going to run any more." His response has kept me thinking for years. Why he chose to be arrested rather than go hide in the mountains as many protestors did at that time is a question that I still find hard to answer.
I can only assume that he had already given himself up for the just cause of Tibet and ready to bear all the consequences. This assumption was reinforced by one of his last acts. According to an eyewitness, on his deathbed Choedak sang the Tibetan national anthem.
I remember I felt tremendous fear and sadness when I heard the Chinese authorities were looking for Choedrak. That fear and sadness intensified when I learnt in 2009 that he was arrested with another Tibetan for their involvement in the 2008 protest. I had ample of opportunities to interact with a number of former political prisoners who had escaped to India. Having heard their stories of surviving torture and atrocities in prison, I feared most for Choedrak's wellbeing and survival. Although he was physically tough and sturdy, I knew the playful punches that we used to throw at him at school days were in no way comparable to the torture that the Chinese authorities had inflicted on him after his arrest. Despite his physical strength and resilience, the torture he suffered eventually led to his untimely death.
It saddens me to the depth of my bones to even imagine the severe torture he had to endure in prison. The mere thought of being in a Chinese prison, let alone being tortured, sends shivers through my body. Choedrak bravely confronted this terror.
To me, Choedrak was more than a friend and a classmate. He was a brave and compassionate spirit who was determined to give up everything he had for six million Tibetans. He was a patriot and a real son of Tibet.
*Tsewang Rigzin is a graduate student at Laney Graduate School of Emory University, Atlanta, Georgia, USA.
Endnotes:
1."Former Tibetan social activist serving 15 years' sentence dead after less than 6 years in prison", TCHRD, 6 December 2014, available at: https://tchrd.org/2014/12/former-tibetan-social-activist-serving-15-years-sentence-dead-after-less-than-6-years-in-prison-2/.
2. For more on death in detention cases, see TCHRD's forthcoming 2014 Annual Report on human rights situation in Tibet. The report will be released in soft and hard copies on 7 February 2015.