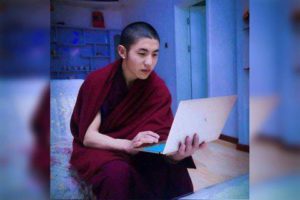 A Tibetan monk named Jamyang Losel died of self-immolation protest yesterday in Chentsa (Ch: Jianzha) County, Malho (Ch: Huangnan) Tibetan Autonomous Prefecture, Qinghai Province, in the Tibetan province of Amdo.
Jamyang, 22, died early morning on 19 May after he set himself alight near the Chentsa County government hospital. Local security officials confiscated his remains, followed by the deployment of armed police force at the site of the self-immolation protest. Local Tibetans have reported increased restriction on their movement. Internet lines remain erratic and under increased surveillance.
Jamyang's family members were turned away by the local police after they went to claim the monk's body.
Jamyang was the fourth Tibetan to have self immolated in Tibet since the beginning of this year. Disciple of Akhu Shedup from Gerting Monastery in Nangra Town, he hailed from Donggya village in Nangra.
 Suspected torture of self-immolator's sister
On 18 May, days after the death of another Tibetan named Chakdor Kyab of self-immolation, his parents Soepa and Dolma Tso were detained for interrogation. It was the second detention of Chakdor's parents, Soepa andDolma Tso. The parents were first detained for interrogation, along with Kyab's unidentified sister on 2 May the day of self-immolation. Though they were let off, his sister is suffering from psychological problems and remains bed-ridden since her release from detention. Due to severe restrictions on information sources, no details are immediately available to confirm whether the sister's condition has any connection with torture used during interrogation, which is common in Tibet.
Kyab set himself alight calling for the return of His Holiness the Dalai Lama and freedom for Tibet on 2 May near Bora Monastery in Sangchu (Ch:Xiahe)County, Kanlho (Ch: Gannan) "Tibetan Autonomous Prefecture" (TAP), Amdo.
With the recent detention of Kyab's parents, his bedridden sister has no one to look after her. Kyab, resident of Dardo Village, became the fourth Tibetan to stage self-immolation protest in Bora County.
Since March this year, four Tibetans have self-immolated to protest China's repressive policies in Tibet. Apart from Chakdor Kyab and Jamyang Losel,Wangchuk Tseten and Pema Gyaltsen self-immolated in Kardze "TAP",Sichuan Province, in Tibetan province of Kham. Information about Tseten's self-immolation on 15 April became available in a video footage showing heavy police presence armed with fire extinguishers. On 18 March, Pema Gyaltsen, 24, from self-immolated near Tsokha Monastery in Nyagrong (Ch: Xinlong) County, Kardze "TAP". The self immolation protests by Pema Gyaltsen and Wangchuk Tseten coincided with the massive deployment of armed police in the region.