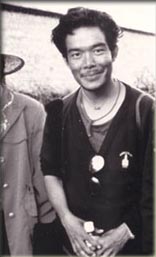 Last month the People's Republic of China (PRC) officially acknowledged the detention of Ngawang Choephel, a Tibetan musician and scholar arrested by Chinese authorities in August 1995 while travelling in Tibet. Ngawang was undertaking some preliminary research for the creation of a documentary on the traditional folk music and performing arts of Tibet.
According to Mr. Shao Wenguang of the Chinese Embassy in Washington DC, Ngawang Choephel is suspected of gathering "sensitive intelligence" and engaging in "illegal separatist activities" with the funding of certain unnamed Americans and at the instigation of the Tibetan Government-in-Exile. It appears that Ngawang is thereby suspected of violating article 4, section 2(5) of the PRC's National Security Law. If convicted under this section Ngawang can even face the death sentence.
Such accusation was officially and strenuously denied by the Tibetan Administration in Dharamsala, and further support for the verity of Ngawang Choephel's purpose in Tibet is to be found in his own words. Upon arrival in Kathmandu, Nepal, Ngawang wrote to a close female relative in Dharamsala (her name has been withheld for security reasons) and sent the letter from there before proceeding on to Tibet. The letter arrived in Dharamsala on 7 July 1995.
The original of this signed letter, written in English, was passed on to the Tibetan Centre for Human Rights and Democracy (TCHRD), and the following has been reprinted exactly as written by Ngawang: "My main reason to go into Tibet is to research and collect as many folk songs as I could. My friend Kathryn is a photographer and I have a camcorder. This is really very exciting and little scary too … Anyhow I'm determined to do what I'm supposed to rather than any political activities and propaganda."
The TCHRD has also been privy to Ngawang Choephel's original signed submission in which he outlines the purpose of his filming in Tibet. The goal is, he writes; "of creating a film that both examines the causes of the decay of Tibetan culture and documents and preserves the remaining oral and cultural traditions … In order to prepare for footage in Tibet, an organizational solo trip will also be necessary." He goes on to propose the subjects of his footage; ceremonial songs and dance, and personal interviews with elders regarding the history of their knowledge of dance, music and storytelling.
There is not a single reference, either in his letter or his submission (both have been made available in their entirety on World Tibet Network electronic mail), to any purpose other than the research of customary musical practices. Ngawang was a member of the Tibetan Institute of Performing Arts and a Fulbright scholar at Middlebury College in Vermont, and his planned visit to Tibet revealed only the most peaceful of intentions.
These two documents illustrate the glaring inconsistencies in the claims of the PRC. To accuse a young Tibetan scholar and musician, armed only with an amateur camcorder, of funded espionage is not only outlandish but completely groundless.
We again urge the Chinese authorities to provide some support for their accusations of illegal intentions and conspiracy regarding Ngawang Choephel. Ngawang has been held incommunicado for more than 14 months without charge or trial. We call upon the Chinese authorities to grant Ngawang Choephel his full civil and political rights including access to legal representation and a fair trial, and to abide by the universal standards applicable to those in detention.
We encourage those innumerable groups and individuals who have shown overwhelming support for Ngawang Choephel to make similar calls in their continuing demand for justice.