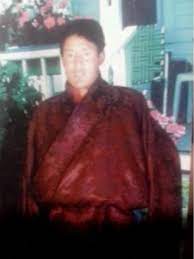 A Tibetan monk named Tseta, 25, was detained for about seven months shortly after Tenzin Sherab, a 33-yr old Tibetan nomad, died of self-immolation protest in May 2013 in Chumarleb (Ch: Qumalai) County, Kyegu (Ch: Yushu) Tibetan Autonomous Prefecture, in the Tibetan province of Kham.
New information received by TCHRD provides evidence that Tseta, a disciplinarian (Tib:ghe-gheu / dean of a monastic institute) at the local Adril monastery, was taken into custody for taking photos of Sherab's body and sharing it with outsiders. He was subjected to severe beatings and torture in custody and forced to confess about his role in making the information about the self-immolation public.
Using the tool of collective punishment, Chinese authorities deployed a large number of armed police at Adril monastery and issued stern orders that the monastery would be closed if any other monk was found engaging in "splittist activities". A series of political education sessions were held to force the monks to profess their "gratitude and loyalty" to the Chinese Communist Party.
Local county police accused Tseta of colluding with two of Sherab's sisters Thubten Dolma and Jigkay in taking photos of the deceased's body after it was handed over to the family members. Tseta had lost his phone during the crowded confusion surrounding the funeral rituals at Sherab's home.
While Tseta was in detention, the police conducted a thorough search for the missing phone but in vain. Thubten Dol and Jigkay were also questioned about the missing phone.
Two local women with no connection to Sherab or his family were also summoned to the police station "many times". At the time, local Tibetans thought it was part of routine investigation. In hindsight, they believe the women were coached to support the official narrative on Sherab's so-called suicide.
Less than a month after the self-immolation, local Chinese authorities had claimed in local state media that Sherab took his own life because his girlfriend had broken up with him. The same report quoted the authorities as saying that Sherab had been a single father to his 8-yr old daughter for many years. The authorities also accused Tseta of "distorting suicide as self-immolation".
Local Tibetan sources in Chumarleb told TCHRD that the official claim about Sherab's suicide is "total fabrication". A source familiar with the deceased said, "He was a sensitive man acutely aware of the many self-immolations that had taken place before him. Each self-immolation caused him great sorrow and he used to anguish over the utter desperation faced by fellow Tibetans suffering under Chinese rule."
Past reports also pointed to his deep discontent over Chinese policies in Tibet and their disastrous consequences on the survival of Tibetan culture and religion.
Sherab's family was also among the thousands of Tibetan nomadic households forcibly resettled under China's policy to end nomadic lifeways. Facing an unsustainable future without land rights and food security, many former nomads like Sherab were forced to rely on picking caterpillar fungus as their primary livelihood source, which is subjected to the authoritarian whims of the Chinese state.
Development economist Andrew Fischer observed in 2012 that a large number of self-immolation protests had occurred in and around the areas where intense nomad relocation had taken place, which indicates in no uncertain terms the severity of nomad resettlement policy in Tibetan areas.
That the Chinese authorities have made repeated attempts to discredit Tibetan self-immolations is not new. It is a standard practice of Chinese authorities to blame Tibetan exiles and "hostile foreign forces" for fomenting the series of self-immolation protests, which are all politically driven contrary to what the Chinese government claims. Chinese authorities have criminalised such protests as 'homicide', in addition to trivializing them as desperate acts by mentally deranged individuals, or motivated by personal issues such as 'petty disputes', 'spurned love' and 'thefts'. These tactics are intended to demonise individual self-immolators as well as to establish a non-existent link between the fiery protests and their so-called overseas instigators so that the deep-rooted grievances that cause these fiery protests remain unaddressed.