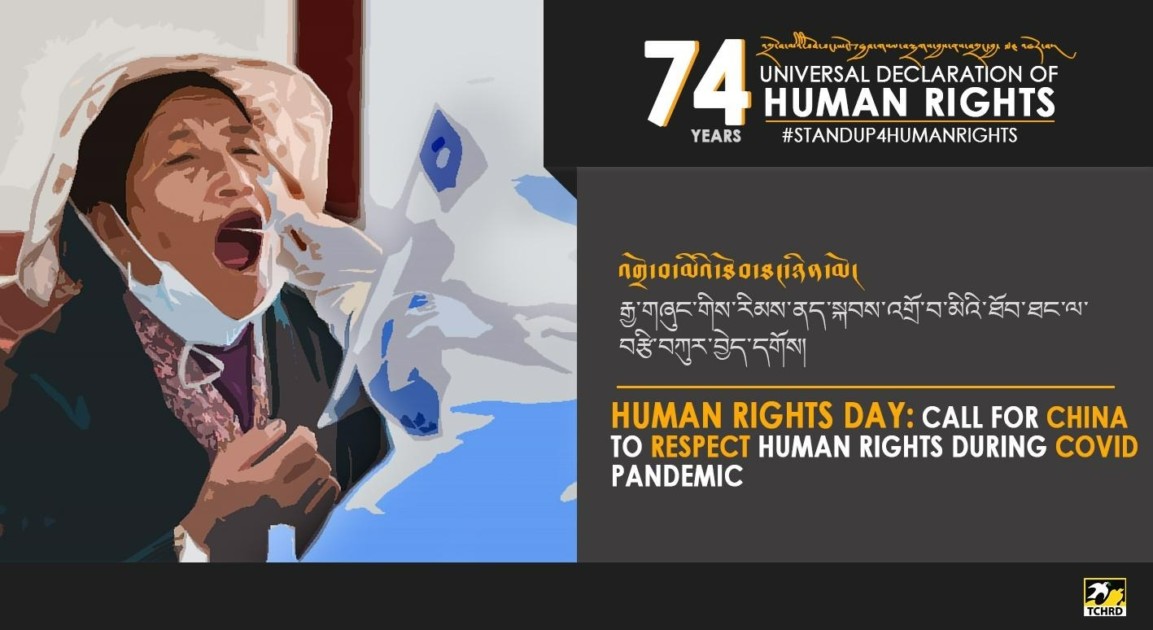 Today is the 74th anniversary of the adoption of the Universal Declaration of Human Rights (UDHR) by the United Nations General Assembly, celebrated around the world as 'Human Rights Day'. This year's theme is 'Dignity, Freedom, and Justice for All'.
As we celebrate yet another Human Rights Day in the post pandemic world, Tibetans and millions of others in the People's Republic of China (PRC) are undergoing immense sufferings and hardships due to the ruthless enforcement of the Chinese government's 'zero-Covid' policy. Chinese authorities continue to use the draconian Covid prevention and control measures to further increase restrictions on individual freedoms, rather than adopt a human rights based approach to resolving the public health crisis unleashed by Covid.
China's implementation of the 'zero-Covid' policy has proved devastating for Tibet, East Turkestan/Xinjiang, Inner Mongolia and other so-called ethnic minority areas, where the policy has clearly served to double down on repression. Human rights situations in these areas have particularly deteriorated since Xi Jinping's second term and the pandemic measures have further provided the authorities a convenient excuse to increase restrictions.
Accounts of Tibetans quarantined in government facilities reveal the extent to which the Chinese government held healthy individuals in custody and subjected many to unsafe conditions, raising concerns that the quarantine facilities violated human rights, especially the right to liberty and security and freedom from arbitrary detention.
Tibetans expressing their discontent and criticism against the 'zero-Covid' policy on social media have been detained, interrogated and forced to issue apologies for creating "rumour" and "fake news" in videos shot and published by the Chinese government. Social media posts critical of government policy were censored and removed. Amid all this, the Chinese government has ignored the immense suffering and hardships borne by the people during pandemic lockdowns, which began in August this year in Tibet.
The unprecedented protests staged by Tibetans and Chinese against the draconian pandemic measures stand testimony to the high level of government repression and utter desperation of ordinary people. To these brave and courageous individuals exercising their conscience in highly dangerous circumstances, including the five Tibetan women detained recently, TCHRD extends our greatest solidarity and support.
On this Human Rights Day, we call on the Chinese government to immediately put an end to its inhumane and brutal 'zero-Covid' policy, release all persons detained for criticizing the government mismanagement of Covid measures, adopt a human rights approach to Covid control and prevention, and fulfill its treaty obligations by ensuring that the most basic of human rights such as dignity, freedom, and justice are accessible to all.
Senior Programme Officer Ms. Tenzin Dawa reads Article 21 of UDHR for the EU Delegation to China's video campaign on the 74th Human Rights Day 2022