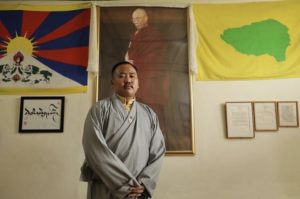 "Every act of defiance, resistance and protests serves as an important tactical measure for TYC's strategic goal of freeing Tibet from the clutches of China." 
Our dissenting hero of the week, Gonpo Dhondup, president of Tibetan Youth Congress (TYC), the largest non-governmental Tibetan organisation based in Dharamshala, India, articulates the collective aspirations that give rise to public manifestations of resistance and protest activities initiated under his organisation.
"The core mission of TYC is to restore Tibet's independence. This stem from the fact that Chinese occupation of Tibet is illegal and China has assumed complete control over Tibet for the last seven decades. Tibet has been ruled since under the tyrannical regime; the miscarriage of justice needs to end.
"The right to protest is a basic human right, which is completely neglected in Tibet under the control of the Chinese Communist government."
As a third generation Tibetan born in exile, Gonpo has participated in various protest activities and was detained several times. 
He believes that "effective protest campaigns on human rights, political, social and environmental issue affecting Tibet, not only put China on the spotlight but also adds global pressure on China to be accountable for their actions." 
Gonpo Dhondup joins the #WhyProtest campaign to call on China to immediately

· End policies and practices that are incompatible with international human rights standards on the right to peaceful assembly;

· Repeal policy of resorting to lethal force to suppress and detain peaceful protesters;

· Punish government officers responsible for arbitrary detention and torture of peaceful protesters;

· Ratify the International Covenant on Civil and Political Rights and International Convention on Enforced and Involuntary Disappearance;
·  Invite UN Special Rapporteur on the Rights to Freedom of Peaceful Assembly and of Association to assess the current state of freedom of peaceful assembly in Tibet

The #WhyProtest campaign, launched by TCHRD on 3 May to highlight freedom of expression, shines light on the brave and inspiring stories of peaceful Tibetan protesters that will tear through the cloak of coronavirus pandemic used by China to hide escalating repression and persecution of peaceful dissent in Tibet.

During the months leading up to this year's International Human Rights Day on 10 December, the campaign will feature messages of hope, inspiration, and defiance from 30 Tibetan activists and human rights defenders.

Join the #WhyProtest Campaign by sharing our digital campaign messages on your timeline or your stories of defending the right to protest and why the freedom to dissent matters to you. If interested, write to Ms Tenzin Dawa for further information: tenzin.dawa@tchrd.org.