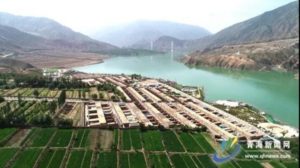 More than a year before the expiration of the 13th Five-Year Plan period (2016-2020), Chinese authorities have completed its target of relocating 52,000 nomadic and farming households consisting of 200,000 people in the Tibetan areas of Qinghai Province.
China's major state TV broadcaster CCTV claimed on 12 September that the relocation program has improved the economic conditions of rural population after the former nomads and farmer engaged in rural tourism projects of running homestay business, peddling souvenirs, and running amusement wharfs and eating joints.
Among the relocated in Qinghai includes 251 nomadic and farming households from 30 "poverty-stricken" villages in 7 towns and townships in Malho (Ch: Huangnan) Tibetan Autonomous Prefecture. They were relocated in 2016 to the resettlement site of Dekyi ('Happiness' in Tibetan) Village in Chentsa (Ch: Jianzha) County in the prefecture. The 251 relocated households moved here in 2016 came from more than 30 poverty-stricken villages in 7 nearby towns.
The report said that two years after the relocation, local authorities selected 30 households in Dekyi Village for a pilot experiment to open homestay business as part of the overall goal to develop the rural tourism industry. The business only available during the tourist season during which the entire family of a household become reportedly busy preparing food, cleaning the bedding, and entertaining tourists. The resettlement village has now become a "new tourist village" and residents uprooted from their ancestral lands are expected to find news sources of livelihood in the so-called 'cultural tourism industry'.
The massive relocation was carried out under the controversial poverty alleviation and ecological conservation programs implemented with an iron hand all over the Tibetan plateau. Despite government propaganda churning out alleged success stories, these programs have impoverished the lives of many rural Tibetan residents, in addition to disrupting their food security and taking away their land tenure security.