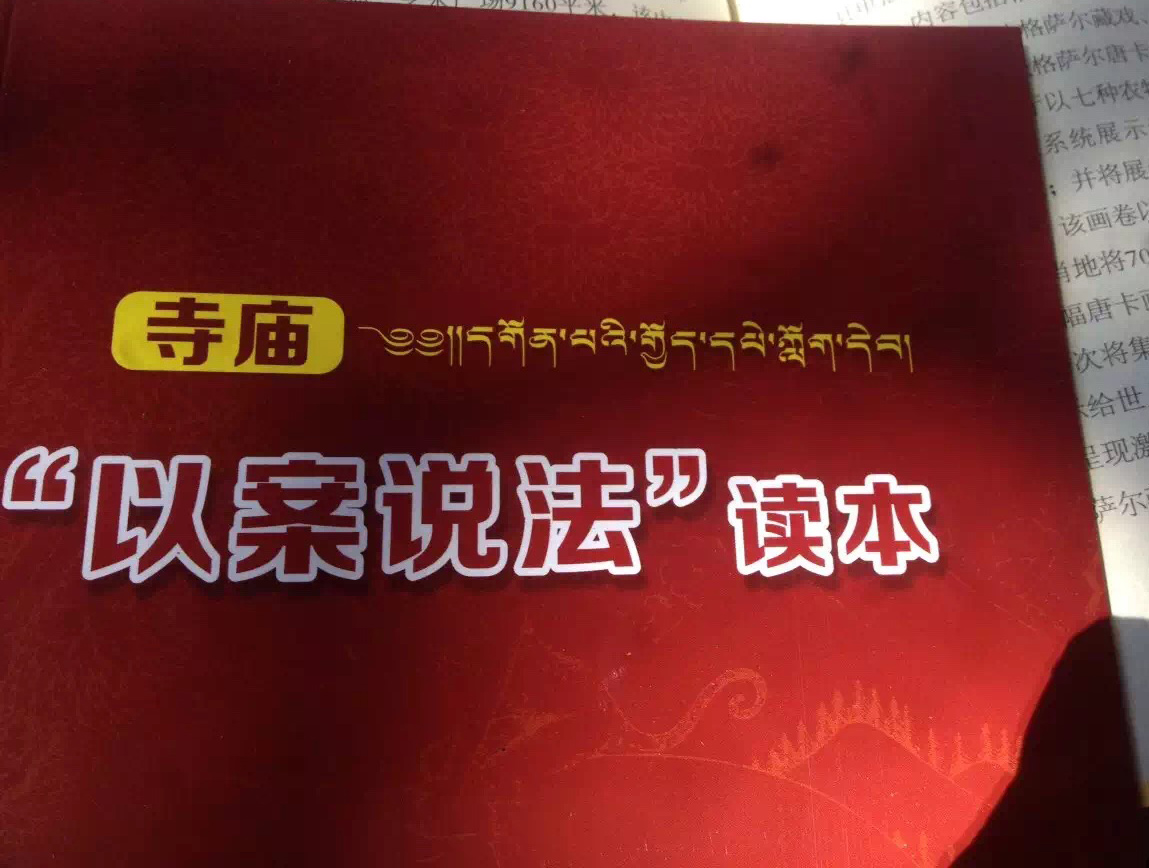 Chinese authorities have recently distributed copies of a political propaganda booklet that masquerades as legal education material in Tibetan monastic institutions located across Ngaba (Ch: Aba) Tibetan and Qiang Autonomous Prefecture, Sichuan Province, in the Tibetan province of Amdo.
The 80-page bilingual booklet in Tibetan and Chinese is presented as a 'legal text' used to spread awareness among the Tibetan monastic population about specific criminal acts that are deemed separatist by the Chinese government. The subtext inherent to the booklet is one of intimidation and a veiled warning that these so-called crimes will be dealt with severely and punished.
The five separatist crimes listed in the booklet concern activities that have become a major embarrassment for the Chinese government such as self-immolation protests and other acts of expression including solo protesters carrying photos of the Tibetan spiritual leader Dalai Lama and calling for his return, and slogans demanding freedom and human rights in Tibet. The act of solo protest, the booklet declares, will be charged with "inciting separatism". Since 2013, TCHRD has documented 25 known solo protesters; among them, some like Gedun Phuntsok, 18, was sentenced to four years and Lobsang Kelsang, 19, to three and a half years.
More alarmingly, the so-called separatist crimes listed in the booklet criminalize all means of peaceful political expression in Tibet. This, in addition to the fact that since 2008, attempts for any kind of expression including petitioning the local authorities on matters such as land grabbing and environmental pollution has been suppressed violently by the authorities, with instances of paramilitary troops shooting unarmed protesters.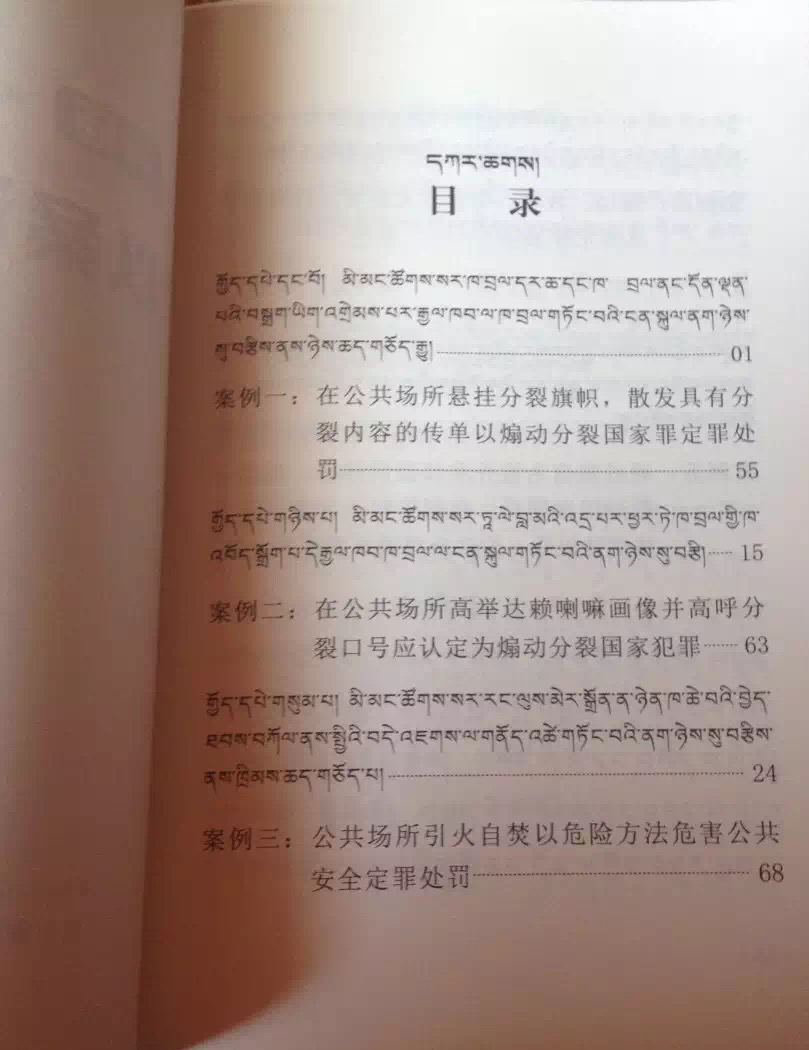 The disturbing trends of self-immolation protests and solo protests are symptomatic of extreme political repression and absence of any space to air grievances and seek redress. With the criminalization of these protests, the clampdown on any kind of peaceful expression by Tibetans is absolute.
This, however, does not mean that these activities were not criminalized before the distribution of the propaganda booklet. Contrary to recent media reports, self-immolation protests and other activities listed in the booklet have long been criminalized by the Chinese government. For instance, on 28 August 2011, Chinese state media reported that three Tibetan monks had been charged with 'intentional homicide' in connection with the self-immolation of Phuntsog, a monk from Kirti Monastery who later succumbed to burn injuries. Among the three, Tsundue was sentenced to 11 years imprisonment term. To date, TCHRD's political prisoners desk has documented 67 known Tibetans who have been arbitrarily detained or sentenced in connection with self-immolation protests. Among them, some like Lhamo Dorjee from Luchu (Ch: Luqu) County in Kanlho (Ch: Gannan) Tibetan Autonomous Prefecture (Gansu Province) was sentenced to 15 years for intentional homicide. In addition, there was 32-year-old Dolma Kyab who was sentenced to death for homicide, after his wife Kunchok Wangmo died of self-immolation on 11 March 2013. Dolma Kyab's fate remains unknown.
The booklet also notes that anyone who commits self-immolation at public gatherings will be charged of "endangering public security".
Other criminal activities listed in the booklet relate to sharing information about events in Tibet on social media, and displaying Tibetan national flags and distributing leaflets containing political contents. Again, it is routine for Tibetans in Tibet to get arbitrarily arrested and imprisoned for engaging in these activities. Tibetans are arbitrarily arrested for illegally sharing state secrets when they share information about human rights violations on social media such as WeChat. Tibetans are subjected to secret detention, tortured and sentenced for inciting separatism when they display Tibetan national flag or Dalai Lama's photo and peacefully protest against repressive government policy.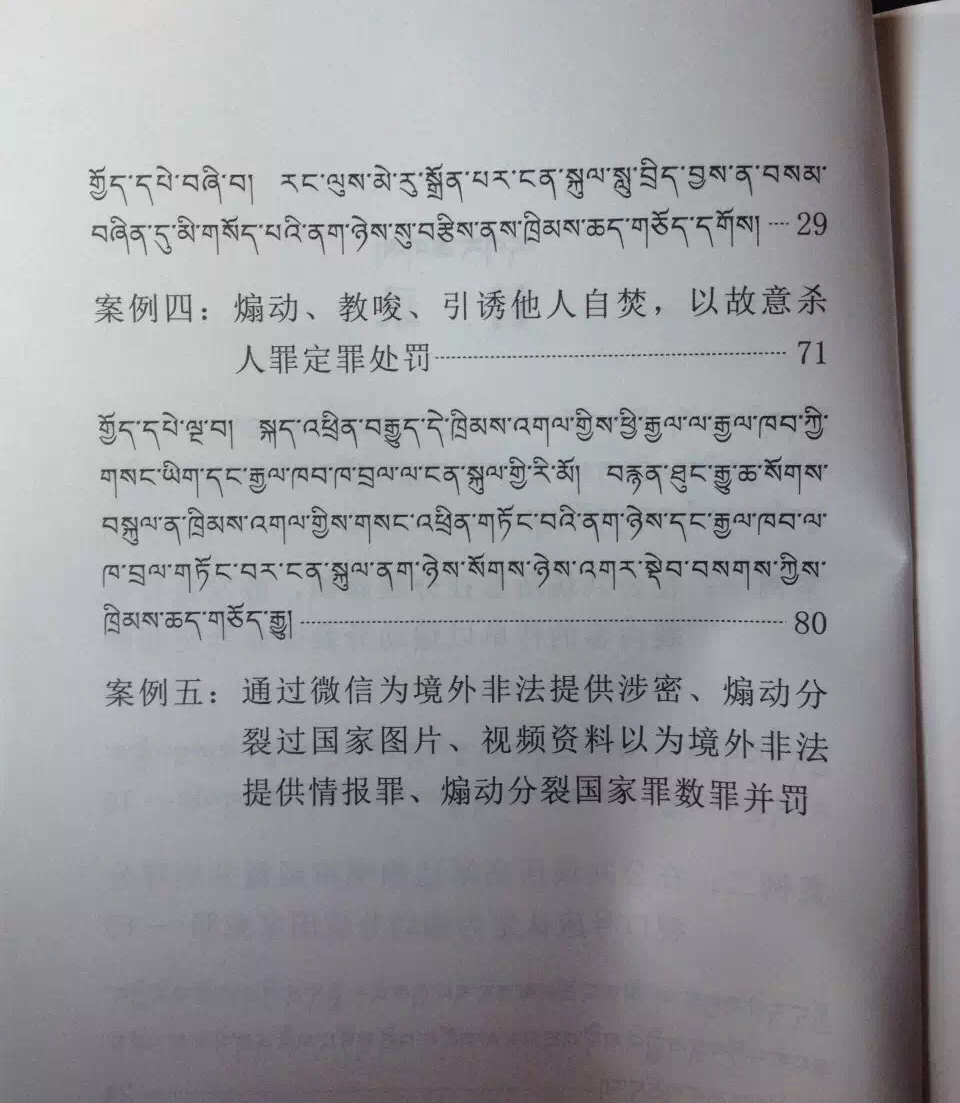 Below is a translation of the five separatist crimes listed in the booklet:
Article 1: [The act of] displaying separatist flag and separatist leaflets in public spaces shall be penalized with the charge of 'inciting separatism'.
Article 2: [The act of] raising portraits of the Dalai Lama and shouting separatist slogans in public spaces shall be considered as a crime of 'inciting separatism.'
Article 3: [The act of] self-immolation in public spaces shall be considered a serious offence and penalized with the charge of 'endangering public security'.
Article 4: [The act of] inciting self-immolation protest shall be penalized with the charge of 'intentional homicide'.
Article 5: [The act of] illegally sending separatism-themed pictures and videos to foreign hostile forces via mobile messaging app WeChat shall be penalized with multiple charges including 'illegal sharing secret messages' and 'inciting separatism.'
According to reliable information received by TCHRD, the booklet was distributed on 28 July to 42 Tibetan Buddhist monasteries in Ngaba Tibetan and Qiang Autonomous Prefecture. TCHRD has seen photos of the booklet being distributed in the local Kirti Monastery in Ngaba County. To protect the identity of the individuals in the photos, TCHRD is unable to make the photos public.
On 24 August, the Global Times interviewed Zeli Danzhu, head of the Ngaba County justice bureau and Tashi, deputy head of the Ngaba County propaganda department in which both claimed that they were not aware of the booklet's distribution. The report also quoted Qiu Ning, former head of Ngaba County's United Front Work Department as saying that he was not aware of the matter, although he admitted that the local authorities had been working on similar 'legal text' booklet meant for all residents, both monastics and lay, in the prefecture.
On 19 July, more than a week before the booklet's distribution, local authorities had held a meeting in Ngaba County that was attended by relevant prefecture and county leaders as well as representatives of the various county Monastery Management Committees. The theme of the meeting was: 'Govern County and Monasteries According to Law'. At the meeting, an agreement was also signed between the legal advisors of various monasteries in Ngaba County and relevant government authorities to uphold and implement the decisions taken at 4th plenary session of the 18th Party Congress. The 4th plenary session stressed on a system serving "the socialist rule of law with Chinese characteristics".